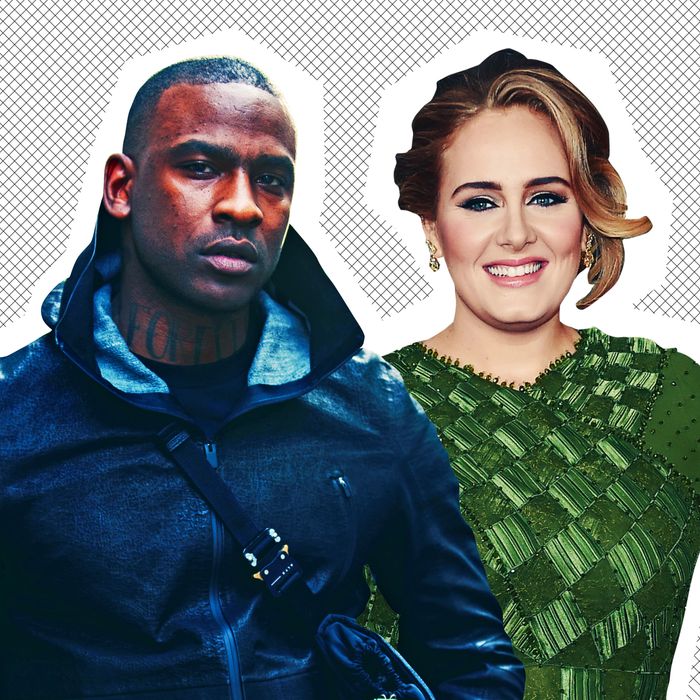 Skepta and Adele.
Photo: Getty Images
On Monday evening, British tabloid The Sun dropped some very good celebrity gossip: Adele, 31, and grime star Skepta, 37, have been spotted on "a series of dates." Although the tabloid did not go so far as to call the stars a couple, their friends apparently say they're on that trajectory.
According to The Sun, the Tottenham natives have been spending more time together ever since Adele split from ex-husband Simon Konecki this past April; this came six or so months after Skepta and Naomi Campbell had called it quits. Their relationship, if it proves to be legitimate, could be a tale as old as time: Two heartbroken friends find comfort each other's presence, which then leads to kissing, and maybe even love.
"Adele and Skepta have been there for each other a lot after both their relationships split up," a source told the tabloid. "They have a close bond and there's definitely a special connection … Some of their friends are hoping and predicting they could end up being a great couple one day."
Looking at the couple's history, there have been signs of their shared connection for a while now. In May 2016, Adele tweeted a photo of Skepta with the caption, "Tottenham Boy ❤️," which Skepta claims convinced him to keep pursuing his music career when he was feeling particularly discouraged.
"[Adele] gassed me up," Skepta told the IBTimes UK. "One day I was just chilling and she [tweeted] a picture that said 'Tottenham boy' and she's from Tottenham as well. I was actually going to quit music that day, that was one of the sickest things ever. She's like the lady of Tottenham and she called me 'Tottenham boy.'"
Later that year, Skepta further opened up about his friendship with Adele, telling the Evening Standard magazine, "Adele texts me all the time and keeps me in check. She speaks to me about how things are going."
We'll know the love is real if Adele can finally make a Spurs fan out of him.