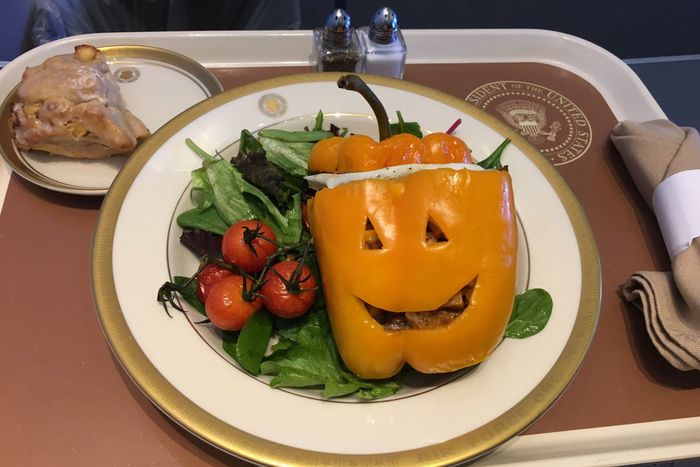 The "meal."
Photo: @MichLKosinski/Twitter
On Monday afternoon, the week of Halloween, a disconcerting image started to circulate on Twitter. It was not the cover of a fake meat-only-diet book written by Jordan Peterson and his daughter, nor Yandy's latest sexy Halloween costume. It was, instead, a haunting — and perhaps haunted — plate of food.
According to Tessa Berenson, the Time magazine White House correspondent who took the photo, the vegetable-forward meal was served aboard Air Force One today — notably, on Trump's flight to Chicago. "The wonderful chefs aboard AF1 were full of the Halloween spirit today with the presentation of these stuffed peppers," she said per a press-pool report. "Trick or treat!"
While I mean no disrespect to the chefs aboard Air Force One, the meal doesn't look all that appetizing. There is the insufficiently roasted bell pepper, styled to look like a jack-o'-lantern, and stuffed with large chunks of what looks like butternut squash, but could just be more bell pepper. There's the sad, undressed spring mix. There are the roasted tomatoes on the vine. And then, there's the most distressing item of them all: an unidentifiable brown mass that at first appears to be a dry-ass chicken breast, but upon closer inspection looks to be an icing-coated fruit scone.
In fact, the plate has drawn comparisons to the now-infamous meal served during Fyre Festival, consisting of a similarly undressed salad and a "cheese sandwich." But the Air Force One chefs really do deserve some credit. Clearly, they know one of the easiest ways to trick a picky kid into eating vegetables is to disguise them as something else, or to make the plate look like a face or garden or whatever. And Trump — a man who prefers bunless Big Macs and steaks cooked to the point of being inedible over leafy greens — certainly needs a little trickery.