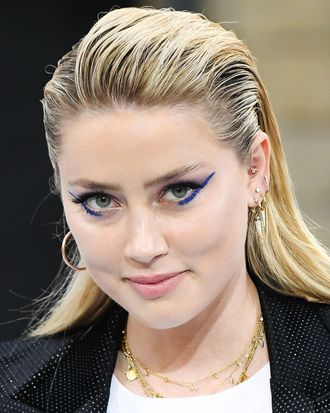 Amber Heard and some excellent eye liner.
Photo: Stephane Cardinale - Corbis/Getty Images
A lot of fashion shows happened over the past month, but only one had a barefoot Dame Helen Mirren gleefully running across it. That one would be Le Défilé L'Oréal Paris, the beauty brand's annual public fashion show, which takes place at Paris Fashion Weeks.
This year's third edition featured 32 international faces of the brand as models in the show. The lineup included actual models, like Duckie Thot and Soo Joo Park; singers, like Camila Cabello; actresses, like Eva Longoria; babies, like Eva Longoria's son Santiago; and first-timers, like Aquaman actress and activist Amber Heard, who made her Le Défilé debut. The Cut caught up with Heard before she hit the runway at the Monnaie de Paris to talk time zones, confidence, and being the face of things.
What was your favorite part of walking in Le Défilé?
I love the way all of the various creative disciplines come together to make a fashion show. It's a very bold way to celebrate, and what better way to do that than Fashion Week in Paris, a place that's at the heart of the L'Oréal brand? I also like doing anything new. This really is new for me, and maybe a bit scary, but because I'm with the people I've come to know and love and trust over the past couple of years, it's more exciting than scary.
What's your best beauty tip and where did you learn it?
Own it! Own it, whatever it is. There are always times when you don't feel good enough, but nothing is more beautiful than confidence.
What's your nighttime beauty routine like?
I'm a maniac about washing my face and moisturizing everything. I love a lot of serums and creams. I have to admit I'm a sucker for a good face mask — I'm doing them all the time.
What time do you go to bed?
Ha! I am nocturnal, so for me, the ideal time to go to bed would be some early hour of the morning. If it was up to me, I'd be awake at night, but I'm in a different time zone every single day for work. It's definitely irregular, so I never have the opportunity to get into a natural rhythm.
Speaking of time zones, how do you deal with jet lag?
[Laughs.] You can't get jet lag if you never stay in a place long enough to get accustomed to the time zone! So that's my jet-lag solution, I say to you while I yawn. Never stay in a place long enough to get actual jet lag.
How do you hope to inspire women as a L'Oréal Paris spokesperson?
I want to continue to use my platform to speak and to raise awareness around important issues; to speak on behalf of those who don't have a platform or can't speak for themselves. I'm so honored to be counted among the powerful, iconic individuals of the L'Oréal Paris family. If you look at that community and that group, you'll notice it's not necessarily about the superficial qualities associated with individuals; they all represent something bigger, and I'm honored to be a part of that.
If you buy something through our links, New York may earn an affiliate commission.