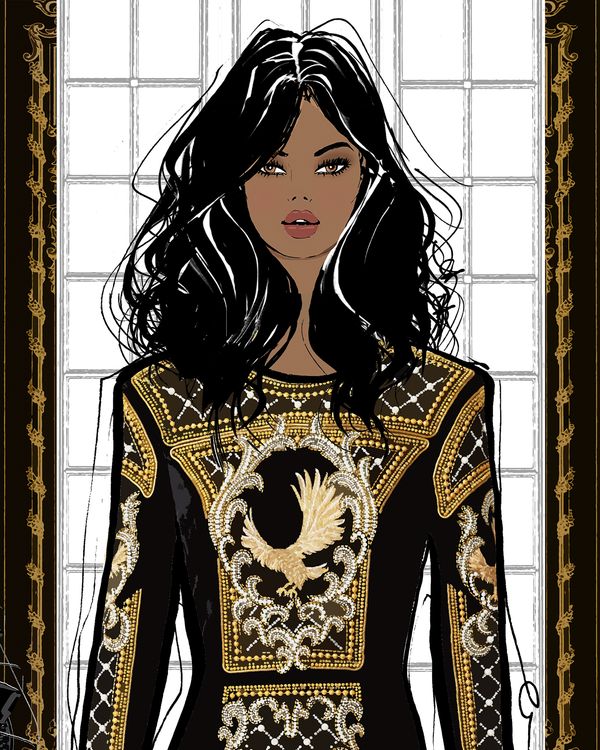 Photo: Megan Hess from Elegance: The Beauty of French Fashion, published by Hardie Grant, 2019.
You've probably seen — and admired — Megan Hess's illustrations before, even if you didn't know they were hers. In 2008, Hess did the cover art for Candace Bushnell's Sex and the City novels; in the 12 years since, her list of clients has expanded to include Tiffany & Co., Yves Saint Laurent, Vogue, Harper's Bazaar, Ladurée, Michelle Obama, Cartier, Montblanc, and Paris. All of this is to say that Hess has serious fashion bona fides. They'll next be on display in Elegance: The Beauty of Fashion, the second installment of her "Masters of Fashion" book series, following last year's Iconic: The Masters of Italian Fashion. This time, Hess turns her gaze (and her pens) toward the fashion capital of the world. Hess explores the history and lasting impact of ten legacy French fashion houses with a mix of history, anecdotes, and illustrations of their collections.
Below, excerpts from Elegance: The Beauty of Fashion, out October 15 from Hardie Grant.
Chanel
"[Coco] Chanel brought straight lines to the forefront of fashion at a time when over-the-top froufrou looks reigned. She transformed black — a color typically worn during periods of mourning — into a covetable wardrobe staple with instant chic appeal."
Dior
"[Christian] Dior was a pioneer of post–World War II fashion, masterminding a new style of opulent and extravagant dressing … Dior's New Look was defined by tailored gowns with cinched waistlines and full skirts — some using meters and meters of voluminous tulle."
Saint Laurent
"[Yves] Saint Laurent's signature looks include the revolutionary 'Le Smoking' suit: one of the first tuxedo jackets specifically designed for women."
Lanvin
"Influenced by her exotic discoveries, [Jeanne] Lanvin became experimental with her design methods and invested in her own dye factory so that she could produce fabrics in colors exclusive to her own house."
Givenchy
"[Hubert de] Givenchy designed collections with [Audrey] Hepburn at the forefront. He created modern and chic clothes that women like her — or women who aspired to be like her — enjoyed wearing, including everything from evening gowns to casual Capri pants with oversize white men's shirts."
Chloé
"[Gaby] Aghion distinguished herself with her signature carefree and stripped-back elegance and was the pioneer of informal formalwear."
Balmain
"[Olivier] Rousteing has cemented the label's strong look of structured and embellished decadence. He effortlessly brings together opposing forces with a mix of sharp, tailored, almost tough military-like silhouettes and delicate details, including fine beading and studded work."
Louis Vuitton
"[Marc] Jacobs led the brand from iconic luggage to coveted wardrobe must-haves, taking inspiration from the company's travel heritage. He designed luxury pieces that could be stowed away in your Louis Vuitton bag and taken on vacation: The look was fun and stylish, whimsical and edgy."
Hermès
"The Hermès style to me is embodied in riding pants and boots with tailored blazers, and of course silk scarves and one of their iconic leather handbags …I love that the spirit of the stables still lives on at Hermès today, nearly two centuries since the house's origin."
Celine
"[Céline] Vipiana's vision was to design and curate collections that celebrated modern minimalism. She favored the idea of women investing in quality items that could be worn season after season instead of chasing trend-based fashion and growing tired of it as soon as it was hung in the wardrobe."