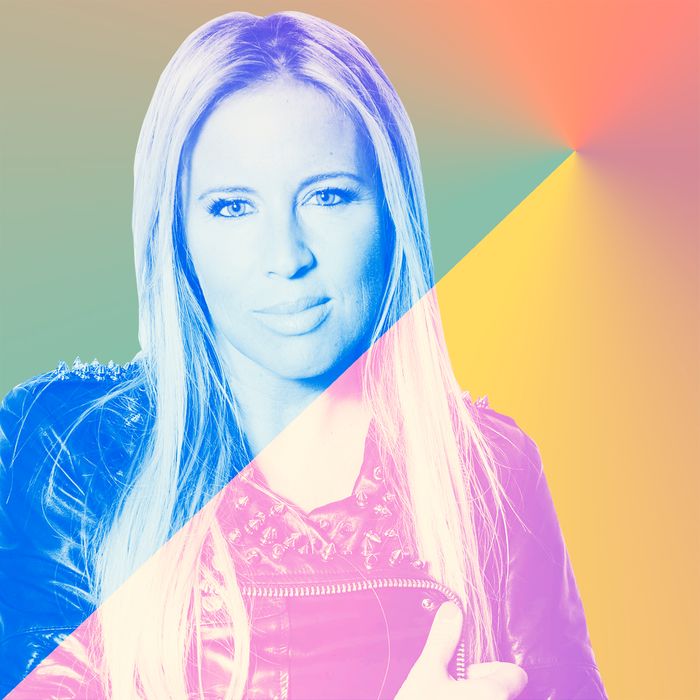 Photo: Courtesy of dosist
Anne-Marie Dacyshyn went from being chief marketing officer of snowboarding outfitter Burton to chief marketing officer of cannabis brand Dosist. You find a cooler résumé.
Dachyshyn was in Pyeong Chang with the Burton athletes for the 2018 Winter Olympic Games when she got the call from Dosist.
"It just turned my head, probably because of their product platform," she remembers. "I had become a gearhead pretty quickly at Burton, so the brand girl in me felt that tug again when I did the deep dive into Dosist's proprietary dose device" — a dose pen that vibrates to prevent over-inhaling. "I flew straight from Korea to L.A. to take the meeting."
The Toronto native was always interested in commerce. While both parents were academics, Dacyshyn gravitated toward fashion brands with strong heritage and authentic stories.
"I begged for my first pair of Levi's in fifth grade," she laughs. "And Roots was a local brand that was gaining attention at the time. I couldn't wait until I was old enough to work at Roots."
After college, Dacyshyn worked in PR, in big pharma and lifestyle brands. When her husband was offered a job at Burton, they moved from Toronto to Burlington, Vermont, and before long, his wife was working there, too. She did market research for women's and helped launch their first lifestyle brand, Gravis, including its international expansion. When she returned to the mothership, she became Burton's first ever CMO.
But Dosist's positioning itself as a wellness brand (as opposed to a cannabis brand) intrigued her.
"Dose-controlled devices enable cannabis to be part of the day to day. You're in control, you know what formula you're getting, you know how much you're getting," says Dacyshyn. "Proper dose control and targeted formulas are essential for using cannabis as a powerful wellness tool."
This week, Dosist debuts the dose dial, tablets in the brand's popular Bliss and Calm versions encased in child-resistant containers. You just have to live in a state where recreational cannabis is legal to purchase them.
Dacyshyn spoke with the Cut about her favorite hotel amenities, the tidiness of Dateline NBC, and being a failure at dry brushing.
What's your definition of beauty?
I always say beauty is in simplicity. Simplicity reveals elegance, confidence and balance, and that is beautiful.
What do you think when you hear the term "clean beauty"?
Clean beauty has two meanings for me. Philosophically it is the most real and natural state, and shines when it's effortless and authentic, on the outside and inside. And pragmatically, it means embracing a clean approach to self-care products and rituals.
Please fill in the blank as it pertains to something connected to your beauty, self, routine, product or otherwise: I think about ___ a lot. Balance.
What is your morning skin-care routine?
Cleanse with Dove Sensitive Bar, followed by Kypris Beauty Elixir, Obagi Elastiderm Eye Serum, and Obagi Hydrate Facial Moisturizer.
What's the last beauty product you use every night?
I'd love to say it's a six-step process of cleansing and hydration masks and light therapy, but I'll be real — after a long day I am pretty beat, so success is getting my makeup off and some hydration on.
What aspect of your face or body tends to be neglected?
I live in L.A. now, where body scrubbing and body polishing seem like a whole thing. I am probably not doing enough of that!
Bath or shower?
Shower for function, bath for indulgence. This might sound silly, but my home away from home is the Mercer Hotel, and their bath and shower gel have become my favorites.
Mascara of choice:
Milk Makeup Kush High Volume Mascara.
Base of choice:
Laura Mercier Foundation Primer and Tinted Moisturizer.
What, if anything, is usually on your lips?
Givenchy Le Rouge Perfecto Beautifying Tinted Lip Balm and Tom Ford Scarlet Rouge for special occasions.
What shade, if any, is usually on your toes and/or hands?
I keep it simple. White nails in spring/summer and black nails in fall/winter.
Facial cleanser of choice:
Dove Sensitive Bar.
Fragrance of choice:
Coco Mademoiselle by Chanel, Aerin Lauder Amber Musk, and anything with a beautiful vanilla base.
Preferred sunscreen:
Banana Boat Sport SPF 30.
Scented candle of choice:
At Dosist we made amazing candles as gifts using the botanicals from the formulas of our dose pens, and they are my favorite, especially Bliss and Calm. Given how much people love them, keep an eye out for them to be available to consumers soon.
What was your first beauty product obsession?
Both my grandmother and mother were avid Estée Lauder loyalists for as long as I can remember, so I grew up going to the Lauder counters. I loved the makeup and the fragrance presentation and experience, so I naturally became a customer myself as a teen. Now I love the legacy of Aerin Lauder and am inspired by what she has created.
Daily carry-all of choice:
My favorite is a Givenchy black-and-white studded leather messenger, and my most special bag is the custom Goyard vertical tote I had made at their original Rue St Honoree store in Paris 15 years ago.
What is your classic uniform?
Tomboy casual. Lots of vintage Levi's and army pants from RTH in L.A., and then a lot of full sweatshirt and loungewear kits. My new obsession brand is Camp High, not just because it's my husband's brand but because it is the perfect modern balance of cozy, casual and chic.
What tiny thing can make your day?
Interacting with a good person.
What annoying thing can put you in a bad mood?
Unnecessary drama.
What would the name of your autobiography be?
Work Hard and Be Nice.
Who would star as you in the film adaptation?
Ursula Andress from the Dr. No era.
 
What do you do to unwind?
I love live music so I try and catch shows whenever I can, whether it's watching my friends play in Dead & Company or catching their solo shows. It's the ultimate escape.
What do you think Pantone's color of 2020 should be, and why?
Bliss Green. It's the color of our Bliss formula. It's not quite an emerald, but a strong, happy plant green. It represents perpetual growth and health and happiness, and it's just clean.
What can't you leave alone?
An unfinished task. Plan the work and work the plan.
Favorite meal and where:
Crostino al Prosciutto at Giorgio Baldi in Santa Monica Canyon.
What is always in your fridge?
Chocolate milk, Vernor's Ginger Ale and string cheese.
Comfort food:
Grilled cheese and bacon made on our Snoopy & Woodstock grilled cheese maker (and yes, their images grill onto the bread).
 
What are you currently binge-watching?
Dateline on NBC. I know I'm late to this show, but I find the episodes very therapeutic. I love Keith Morrison's narration, and I like that the bad guys always get caught.
What do you foresee as the top beauty trends for 2020?
More natural plant-based products as consumers continue to seek out more transparency on ingredients and effects of what they are using.
What product in your domain is misunderstood and should be a best seller?
Our Passion formula. It has this light nod to sexual health, so some people pass it by because they think it's about sex. But it's more broadly about unlocking your passion and creativity.
What product is currently your favorite (understanding that this could change all the time)?
Definitely my Sleep pen by Dosist, because a good night's sleep is the ultimate beauty booster. The formula is all-natural and helps you fall asleep and stay asleep longer, which makes everything better.
If you won the Power Ball tomorrow, what are the first five things you would do? (after, of course, donating the majority of it to your top charities…) 
A scholarship fund in my late father's name, taking care of my family, more wellness pursuits, lots of travel and tons of music.
Not to get too philosophical, but … what do you want? 
An honest day's work, my husband, dogs, family, friends, and people being decent.