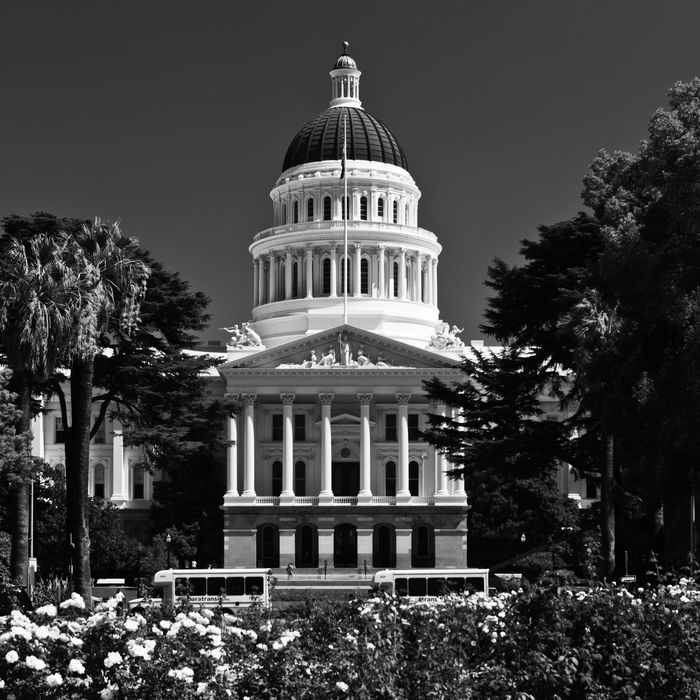 California capitol.
Photo: Rolf Schulten/ullstein bild via Getty Images
The California state Senate confirmed this week that the unidentified red liquid an anti-vaccination protester threw from a menstrual cup onto several state senators last month was in fact blood, the Los Angeles Times reports.
The incident took place on September 13, during the final night of the legislative session. For weeks beforehand, anti-vaxx protesters had convened at the capitol in Sacramento to protest bills signed by California governor Gavin Newsom, which would make it more difficult to get vaccine exemptions without a legitimate medical reason. Dozens of protesters were gathered in the state capitol's visitor's gallery that Friday night when Rebecca Dalelio, 43, hurled the contents of a menstrual cup down onto the senators below. A voice in the crowd was heard saying that it was "for the dead babies."
California Highway Patrol officers arrested Dalelio, and officials brought in a hazardous materials cleanup team to come in and clean the chamber. Some lawmakers left to shower, the Times reports, and at least one was treated for blood exposure the next day. Dalelio is reportedly a resident of Boulder Creek near Santa Cruz, and according to the Times, a Facebook profile with her name and profile includes "multiple postings critical of vaccines."
Still, Senate staff weren't entirely sure what the liquid had been until Wednesday, when Secretary of the Senate Erika Contreras sent an email to Senate staff confirming the substance was blood. Dalelio is scheduled to be arraigned on November 18 in Sacramento.
California, like many states, is wrestling with how to deal with residents who refuse to vaccinate their children for personal or religious reasons, thus leading to outbreaks of infectious disease, and putting others at risk. The situation has become so dire that the U.S. is currently at risk of losing its measles-elimination status, a status conferred upon it by the World Health Organization back in 2000. The WHO removes the status if measles has been spreading continuously for one year.
"We're embarrassed. We're chagrined," Dr. William Schaffner, a longtime adviser to the Center for Disease Control and Prevention on vaccine issues told CNN about the potential loss.