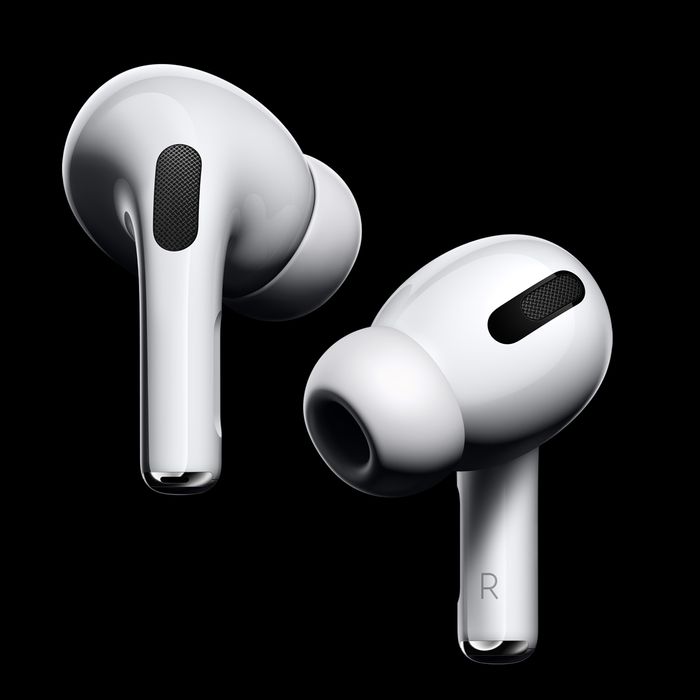 On Monday, Apple announced that your AirPod headphones — the ones you spent so much money on, promptly lost, and then spent even more money on replacing because you'd rather deal with credit-card debt than look like a fool on your morning commute — are now old and maybe garbage.
Yes, welcome to the Age of the Apple AirPods Pro. In stores on Wednesday, October 30, the new headphones cost $250 (okay, $249) and feature active noise cancellation, extended battery life, and, as Apple puts it, "flexible ear tips." So if you're worried about their falling out of your ears and getting lost (or are traumatized because this already happened to you with the original model), fear not. The AirPods Pro come with three different sizes of soft, flexible silicone tips that supposedly conform to each individual ear and provide a "superior seal," making them sound better, too. They also have an "innovative vent system" and are sweat- and water-resistant, in case you're someone who … has sweaty ear holes. (Sorry.)
Is all this worth $250? The noise-cancellation thing is pretty cool. If you're someone like me, who listens to mumbly podcasts and musical artists while riding New York's crumbling public transportation system, this is a huge win. Using two microphones (one facing outward to detect external noise and another facing inward toward the ear), the AirPods Pro create a combined "anti-noise" to cancel everything else out. If you're worried about getting hit by a bus, though, or are privy to some incredible subway drama, a new "Transparency mode" gives you the option to listen to music while still hearing the environment around you. In other words, you can tune out the haters when you want to or listen in to hear how jealous they are of your new, expensive AirPods Pro.
Naturally, their price and design has already caused quite an uproar online. Below, we've culled some of the best reactions and comparisons.
This post has been updated.