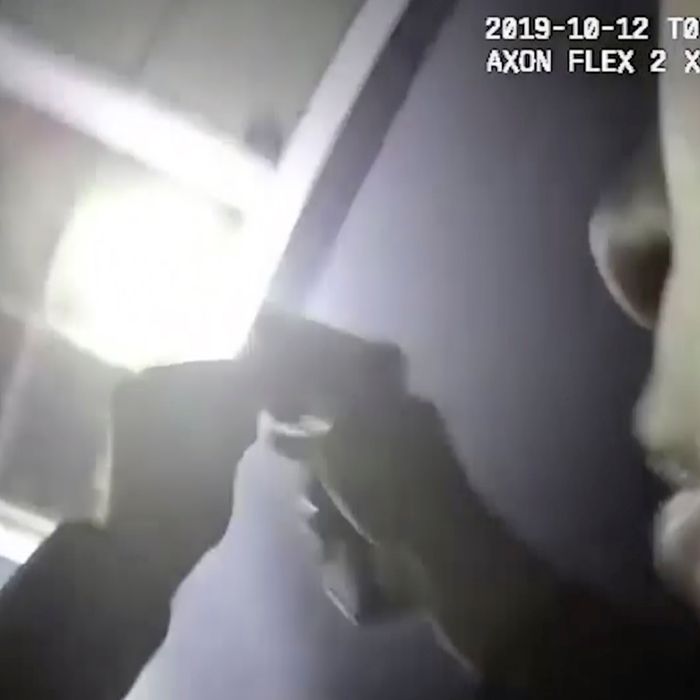 Body-cam footage released by the Fort Worth Police Department.
Photo: Uncredited/AP/Shutterstock/Uncredited/AP/Shutterstock
A black woman was shot and killed by a white cop in her own home in Fort Worth, Texas, after a neighbor asked police to perform a welfare check on the residence.
28-year-old Atatiana Koquice Jefferson was playing video games with her 8-year-old nephew when police arrived at her home around 2:30 a.m. on Saturday, October 12. After searching the outside of the house, one of the officers saw someone standing near a window and opened fire. Jefferson, who was a premed graduate and working in pharmaceutical-equipment sales, died in her bedroom. Jefferson's nephew was also in the room.
Why were cops called to Atatiana Jefferson's home?
According to CNN, a neighbor called a non-emergency police number after he noticed that Jefferson's front door was open and the lights were on. Body-cam footage released from the Fort Worth Police Department shows the officers searching the outside perimeter of the house. One of them approaches a closed window and shouts, "Put your hands up! Show me your hands!" before opening fire less than a second later. The officer does not identify himself as police at any time in the footage.
"I'm shaken. I'm mad. I'm upset. And I feel it's partly my fault," Jefferson's neighbor, James Smith, told the Star-Telegram. "If I had never dialed the police department, she'd still be alive." Smith said that the neighbors on the street typically watch out for each other, and he was worried when he saw that the doors were open. "It makes you not want to call the police department," he said. "If you don't feel safe with the police department, then who do you feel safe with? Do you just ignore crime or ignore something that's not right?"
Who was the officer who shot Jefferson?
"Perceiving a threat the officer drew his duty weapon and fired one shot striking the person inside the residence," the department said in a statement. The white male police officer, who was unnamed at first, has now been identified as Aaron Dean. He had been with the department since April 2018. Dean was placed on administrative leave and was scheduled to be interviewed today, but he resigned hours before he was going to be fired, according to the New York Times. It is unclear whether he will face criminal charges.
The police statement also mentions that a firearm was found in the room, but did not include any information on why this was relevant. According to the Texas Tribune, police declined to answer further questions about the gun during a press conference on Sunday. "Law enforcement has not said that she wielded a weapon," Lee Merritt, a civil-rights attorney representing Jefferson's family, said. "Also, it wouldn't matter, because that's her home." Texas is an open-carry state and residents are permitted to keep firearms in their own homes.
The incident occurred just weeks after the trial of Amber Guyger, a white former Dallas police officer who had shot and killed her black neighbor, Botham Jean, in his own home after mistaking his apartment for hers. "Before law enforcement goes about their pattern of villainizing this beautiful peaceful woman, turning her into a suspect, a silhouette, or threat, let me tell you about [her,]" Merritt, who also represented Jean's family, wrote on Facebook. "She was a premed graduate of Xavier University. She was very close to her family. She was the auntie that stayed up on Friday night playing video games with her 8-year-old nephew." Merritt also wrote that Jefferson's mother had recently gotten very sick, so she was taking care of the house. "There was no reason for her to be murdered. None. We must have justice," he wrote.
"I mean it's senseless. My daughter was 28 years old, she had her whole life in front of her," Jefferson's father, Marquis, told CBS 11. "Unlike Botham Jean, I don't want no hug. That's my one and only daughter. I'll never forget that."
This post has been updated.