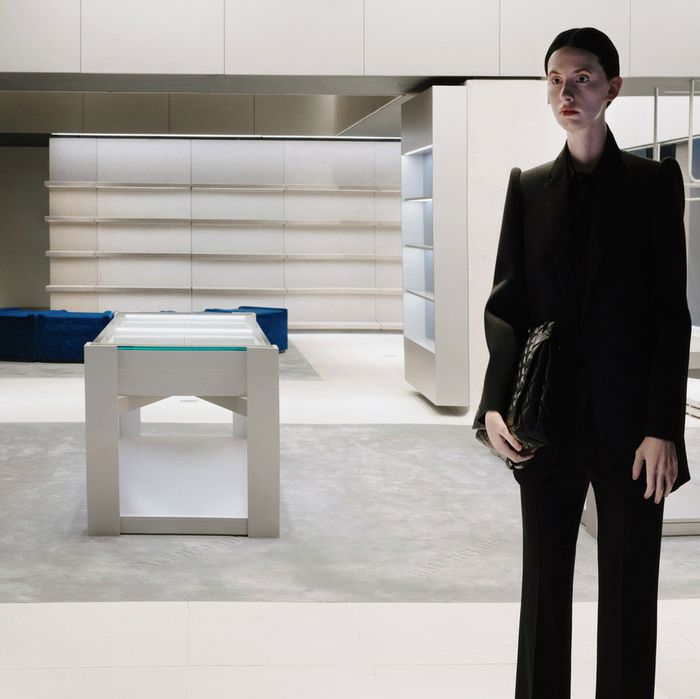 Photo: Courtesy of Balenciaga
For as long as clothing stores have been putting mannequins in their windows, passerby have asked themselves: Wait, did that just move?
That's essentially the plot of Mannequin, a film from 1987 starring Kim Cattrall as a plastic statue come to life. It served as the inspiration for Alexander Wang's New York Fashion Week party this season, which he hosted with Bulgari at the old Henri Bendel department store on Fifth Avenue. When the lights went down, it was hard not to feel a little spooked — both at the mannequins, and the state of retail.
Over at Balenciaga's new flagship store, which opened on Madison Avenue in September, stranger things are happening. Hyperreal mannequins, which look about as lifelike as a Madame Tussauds celebrity, fill the space. Based on 3-D scans of actual Balenciaga runway models, you might even recognize them.
The brand's creative director, Demna Gvasalia, wanted the space to reflect the concept of "public domain" — the key word here being "concept," since a luxury store isn't exactly democratic. In addition to fake pedestrians, the architecture features a mostly glass storefront, and the furniture was built to mimic the kind found on public transportation and in parks. Gvasalia is known for translating everyday objects — a DHL T-shirt, Crocs — into luxury items. As with his new mannequins, the ambiguity is the point.
A Balenciaga press release says that the hyperreal mannequins in particular are meant to "blur the line between synthesized and natural public domains." In the meantime, though, they're simply a great way to get window shoppers to do a double take.