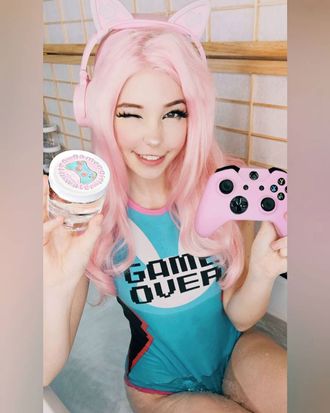 Belle Delphine.
Photo: @belle.delphine/Instagram
What a time to be alive. Years ago, used bathwater existed almost solely as a vehicle for hurling out babies. Now, in the age of Instagram and e-commerce, it's something you can sell online to horny dudes for $30 a jar.
Like Belle Delphine, the 19-year-old gamer girl and cosplayer with over 4.5 million Instagram followers and over 4,000 patrons on Patreon, who announced in a post back in July that she would be selling jars of "Gamer Girl Bathwater" for all you "THIRSTY gamer boys." The stunt went viral, and her jars sold almost immediately. Since then, the bathwater has been the subject of much controversy, with some claiming (falsely) that it gave them herpes and other companies selling fake jars of Delphine's pee.
Delphine herself has become something of an online Rorschach test, a figure in whom people see either a brilliant performance artist making a scathing commentary on the expectations of women online or someone cravenly taking advantage of misogynistic tropes of women gamers and appropriating Japanese cosplay culture.
In July, Delphine's Instagram page was suspended, likely as part of a coordinated campaign to report her for "nudity or pornography." She fell mostly off the radar for a couple of months, until Monday, when she tweeted that she had been arrested — "lol" — and shared a supposed mug shot of herself. It's unclear, however, whether she was in fact arrested by the London Metropolitan Police or the whole thing is a hoax.
Below, everything we know about Delphine, her bathwater, and her arrest.
She started as a pretty standard YouTuber, and then got increasingly quirky
Delphine was born in South Africa and now lives in, as she describes it on her Patreon page, "the rainy, windy and sometimes sunny UK" with her "family of hamsters." As Rolling Stone notes, she posted her first YouTube video in August 2016, and it was a pretty standard makeup tutorial, and it wasn't until 2018 that she began to full embrace what she calls her "weird elf kitty girl" aesthetic — lots of pink wigs, thigh-high stockings, and cat ears. In addition to standard cosplay and PG-13, NSFW pictures, she also became known for her ahegao — facial expressions meant to mimic the orgasms of hentai characters.
What truly set Delphine apart from other online personalities however, were her occasionally deeply odd stunts and videos, including flirtatiously eating a raw egg (!) and putting googly eyes on a dead octopus.
"I'm lucky. I can do crazy things and get to see the world react to it, and there's definitely enjoyment in that, even if it's sometimes a little scary," she told The Guardian this week. "I get a bigger reaction to my weirder content but I think that's only possible because I also make risqué content."
The bathwater bit started as a joke among her fans
Delphine is far from the first person to sell their bathwater online. ("People buy my pee, cum, etc. It's very common … hell, I've even sold my trash before," adult performer Princess Berpl told Rolling Stone in response to the stunt.) She got the idea, she told The Guardian, from her fans.
"Lots of people would comment on my photos saying they would drink my bathwater. I was thinking of ideas one day, and it just popped into my head. What if I actually bottled and sold my bath water?"
So she did. After her first round of bathwater sold out, she announced that she is selling more bathwater "ONE LAST TIME … except this time it's enough to drown in," before later adding that it sold out again in a day.
Currently, there is no bathwater for sale on her website.
No, her bathwater doesn't have herpes in it
One July 7, a few days after Delphine's first bathwater post, a Twitter used called @BakeRises, which mimics the Daily Mail, posted a picture of Delphine and a fake headline that read, "Over 50 People Have Reportedly Contracted Herpes After Drinking Instagram Star, Belle Delphine's Bath Water."
The hoax, according to Snopes, gained @BakeRises a lot of new followers, but their account has since been suspended. "It seems the best way to grow on Twitter is to impersonate a company [the Daily Mail] and say things about a celebrity [Belle Delphine] that legally can be considered libel and I could potentially be sued for," the account tweeted shortly after their herpes post.
Delphine herself responded to the claim, writing in a July 10 post, alongside a picture of her in a "Babygirl" nightie and thigh-high stockings that, "Regarding the whole 'herpes' thing, yes I used to get blisters when there's a change in weather, ive gotten them occasionally since I was a child, I haven't had one in a year or two and NO you cannot get it!! 90% of all people will have one in their lifetime…it's not an STD lol…"
No, that guy didn't vape her bathwater
Almost immediately after Delphine announced her bathwater sale, people began posting videos with what they claimed was her bathwater — drinking it, making mac and cheese with it, and vaping it. Most of these videos were also fake, however, like the vaping one from YouTuber Vito Gesualdi, who told Rolling Stone the experience "has been a very good lesson in how eagerly people will accept a lie if it's entertaining."
And no, she's not selling her pee
Another Delphine bathwater-related hoax was from a website designed to look like her online store, which is selling a $9,999 jar of GamerGirl Pee. The website and the pee are not Delphine's, she says.
(Whoever's it is should probably drink some more water, as they seem pretty dehydrated.)
She has tricked her fans before
Perhaps part of the reason people seem so willing to believe absurd rumors about Dalphine's bathwater is that she's fooled her fans before. In June, she posted a picture of herself to Instagram in fishnet stockings and "F*ck Me!" pasties, and told followers that if the photo got 1 million likes, she'd make a PornHub account. "The time has officially come."
The picture got over 1 million likes, and Delphine kept her word. Sort of. She uploaded 12 videos which included, "Belle Delphine gets SCISSORED," a video of her cutting up paper with scissors, and "Belle Delphine plays with her PUSSY," a video of her petting two stuffed cats.
This bait and switch greatly upset some fans, like one user who commented that "Belle Delphine's gamer card has officially been taken away." Oh no. They continued, "She has broken peoples hearts and destroyed their dignity. The only apology we will except is real videos and not these fake disgusting lies."
Some have suggested that these tricks prompted the campaign to suspend her Instagram, though this hasn't been confirmed.
What did she get arrested for?
It's unclear. Although Delphine's mugshot includes a watermark from the Metropolitan Police in London, Mashable noted that the picture Delphine posted "does not appear in any reverse image searches or in the Metropolitan Police's public database of mugshots," and that Metropolitan Police don't put a watermark on their mugshots in the first place.
There is, in other words, a good chance that this is all a hoax intended to get Delphine more attention. YouTuber Ethan Klein, however, suggested on his podcast, H3, that it's possible Delphine was arrested for shipping her bathwater, because it could be considered a "biological substance," like urine, which is illegal to ship in the U.K.
And what's happening with her … hamster?
A few hours after posting her mugshot, Delphine tweeted that someone came to a party she hosted and stole her pet hamster. I really don't know what's going on here.
So, are we all just being trolled?
Most definitely.
This page has been updated with additional details.