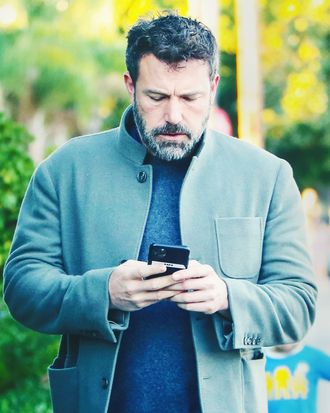 Ben Affleck, maybe scrolling through Raya.
Photo: BG004/GC Images
Ben Affleck — actor, director, and Boston's First Son — is on the members-only dating app Raya, according to "Page Six." Not only is he on it, he's tending to his profile like a delicate, horny new crop that requires constant care — keeping it fresh, updating his pictures, and changing the song that plays while other lucky Raya users browse his profile (it's currently "Guvua Jelly," by Bob Marley, per one source.)
"He seems to want a real partner and is not looking to date a celebrity. He is private and is in a good space right now," a source told "Page Six." "He has his kids and is focusing on work, but is ready to be in love again."
That's great; good for Ben. What could be more beautiful in this cruel, lonely world than to open one's self up to the possibility of love, connection, and vulnerability, on an $8 a month, DJ-based dating platform?
If Ben is going to find the right non-celebrity partner to share his life with, though, he's going to have to put together a solid profile, one that plays up his strengths (being, according to Anna Kendrick, "normal-sauce"; Argo) and downplays his weaknesses (Boston; the year 2016.)
Fortunately, we have some tips for him:
DO mention your interests, like old cars, iced coffee, and cigarettes.
DON'T mention Deflategate.
DO include this odd yet compelling photo of you holding a golden retriever puppy as if you're in physical pain.
Actually, just DON'T mention Tom Brady at all, and definitely DON'T mention that you had his head made into a chair for your son.
This might be controversial, but I say DO post a picture of your phoenix tattoo (you love it, it's meaningful to you, your partner should get used to it).
But DON'T post a picture of your dolphin tattoo.
DO include pictures of you and your friends.
DON'T do that thing where you blur their faces out, or cover them with smiley emojis or whatever. People will figure out who you are!
DO mention you have kids.
DON'T say you're looking for "someone to have adventures with." Vom.
Most importantly, have fun and be yourself! But don't make your Raya song, like, "I'm Shipping Up to Boston" or anything.