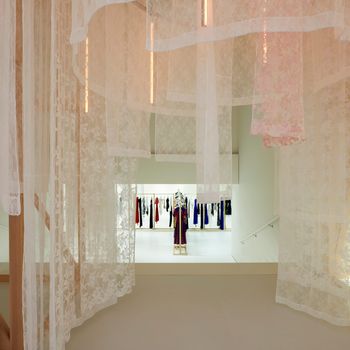 Self-Portrait.
Photo: Courtesy of Self-Portrait
Retail therapy might not be the most effective therapy, but it's definitely the most fun. Just in time for fall, here are eight New York City store openings to satisfy all of your wardrobe needs. Whether you're looking for straight-from-the-runway Balenciaga, a sustainable cashmere sweater from Everlane, or a pair of glasses from See, you'll find what you're looking for below.
Everlane
104 N. 6th St., Brooklyn, NY
Everlane opened its first brick-and-mortar location in Nolita almost two years ago. After expanding to the West Coast, the brand is back and opening its fourth and largest location in Williamsburg. Behind a white brick façade, you'll find 4,400 square feet of shopping space in a minimalist, natural-lit setting. And if the Nolita store always feels too crowded, never fear: This one has double the number of fitting rooms, more checkout counters, and a new fitting-room system where they'll hold your products and place in the line and text you when your room is ready.
Balenciaga
620 Madison Ave., New York, NY
Just before its Paris Fashion Week Spring 2020 show, Balenciaga opened a new flagship in midtown on the corner of Madison Avenue and 59th Street with over 4,400 square feet (apparently a magic number for retail spaces). The storefront is mostly glass, letting passersby peer right into the minimal industrial space. Wraparound screens display atmospheric video clips, and the room is dotted with Tobias Spichtig's sculptures of archival Balenciaga clothing dipped in resin and lacquered with metallic silver. And have we mentioned the eerily realistic mannequins?
Nordstrom Local
West Village: 13 Seventh Ave., New York, NY
Upper East Side: 1273 Third Ave., New York, NY
Its hotly anticipated New York flagship opens October 24, but Nordstrom has also opened two Nordstrom Local locations in the Upper East Side and the West Village, since most people don't live in midtown Manhattan. At each spot, you'll find services like online order pickup, returns, alterations, styling consultations, gift wrapping, and even repairs for shoes, handbags, and other leather goods.
Warby Parker
124 N. 6th St., Brooklyn, NY
New York City has always been Warby Parker's home. Since the eyewear brand opened its first office and store in the city, they're in just about every borough and have become a household name. Now, Warby Parker is opening its ninth location in Williamsburg, and it's a special one. In very Brooklyn fashion, the brand enlisted artist Stephen Powers to paint colorful illustrations and phrases on the two-story façade. While of course you'll find a lot of glasses inside, you'll find even more original artwork created just for the new space.
Self-Portrait
158 Mercer St., New York, NY
Self-Portrait is a playful feminine brand from London with a celebrity clientele: think names like Michelle Obama, Beyoncé, Jennifer Lopez, Katy Perry, Gigi Hadid, and Kendall Jenner. This opening marks the brand's second brick-and-mortar location, and its first in the United States. At the moment, the store is selling the latest Fall 2019 ready-to-wear collection in a dreamy space filled with layered lace suspended from a wooden structure.
Nanushka
140 Wooster Street, New York, NY
Budapest-based brand Nanushka opened its New York flagship in Soho this fall, carrying both womenswear and menswear. Tying into its roots, the store immerses shoppers in a natural yet modern space, incorporating Hungarian craftsmanship with twisted wood on racks, doors, and handles. In fact, art's influence can be found throughout the space–Argentinian born artist Constanza Vallese created a large mural-type installation by the entrance and the stairway references Frank Gehry's Guggenheim staircase. The new flagship is complete with a café that serves its coffee in artisanal ceramics.
Persol
253 Elizabeth Street, New York, NY
Since its inception in 1917, Italian eyewear brand Persol is finally opening a flagship in New York. Maintaining its reputation of having timeless style, the brand chose to put the location in Nolita–home and workplace to a fashionable crowd of creatives. Of course, the flagship offers all Persol's luxurious frames and lense, but it will also feature customization, engraving, optician, and prescription services.
Moose Knuckles
57 Greene Street, New York, NY
Canadian luxury brand Moose Knuckles opened their first U.S. flagship in Soho. With winter arriving, it's perfect timing since they're known for their winter jackets, parkas, bombers, and puffers. Customers will be able to shop the full range of products in the futuristic woodsy space (there's a multi-level screen showing a live stream of the northern lights), but the intrigue continues below the first level, too. Sadly it's invite only, but Moose Knuckles describes the neon-lit cellar as "a sensual wonderland."
Falconeri
101 Prince St., New York, NY
This luxury cashmere brand from Milan is finally breaking into the U.S. market with its new shop in Soho. Apart from selling all of the sublimely soft cashmere you could possibly want, the 2,500-square-foot boutique has a "cashmere museum," an installation exploring how the wool is sourced and allows visitors to feel it in its raw state. And there's a very social-media-friendly thread wall with spools of wool in different colors.
SEE Eyewear
1100 Madison Ave., New York, NY
After being in the business for 21 years and opening five New York City stores, SEE Eyewear finally debuted its flagship on the Upper East Side. The brand is known for quirky styles at affordable prices, and this location offers a personalized shopping experience that will let you not only pick out frames, but also outfit them with different colors and types of lenses of your choosing.
R13
34 Howard St., New York, NY
Offering luxury basics with a strong Americana influence, R13 just opened its first flagship in Soho. Architecture agency Leong Leong is responsible for the minimal and industrial space. It may look like there are no clothes, but the racks are actually tucked behind LED screens that act as five modular installations. There's also a glass-walled garden at the rear of the store, which is described by the brand's designer, Chris Leba, as a "sweet escape in a city of madness."
Taft
135 Prince Street, New York, NY
Luxury men's footwear brand, Taft, opened its very first retail location in Soho. Considering the founders Kory and Mallory Stevens started Taft as a small sock business in 2014, it's quite the feat. Now, their Spain and Portugal-produced shoes are a go-to for young urban professionals, celebrities, and NBA players. The store offers their entire product range including boots, dress shoes, and sneakers.
Ramy Brook
980 Madison Ave., New York, NY
The designer of this eponymous brand always wanted a store uptown, and now she has one on the Upper East Side. The brand will be selling special suede pieces, sweaters, scarves, hats, and gloves in a bright, open space decorated with the brand's signature orange-and-gold color scheme. "We want the customer to feel at home and empowered," said Ramy Brook Sharp in a press release. "She is our number one priority."