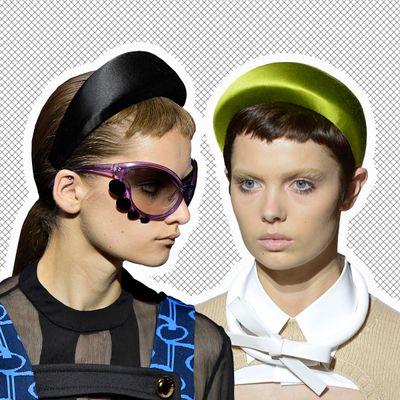 Two very thick headbands at Prada Spring 2019.
Photo: Getty Images
We all saw the hair accessory onslaught of 2019 coming. Back in January, 2019 was already poised to be the year of The Bow, The Barrette, and The Headband. All three are still going pretty strong in the final quarter of the year, but the latter in particular is getting bigger. Like, literally.
Long gone are the frail and dainty Alice headbands, the one that simply provided a nice, subtle contrasting sliver of fabric against the top of the head. Headbands have been bulking up all year long and they're now officially swole. So swole that they're basically trickling into hat territory.
Someone somewhere once said that everything is a competition, and this particular one is about seeing just how high and wide your headband can get. You no longer need big hair to be closer to god, you just need a padded headband. Here are 15 headbands ranked from kind of thick to really thick, to help you in your quest to add that extra inch or two.
The Starter Padded Headband
If you're new to the whole wearing-a-headband-as-a-metaphorical-crown-to -distinguish-power-over-your-minions thing, you may want to start with a slightly less intimidating girth. This classic headband is padded but not too padded.
The Festive Starter Padded Headband
A tasteful 1-inch width and a fun ribbed texture makes this one a smidge more adventurous than the true starter headband. A good way to trick people into thinking you're exciting about the impending holiday season.
The Edgier Starter Padded Headband
The Popular, Preppy One
With a width of 1.5 inches and a smooth rounded shape, this headband is so popular because it hits the sweet spot of girth for the padded headband trend.
The Wild One
An excellent way to continue wearing animal print through the end of the decade without having to step out in that skirt again.
The Special Occasion One
Photo: TICAR
Though this has the average padded headband width of 1.5 inches, the luxurious velvet finish and price tag make it feel a smidge bigger, don't you think?
The One That Reaches for the Stars
This halo also has the standard 1.5-inch width, but I'm pretty sure those 3-D pearl star accents add up.
The One That's Easy on Your Scalp
This affordable brand claims the "primary reason" they dreamed up this cushioned band was to help people avoid "headband headache", but methinks the true goal was to be above-average, which it certainly is with its impressive 1.6 inch-width.
The One That's a Subtle Ode to Blair Waldorf
The only thing more Blair Waldorf than wearing a headband is wearing a padded headband named "Uptown Girl." Like the aforementioned iconic Uptown girl, this one is an overachiever. It comes in the above-average width of 1.6 inches, too.
The Princess-y One
Pink, pearls and a width of 1.6 inches. What more could you want?
The Wider, Princess-y One
Unless of course what you want is even more pearls and .4 more width for your crown.
The One Influencers Love
Bluetiful Milano creations photograph extremely well because they're all about getting you that noticeable and dramatic "Renaissance Courtesan" height right here in 2019.
The One That's Ready for Winter
This topper clocks in at 2-inches wide and is padded with faux fur that will both make you excited for winter and excited to pet yourself.
The One That Gets the Job Done
Sometimes you just need something fuss-free to make your small hair bigger. This 2-inch wide headband that didn't even ask to be modeled on a real human head is just that.
The Reason for the Season
Legend has it this is the very headband that started it all when it walked down the runway in September of last year. It's only fitting that Prada's silk-satin hair hat bests them all, clocking in at a very chonky 2.16 inches wide and a proportional height that brings any wearer a good chunk above the rest.
If you buy something through our links, New York may earn an affiliate commission.