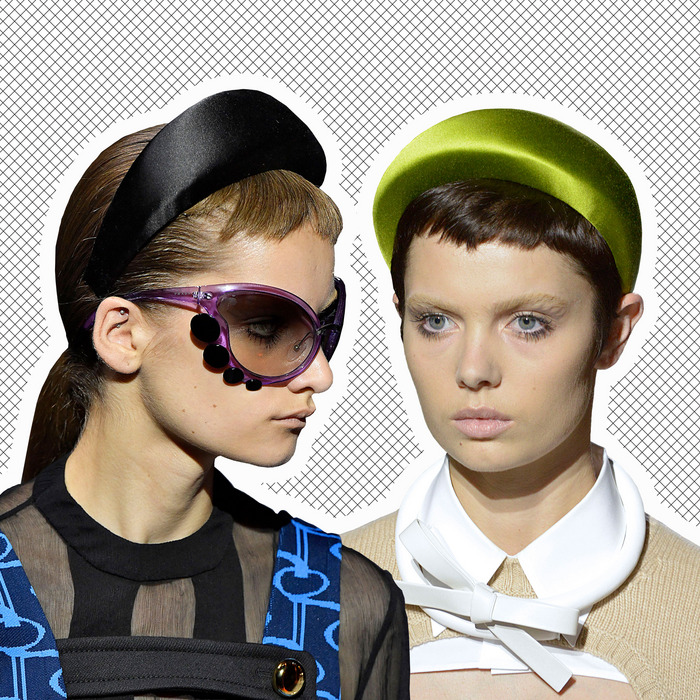 Two very thick headbands at Prada Spring 2019.
Photo: Getty Images/products courtesy of the vendors
We all saw the hair accessory onslaught of 2019 coming. Back in January, 2019 was already poised to be the year of The Bow, The Barrette, and The Headband. All three are still going pretty strong in the final quarter of the year, but the latter in particular is getting bigger. Like, literally.
Long gone are the frail and dainty Alice headbands, the one that simply provided a nice, subtle contrasting sliver of fabric against the top of the head. Headbands have been bulking up all year long and they're now officially swole. So swole that they're basically trickling into hat territory.
Someone somewhere once said that everything is a competition, and this particular one is about seeing just how high and wide your headband can get. You no longer need big hair to be closer to god, you just need a padded headband. Here are 15 headbands ranked from kind of thick to really thick, to help you in your quest to add that extra inch or two.
The Starter Padded Headband
The Festive Starter Padded Headband
The Edgier Starter Padded Headband
Kitsch x Justine Marjan Patent Padded Headband
The Popular, Preppy One
The Wild One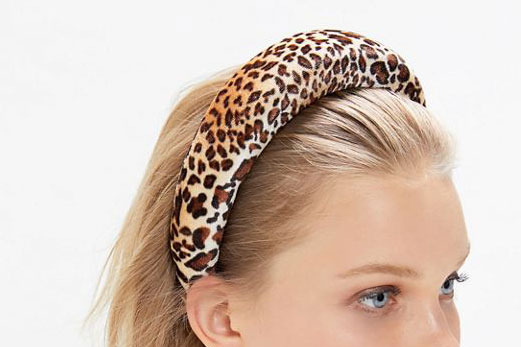 Urban Outfitters Oversized Padded Headband
An excellent way to continue wearing animal print through the end of the decade without having to step out in that skirt again.
The Special Occasion One
The One That Reaches for the Stars
The One That's Easy on Your Scalp
The One That's a Subtle Ode to Blair Waldorf
The Princess-y One
The Wider, Princess-y One
The One Influencers Love
The One That's Ready for Winter
The One That Gets the Job Done
The Reason for the Season
Prada Silk-Satin Headband
Legend has it this is the very headband that started it all when it walked down the runway in September of last year. It's only fitting that Prada's silk-satin hair hat bests them all, clocking in at a very chonky 2.16 inches wide and a proportional height that brings any wearer a good chunk above the rest.
If you buy something through our links, New York may earn an affiliate commission.