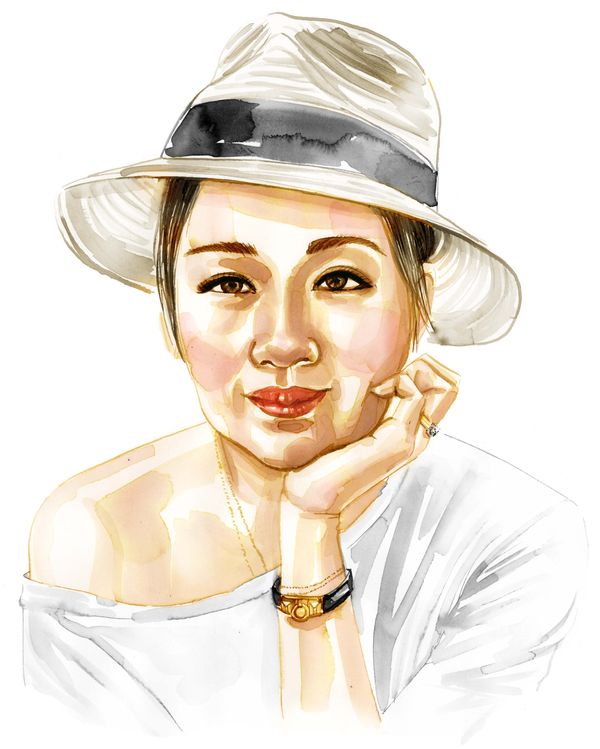 Illustration: Samantha Hahn
There's no one right approach to makeup or skin care; everyone does it a little bit differently. In You Do You, the Cut talks to women about what they put on their faces and bodies, and why.
You could come to Bettina Cho seeking advice of the legal variety or the skin-care variety and either way, you'd walk away feeling much more at ease and extremely well-informed. The New York–based attorney is the VP of special projects and legal at Opening Ceremony, but she also happens to be an enlightened beauty connoisseur, compete with a dedicated beauty account to document her favorite products and new finds. Below, Cho gives us a thorough look into her current beauty routine, reveals the last YouTube hole she fell into, and tells us how she winds down after work.
On the three words that sum up her beauty philosophy:
Mindful, consistent, and creative.
On her nighttime routine:
My nighttime routine, particularly when it comes to skin care and winding down, is really my only me-time during the day. I'm home from work, my kid's asleep, I've spent time with my husband, finished any work, watched TV, whatever.
I have this prayer candle in my bathroom. I got it from the Rubin Museum, which I like to go visit for the gift shop because they have really great Buddhist-related items; from books and jewelry to singing bowls. I light this candle and it smells very much like what you smell at a temple and it puts me in a meditative space.
Then, I remove my makeup with Koh Gen Do micellar water, then I always use a cleansing balm or oil cleanser. Right now, it's Shu Uemera Anti/Oxi Pollutant one that's full of antioxidants that I picked up at an airport. Then I follow with Paula's Choice Optimal cream cleanser, and I use a Foreo to wash the second cleanse. I always use a hydrating toner. The one I'm using now is I'm From Rice toner. Then, I alternate between Paula's Choice 2% BHA Liquid or Biologique Recherche P50.
I always put on a mask; it changes every day and it's always a wash-off mask. I love Biologique Recherche's VIP O2, and there's a Paula's Choice hydrating mask that I use if I can't think of one to pick. I put the mask on and I wait ten minutes or so and when I'm waiting, literally all I'm doing is closing my eyes and breathing. It's my meditation time so to speak. Then I hop in the shower and wash off the mask as the last step because I love to take a hot shower, but know I'm not supposed to wash my face with hot water, so I'll quickly turn it colder and rinse it off.
I'll apply body cream, the one by Nécessaire. Because I'm such a crazy oil person I usually have a bunch of facial oils, some that are getting old or running low, so I'll mix one of those with my body cream. I don't ever waste facial oils because they're usually really expensive.
I use Retin-A from Curology, where they create a custom cream serum and that one has tretinoin, niacinamide, and azelaic acid. Keep in mind I'm using all of that at the same time, but this is after months of acclimating! I wouldn't recommend anyone using all of this at the same time. Finally, I'll follow with an oil serum. Right now I'm using one by Saint Jane, it's CBD. Then I follow it with Maelove The One Cream. Usually the moisturizers I use just lock everything in and keep my skin moisturized. I don't go crazy with active ingredients with moisturizer.
On the beauty thing she wants to believe:
I want to believe any packaging that has the word "anti-pollution" in it. It's one of those things where you're not supposed to see the effects until after a long period of time, and it's hard for me to take that leap of faith. But I don't want to be that asshole who skips out on it while all my friends have this beautiful skin later on and I'm screwed.
On what she knows is good for her but doesn't do:
There are some people who are good at getting sleep and I'm not one of them. I go to sleep too late. I love to stay up and catch up on reading or movies or streaming services and all of that fun stuff when I really should be calming myself, going to bed, and waking up earlier. Everyone talks about how you're less stressed out, more restored, and all of that but I still don't do it. I don't like unanswered things so if I don't know the ending of something, I have to investigate. I love mysteries and thrillers where inherently the whole issue is Can you figure it out? so I have to see it through till the end.
On bangs:
I've had them almost my entire life, so I'm a huge proponent of bangs. It suits my face and it suits my personality.
On beauty splurges:
This is tricky because you're going to have to publish this and my husband is going to see it and he's going to freak out. [Laughs] I do love facials, and I go to Diana Yerkes at Rescue Spa in New York. The facial itself is expensive, 100 percent, and absolutely a luxury, but I love going to her. I don't go as often because I'm watching my wallet, but if I could, I would go every month and that would probably be the most expensive thing over time.
On what she'd tell her 12-year-old self:
I think the answer everyone gives is wear SPF, and yes, that is true and I'd tell myself that as well, but my mom was always an interesting influence on my life. She's no longer with us, so maybe this is kind of unfair because she can't defend herself. But she introduced me to makeup at a very early age, and she grew up in a time and community that had really Western ideals of beauty. I wish that I'd had the confidence to say I don't need that. It's not even about being introduced to makeup too young, but the way it was presented to me, like you can look better, different, and as a result, more beautiful.
On her dream beauty mentor:
I kind of don't have one. Skin care has to be tailored to whatever's going on with your face, your skin, your health, your life. People are also so vocal now that all the rules are getting overturned. There are no more immutable truths. I like to research, and I always take whatever I hear with a grain of salt. It's hard for me to say that I would believe any one person for a long period of time. But in terms of makeup and artistry and all that? Kevin Aucoin, Lisa Eldrige, or Pat McGrath. In terms of their artistry I would love to be under their tutelage.