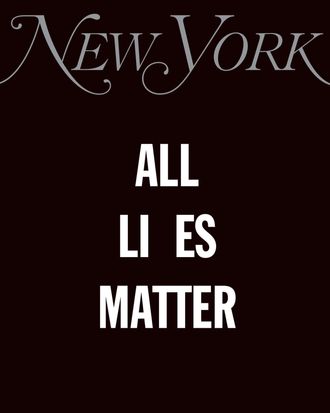 Photo: Hank Willis Thomas
Last year, in honor of New York's 50th anniversary, we asked 50 artists to create magazine covers inspired by the way they see New York City. The covers, which featured work by artists like Kerry James Marshall, Yoko Ono, Barbara Kruger, and Judy Chicago, were displayed, posted, and projected throughout the city. One cover, created by the artist Hank Willis Thomas, featured the phrase "ALL LI ES MATTER." Now, for a limited time, you can purchase a print of Thomas's piece through a partnership with the Public Art Fund and eBay for Charity.
"It seems so obvious that many people are lying when they say 'All lives matter,'" Thomas told Intelligencer in 2018. "If you believe all lives matter, then you'd also acknowledge that black lives matter, and those same people would be marching alongside if they believed that."
"ALL LI ES MATTER" was also featured by For Freedoms, an artist-led platform that promotes civic engagement, as one of 52 pieces displayed on billboards across the country ahead of the 2018 midterm elections.
The limited-edition prints are now available for purchase for $375 on eBay. Proceeds will benefit the Public Art Fund's mission to provide democratic access to contemporary art.