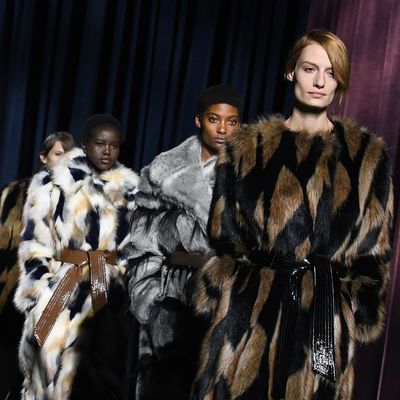 Photo: ALAIN JOCARD/AFP/Getty Images
A year after Los Angeles became the largest city in the country to ban the sale of animal fur, the entire state of California has followed suit. On October 11, Governor Gavin Newsom approved bill AB44, which makes it illegal to sell, donate, or manufacture new fur products in the state.
The new law will apply to clothing, handbags, shoes, hats, slippers, or key chains that contain animal fur. However, the law does exempt leather, cowhide, and shearling as well the use of fur for religious purposes, taxidermy products, and used fur. The law will take some time to go into effect — January 1, 2023, to be exact.
Governor Newsom also signed bills focusing on animal cruelty, including the ban on using animals such as monkeys, elephants, and tigers in circuses, legislation that prohibits the killing of bobcats, and another law that protects wild and domestic horses from slaughter.
"California is a leader when it comes to animal welfare and today that leadership includes banning the sale of fur," Governor Newsom said in a statement. "But we are doing more than that. We are making a statement to the world that beautiful wild animals like bears and tigers have no place on trapeze wires or jumping through flames. Just YouTube the videos showing the cruel way these animals — often stripped from their mothers as babies — are trained to do dangerous tricks. It's deeply disturbing."
Other states may soon follow in California's footsteps. As CBS News points out, Hawaii and New York have introduced their own fur-ban legislation. If enacted, the new laws will be more in line with the fur-ban trend that has been seen more often in the fashion industry. In recent years, brands such as Armani, Prada, Coach, and Burberry have all vowed to stop using fur in their collections.