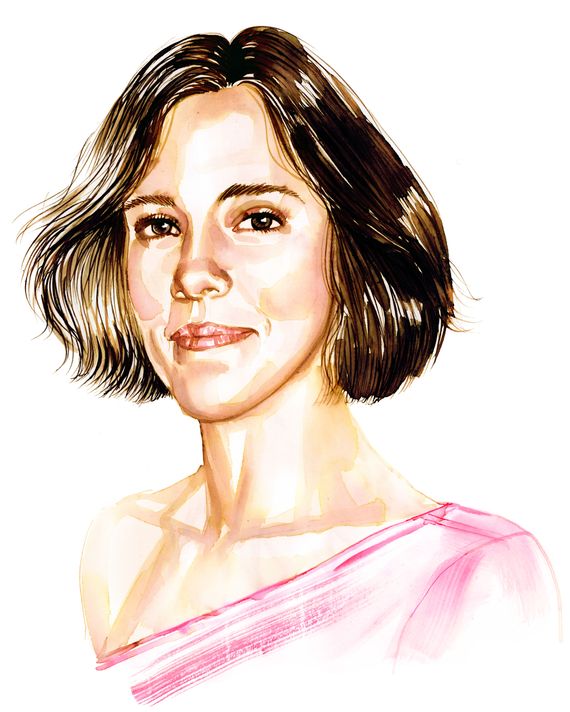 There's no one right approach to makeup or skin care; everyone does it a little bit differently. In You Do You, we're talking to women about what they put on their faces and bodies, and why.
Mexico City–based art director, graphic designer, and fashion designer Carla Valdivia Nakatani does a lot of things: running her clothing line, Worldwide Limited; running her clothing boutique, Hi-Bye; running her own graphic-design firm in the back of said boutique; and designing Freakebana floral arrangements via Flores La Fe. The latest addition to that day-to-day to-do list is crafting and maintaining a skin-care routine for the very first time in her life. Below, she talks to the Cut about Baby Foot, accidental step bangs, and finally jumping on the self-care bandwagon.
On her beauty philosophy in three words: "Be stress-free." That's it. I've had acne and problem skin ever since I was a teenager, and I kind of stopped caring about beauty for a long time, stopped caring for myself. But I just turned 30 this year, and I've become a lot more aware of myself and of aging. I want to look like my parents when I'm in my 50s and 60s. I'm Latino and Asian, so my parents look amazing, but I don't want to just rely on the genes. I want to do more. I'm trying really hard to take their advice, which is all about being less stressed out. When you're not stressed, it helps your immune system and it shows in your skin.
And I have a thyroid problem, so I've been kind of forced to take care of my lifestyle, managing stress and nurturing my immune system and eating healthily. I still have to take medication, but I need everything else to work too. It's an everyday thing: being aware of yourself and making sure you're good. Before I discovered it, I was a monster all the time. It was so extreme.
On her nighttime routine: I literally only use like three products, total. I can't use soap on my face because it makes me break out; it throws off my pH or whatever. I'm not sure. I usually don't use makeup, so I use micellar water, the pink Bioderma one, to clean my face, and then I use Shiseido Waso hydrating gel, and then I use eye serum by the Ordinary. I don't know if I'm supposed to use it at night because it has caffeine in it, but it gets all the puffiness and stuff going.
I never had a skin-care routine before, but now I have to take these three minutes to take care of myself. I basically use that time to give myself a massage. And that's it, but even that is hard! My mom looks so good. I used to watch her do her routines, but nothing really stuck. I don't remember the things she used, but the dedication to herself is the thing that I home in on when I just want to go to sleep.
On her worst haircut: Oh my God. Holy shit. There are so many. Honestly, none of them were bad, but it was more the feeling afterward, where you want to die. You don't actually look bad at all in hindsight. You look back and you're like, OMG, I was 15. I look gorge. I had nothing to ever worry about. I always had really long hair, and I got my bangs cut for the first time when I was 13. You know that Japanese anime look? I did it to myself. Now I think it was actually a good look, but at the time it was like the end of the world. Now it's cool. Hack all your hair off, and it looks sick.
On what she wants to believe about beauty: Every time I see a new fad — not just with beauty, but with snacks and stuff — I have to try it, even if it's just once. The last thing I tried were those foot masks. I'd watch all these videos of people peeling their feet and I was scared but I was like, I have to. And I did and nothing happened. Whatever it is, it almost never works. I'm always disappointed. I'm like, I guess I'm glowing? I don't know. Basically, I get product recommendations though my friends; otherwise, I would not know what to do. There's so much stuff. I remember when it was Neutrogena and Noxzema and that's it.
On her biggest beauty splurge: Getting my nails done. I do spend a fair amount on getting designs, which I love. I try to come up with something new every time. One time I did fire nails with my girl Karla Donato, who I love going to — she does these hand-painted designs on my natural nails. I take pride in having pretty good hands and nails! Lately, I've been into cow print, squiggles, gradients, polka dots, and my boring go-to is a white nail.
On what her tour rider would be, if she were famous: Really great sheets — really, really soft sheets. One of my best friends always swears by sleeping on a silk pillow so you don't damage your skin, so it'd be something like that, but an entire bed. And hamburgers. Cheeseburgers all the time. And Cherry Coke, even though I'm trying to cut down on sugar. I'd just never leave the tour.