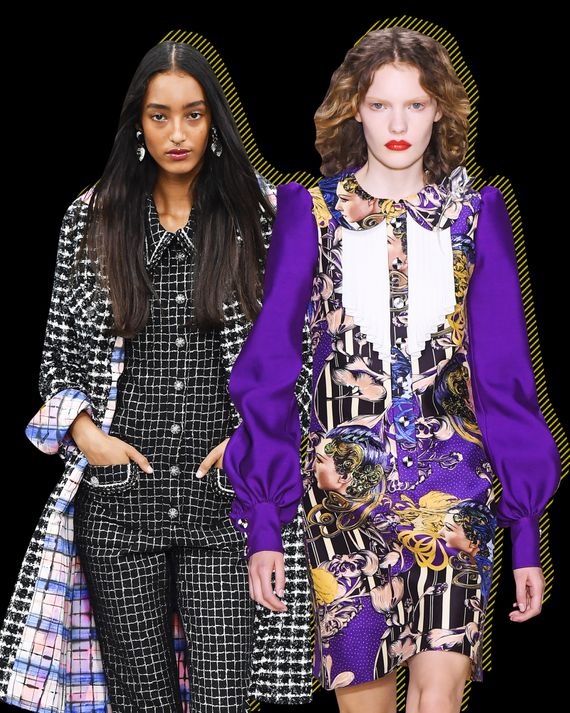 Photo: Looks seen at Chanel (L) and Louis Vuitton (R). Getty Images.
At the end of the Paris collections, two rivals — Chanel and Louis Vuitton — unexpectedly set off an old debate. Is it better to show the realistic kind of fashion that most women wear, as Virginie Viard did at Chanel, or should a designer's aim be that of Nicolas Ghesquière at Vuitton, and stir our imaginations with the force of his concept, even if the styles themselves have a limited audience?
This was Viard's first ready-to-wear show since the death of Karl Lagerfeld, in February, and she made her intentions plain from the start. There was the gray set — a stereotypical, zinc-coated Parisian rooftop, complete with chimney pots and garret windows but also air-conditioning compressors. There was the new — and I would say, fresher — cast of models, faces I didn't recognize and the unstyled hair I associate with Nouvelle Vague actresses (Viard said in her press notes that French New Wave cinema of the 1950s and '60s was a reference). There was also an obvious effort to include a wider range of body types, or, at any rate, more average-sized bodies.
But most of all, there was a conspicuous turn toward youthfulness — the classical French kind, not Bardot kittenish but well-bred, pretty, and certainly sexually aware. It was evident in the perky skirts and many playsuits, done in Chanel tweeds, and in a striped knit minidress with a fluffy pink cardigan, not to mention pink metallic hot pants and pegged denim trousers. Viard showed everything with ankle-strapped flats or a jeweled, black low-heeled sandal, often with black tights, and she seemed eager to pare back the accessories, maybe to distance herself (and her young prototype) from the mass appeal of Chanel's chains and bags. Viard also gave most of her models a waist, either with a belt or the cut of the garment. Lagerfeld was a genius, but some of his later styles could be extremely dowdy.
"Creativity isn't a formula," said the designer and artist Charlotte Perriand, the subject of a major retrospective now at the Fondation Louis Vuitton. Perriand, like Coco Chanel, found inspiration in everyday objects, such as fat, silver ball bearings that she made into a modern necklace.
Viard has the challenge of moving the brand forward without getting rid of the Chanel formula — those recognizable elements, like the tweeds and the jackets, that everyone expects to see. Yet, in the end, if she wants to be successful, her approach can't appear to be at all formulaic. It has to be surprising. I think she ought to consider not so much what Chanel created in her time but rather the hows and whys of it, and then try to relate those methods to objects or new tastes in today's world. Simply focusing on the image of a young Parisian, dancing on the rooftops, isn't a method. It's a cliché. What's more, there's already a designer in Paris doing that flat-heeled, jeune-fille look — Maria Grazia Chiuri at Dior.
Ghesquière has abandoned the overblown sets of the past few seasons for a sleek box, lined in pine plywood (all of which, the company said, will be donated for reuse), with a huge screen that featured the Scottish musical artist Sophie performing an extended version of "It's Okay to Cry," specifically for the show. As Sophie's face filled the screen, in a constant wave of colors, a door in the wall opened and out stepped the models into the vastness of the wooden world.
What I loved about this collection was how Ghesquière took the sartorial elements of the Belle Epoque — leg-of-mutton sleeves, starched shirt fronts, an implacable Proustian dandyism — and tamed them into a dazzling 21st-century look, with an obvious bit of irony. There were also traces, in prints and patterned knits, of the early Art Nouveau era. Paris Fashion Week sometimes seemed an extended history lesson, especially of the 17th and 18th centuries. But Ghesquière smartly chose as his starting point an era when more and more women were working outside the home, when Paris fashion was about to erupt with Poiret's modernism, and the ability to travel farther distances was suddenly possible, thanks to the invention of the automobile and airplane. To me, he took the spirit of that change and wove it into his own style — yes, there were a few Gibson girl hairstyles, but only for fun. He didn't get bogged down.
Those three-piece pant suits that opened the show were delightful, and a lesson in themselves, because Ghesquière didn't just jump on a big trend of the season. He created, rather, an eye-catching look, pairing a chevron-striped jacket with a dark checked vest and a plaid shirt, and cooling off the whole thing with sharp white pants. And there was the final flourish of a boutonniere. It was the dream you expect from a great designer.
Stuck between the shows were many smaller presentations, in hotels and apartments. One that deserves mention is Marco Zanini's beautifully crafted line of caftans, relaxed linen suits, silk walking shorts, and romantic cotton shirts with subtle pin tucking or ribbon details. Zanini, based in Milan, is well known in the industry, having worked at Versace, Schiaparelli, and, for a hot but memorable minute, Halston.
"I wanted to go back to something that I really believe in," he told me. "Which is quality, good fabrics, nice manufacturing. And I like doing it by staying under the radar. There's too much noise, which I can't compete it with."
That sense of detachment, strange as it may sound, is exactly what's present in his clothes. So far, ten stores, including Dover Street Market, are carrying Zanini, and the sisters who own A'maree, in Newport Beach, California, were enthusiastically placing an order on the day I saw him.