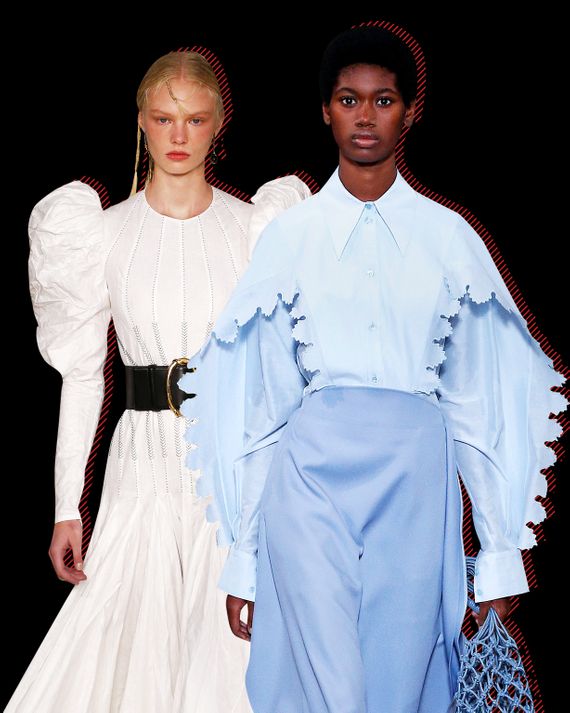 Looks from McQueen (L) and McCartney (R).
Photo: Getty Images
As everyone knows, fashion shows have become theater. Choirs, bubble artists, and a small forest of trees were among the effects this season, and, of course, there was the Balenciaga parliament. Stella McCartney, though, had a different idea. As guests filtered into her usual venue, the ornate Opera Garnier, where a heavy dance beat played, they noticed that the walls were alive with video projections of humping wild animals. Zebras, bears, armadillos. A whole fornicating zoo.
So McCartney got down to business. And who doesn't love sped-up GIFs of horny animals after a weekend in the chiffon trenches? Clearly, her point was the species must keep going, and in the wasteful, spending-mad fashion industry, those who survive the Darwinian die-off will be those who are environmentally conscious. Among her guests was Vivienne Westwood, a green activist. Not that you could tell. On her lapel was a big badge that said "I [heart symbol] crap."
When McCartney started her label nearly 20 years ago, she was mainly known as the designer who didn't use fur or leather, and as a daughter of a Beatle. Today, her London-based company has taken a considerable lead in creating products from organic cotton, recycled polyester, nylon yarn made from garbage, biodegradable wood pulp (for eyewear), and plant-based plastics for soles. Not only has she demonstrated to the media that her fashion can be interesting and ethical, she has emerged as the industry's leading advocate. This summer, she sold a minority share of her company to LVMH, and took on the extra role of advising the luxury group on how to be more sustainable.
Watching her show unfold yesterday, starting with a cream blazer over soft striped pants and followed by scallop-edged cotton shirts and tailored skirts, I had the sense that her progress on green materials has energized her designs. She's always been way ahead, but in the past five or six years she's had an acceleration in her development.
Or maybe it's all those wild and crazy zebras. Whatever the explanation, this collection was a good follow-up to her terrific fall show, with polished yet casual work separates, viscose jumpsuits, utility jackets and pants in white or aqua cotton, and very cute dark-rinsed denim with exaggerated top-stitching.
Before the Alexander McQueen show, Sarah Burton was showing me a clip on an iPad of workers at an Irish linen factory spreading potato starch on cloth and then, with a mechanized row of wooden hammers, pounding — or "beetling" — it into the linen. The result is a light, papery material that doesn't look natural at all; in fact, when done in black, it has a fetishistic sheen.
But I was also struck by the ancient technology that had produced the beetling for square-neck, puffed-sleeved dresses with delicate featherstitching on the bodice. Burton says she believes the mill is the last of its kind in Northern Ireland, and that it mainly produces inner linings for British suit-makers. Lee McQueen began his career as an apprentice on Savile Row. The white papery linen dress that would open Burton's spring 2020 show was a modification of a design McQueen did in 2000.
With Burton, almost everything is a circle. She has explored British craft, from the Shetlands to Cornwall to the former mill towns of  the north, and run her discoveries through the fine, dark filter of McQueen's sensibility. This collection was sparked by sketches some Central Saint Martins students made this year of a model at a drawing class held at the Alexander McQueen educational space in London. They sketched on one large sheet of paper, capturing dress and body details in quick, broken lines.
"What was so magical about it was they all did it together," Burton said. She then got the idea to transfer the drawing to linen and embroider it. People from across the company contributed stitches, and Stella Tennant, who has a long history with the label, wore one of the two finished dresses.
All in all, the exquisite clothes were lighter and more pared down than those in recent seasons, and that in itself was a welcome shift. In a way, the simplification made the materials, including lace, and the silhouettes stand out more. There were sleek pantsuits in gray mohair, with a bit of the waist cut out; a long white dress and a trouser suit in damask linen edged in lace; a sexy black ribbed knit with a spiral of lacing; and a simple black-and-white-striped linen dress inspired by an Irish tea towel that Burton picked up.
I asked if the lace had also come from Ireland, and she shook her head.
"I guess it would be horribly expensive," I volunteered.
She laughed. "And it might take a year." (It's machine-made in Italy.)
At the end of the show, which featured music by Isobel Waller-Bridge (sister of Phoebe) and performed by the London Contemporary Orchestra, Burton brought out on the runway everyone in the company who had traveled to Paris. The applause lasted until the final bow.
More From Paris Fashion Week
See All