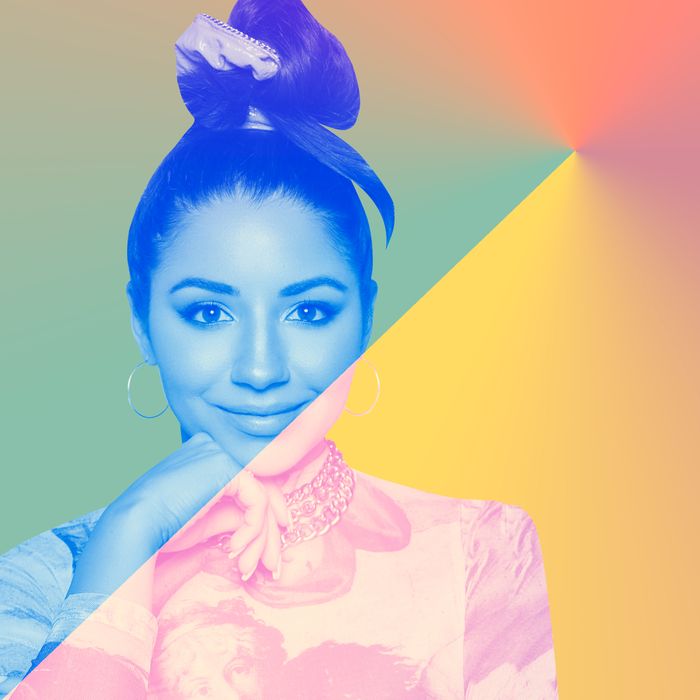 Photo: Courtesy of Justine Marjan
Justine Marjan grew up believing she had bad hair.
"It's always been really thick, and no haircut I was ever given worked," recalls the celebrity hairstylist. "So, in high school, my friends and I started getting creative, cutting and coloring each others' hair. And that's when it hit me: I don't have bad hair. I'd just never gotten a good haircut."
Despite possessing a natural talent, Marjan never considered turning it into a career until one fateful day, when she was sitting at a bus stop in her town outside Santa Barbara, and she happened to look up and notice the hair salon across the street. She thought it looked cool, so she walked in, spoke with the manager and was hired as its receptionist. Hairstyling classes followed, as did getting licensed, then her own chair, from which she honed her craft for eight years.
But she really wanted to be in fashion, so when Jen Atkin posted on Instagram that she was looking for an assistant, Marjan DM'ed her, and was soon driving to Los Angeles for her trial run.
"It was really bad," she remembers. "I walked in and her assistant said, 'She's sick, and she's not in a good mood. Don't talk to her. Just stay away.' So I did."
Nevertheless, Atkin noticed her talent, but they needed someone who lived in L.A. So Marjan moved to L.A. Atkin came to rely on Marjan for more than just her hair skills. When she started her editorial site Mane Addicts, she named Marjan its editorial director. After a few years together, Marjan went off on her own, and her hands have been busy ever since.
Along with tending to clients (including several Kardashians), Marjan just created her third collaboration with Kitsch hair accessories, is a spokesperson for Olly vitamins, and recently completed her sixth Fashion Week, where she's been TRESemmé head stylist for shows like Christian Siriano and Alice + Olivia.
"The hair teams backstage have traditionally been led by men, so it's been really exciting to be part of a brand that supports bringing women into these kinds of leadership positions."
Marjan spoke with the Cut about inspiring Creamsicles, real-estate interests, and why her handstand scorpion is probably better than yours.
What's your definition of beauty? Confidence and kindness are the ultimate beauty tools.
What do you think when you hear the term "clean beauty"? Sign me up!
Where, if anywhere, in your beauty routine (or life) are you not quite that "clean," "green," or "sustainable"? There's no way I'll quit my hair-color or keratin treatments! My grays are not on display, honey.
I think about _____ a lot. Sustainability.
What is your morning skin-care routine? I always start my morning with a warm glass of water with lemon and two Olly Probiotic gummy vitamins. Doing this on an empty stomach has really helped clear my skin. I then cleanse with Sonya Dakar Buriti Purifying Cleanser. I mist Cocokind Organic Rosewater Toner. After I apply Sonya Dakar Omega Oil Blend or Biossance Squalane and Vitamin C Rose Oil. I also love Cocokind Glow Essence, and I always finish my skin routine with Sonya Dakar SPF.
Who cuts your hair? I go to Erickson at Bumble and Bumble in New York and Nicolas Flores at Sally Hershberger in L.A.
Who colors it? Cassondra Kaeding at 454 North salon in L.A. and Rachel Bodt at Red Door Salon in New York.
What's your favorite synonym for "hair"? Strands!
Facialist? Sonya Dakar and Emma at Skin Worship.
Favorite spa: Rescue Spa in New York.
What aspect of your beauty routine tends to be neglected? I'm too lazy for laser hair removal.
What makeup item would you never skip? I never leave the house without my eyebrows done! Even if I'm going to the gym or going somewhere makeup free, I always make sure to have a full brow done. I use Kelley Baker Brows brow powder and brush, Benefit Cosmetics brow pencil, Kelley Baker Brows brow concealer and brush, and R+Co Magic Wand Brow Gel.
Shampoo/Conditioner of choice: I usually keep three or four in the shower. I love Gisou, R+Co Perfect Hair, and TRESemmé Keratin Smooth.
Most relied on hairstyling product and/or tool: The ghd platinum plus styler. It works wonders, heats up evenly, and has universal voltage, making it amazing for travel.
Scented candle of choice: Cire Trudon Abd el Kader.
What beauty product still needs to be invented? Something that will prevent gray hair from growing in.
Any hidden or secret talent or skill you possess? I'm a certified yoga teacher.
What was the most recent interesting conversation you had? At my friend Dorit Kemsley's birthday dinner talking about hypnosis and shamans.
What makes your skin crawl? Ignorance, racism, and separating families at the border.
What tiny thing can make your day? A clean house.
What annoying thing can put you in a bad mood? Mean comments on Instagram.
What would the name of your autobiography be? The Diary of a Workaholic.
What can't you leave alone? My husband and my puppy Cashew.
Please share a moment from your career that touched you. Working with Ashley Graham for the past two years has been such a career highlight. I absolutely love her energy and feel so grateful to spend such an important day with someone so wonderful. It really means a lot that she trusts my vision and that we can create iconic looks together.
What is the biggest tip you can give that will change people's lives? Work on yourself first and the rest will follow. Challenge your ways of thinking and know that everything you want rests in your mind first.
Favorite meal and where: Jon & Vinnys. My husband and I are obsessed with their bruschetta, pizza, and pasta.
What do you foresee as the top beauty trends for the remainder of 2019? And please explain? Healthy hair. Nothing is more chic than beautiful, shiny, healthy hair. I also love that dewy skin is in and we've moved from matte. Skin with a little glow and shine looks young and healthy.
If you won the Powerball tomorrow, what are the first five things you would do (after, of course, donating the majority of it to your top charities)? I would buy a house for myself and family and start a business empire!
Rather meta, but … what do you want? Peace, acceptance, humanity, and compassion from world leaders.