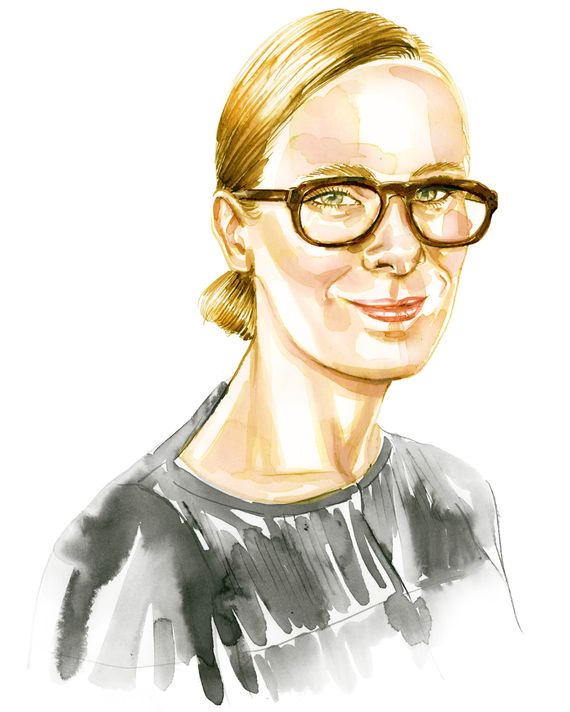 Christine Muhlke.
Photo: Samantha Hahn
There's no one right approach to makeup or skin care; everyone does it a little bit differently. In You Do You, the Cut talks to women about what they put on their faces and bodies, and why.
If you want to know what the next cool thing is going to be, ask Christine Muhlke. Over our decades-long friendship, Muhlke was the first to tell me about Tulum, kombucha, kombucha mothers, sourdough starters, flat whites, Maira Kalman, Maria Cornejo, Rachel Comey, jumpsuits, John Derian, matcha, Bikram yoga, Arcade Fire, Arcade Bakery, and, if this beauty editor is going to be completely honest, CAP Beauty. Lucky for us, we can access all of her next cool finds in her newsletter, Xtine.
Not long after the Wisconsin native landed in New York by way of Mount Holyoke College, she became managing editor at Paper magazine (at 22!), then went on to hold impressive posts at The Daily, the New York Observer, T, and Bon Appétit, where she remains an editor-at-large. Food being her first love, Muhlke has co-written books with Eric Ripert, David Kinch, and Eric Werner, and this fall, two more will bear her name: Signature Dishes That Matter (Phaidon) and Wine Simple with Aldo Sohm of Le Bernardin (Clarkson Potter). Muhlke spoke with the Cut about adaptogens, Retin-A, and what it means to be truly ageless.
On her beauty philosophy in three words: "Triple duty, please." I'm so busy I need all of my products to multitask. Too busy to be beautiful.
On her morning routine: Push-ups or a seven-minute workout, then drink a glass of water while facing east (something my yoga teacher taught me; it's kind of a salutation and also taking a moment). I rinse my skin (no cleanser), then do sunscreen, which I also put on my hands and the backs of my arms because I bike. I'm a Neutrogena Dry Touch gal.
On what she wants to believe works: I pray to God that all of the adaptogens I pour into my oatmeal are doing something. I use a sun potion tocos, a rice bran for hair and skin plumping. From Moon Juice, I use their schisandra for energy, reishi for alleged healing superpowers, cordyceps to turn me into an Olympian, he shou wu for, um, "juiciness," pearl for skin and hair, and one more I'm forgetting. Ashwagandha! That's for calming — clearly not for memory. I should be just pouring all of them into a jar and shaking them up, but instead I spoon them on individually.
On her best piece of beauty advice (after sunscreen): Retin-A.
On her nighttime routine: Josh Rosebrook Facial Cleanser, Vintner's Daughter Serum, which smells like apple-cider vinegar, floss, Retin-A, Ole Henriksen Banana Eye Cream (but I'm not loyal), Vintner's Daughter Oil. And be sure to always floss before Retin-A! Some Retin-A once got on my floss, which then got on my lips and my lips flaked off.
On her dream beauty mentor: Kerrilyn Pamer from CAP Beauty, because she really believes that beauty comes from the inside.
On her dream tour rider: Oribe everything, a magnum of Vintner's Daughter, a kilo of oud to burn, cases of kombucha from the Cultured Pickle Shop in Berkeley (I'm convinced it clears my skin and brightens my eyes and mood), my favorite acupuncturist, Heather Spillane (she fixes everything!), CAP Beauty facialist Crystal, and Soma chocolate bars (they're $25 apiece! But Eric Ripert chose it as his favorite when we did a chocolate tasting, and that man has a perfect palate).
On sleep: I overcame crazy postpartum insomnia through acupuncture and herbs. I lie on this acupressure mat that my acupuncturist gave me before bed and it helps me sleep. I also take Nature's Calm magnesium, because it's really important, especially as you get older, for bone density. It, too, really helps my sleep.
On age: Pretty much irrelevant at this point.
On how to be ageless: One musn't give a fuck.