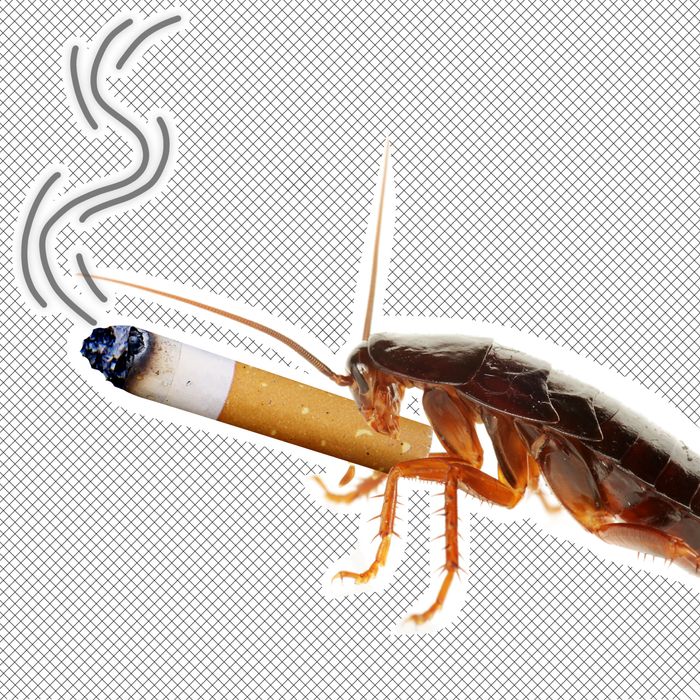 A star is born.
Photo: Getty Images
Earlier today, a cockroach smoked a cigarette in a New York City subway station. Or, he trudged off with it clamped in his grubby roach … mouth? The exact science here remains opaque, but however it came to be, the image was arresting. See for yourself:
Cigarette Roach evokes a wide range of human emotions: disgust, admiration, envy, delight, surprise, curiosity, glee. I mean, sure, on the one hand, this is our local transit system being a parody of its filthy lawless self; on the other hand, slap a tiny leather jacket on this bad boy (and I do mean bad), and he is maybe kind of familiar? Like that guy you made out with last weekend outside the bar after one too many beer-shot combos, remember?
Anyway, there's a surprising amount to say about, or project onto, Cigarette Roach, the latest in a series of small creatures made viral for their apparent relatability. In the end, we couldn't choose just one angle; it felt futile to attempt to distill the essence of Cigarette Roach into just one phrase. Below, our noblest attempts.
• Just One of Those Days
• Like It or Not, This Roach Smoking a Cigarette Is Your Weekend Mascot
• A Roach That Looks Cooler Than You
• Did You Know Your Ex Was in Town?
• This Cockroach Was Born to Die
• Smoking Roach: 'Get Outta My Fuckin' City'
• Smoking Roach Tells Long, Rambling Story About Something Funny Someone Said at Lou Reed's Funeral
• I Was the Smoking Roach
• This Roach Stole Everything I Have, Including My Boyfriend, and Now I'm the Maid of Honor at Their Wedding
• This Roach Won't Stop Explaining UBI to Me
• Is This Cool Roach Single?
• Totally Kind of Hot: This Roach Smoking a Cigarette
• Is It Wrong to Be Horny for a Roach?
• The Smoking Roach Who Seduced a Group of Women Co-workers
Thank you for your time.