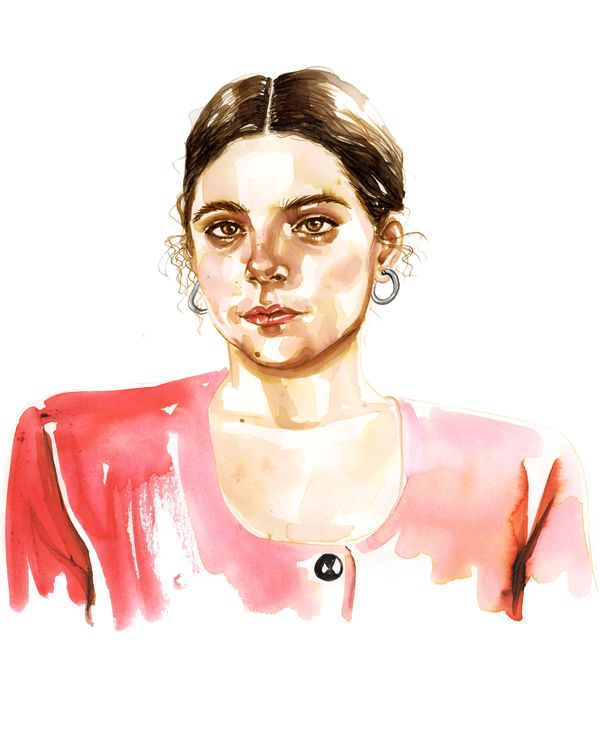 Illustration: Samantha Hahn
There's no one right approach to makeup or skin care; everyone does it a little bit differently. In You Do You, we're talking to women about what they put on their faces and bodies, and why.
When Céline Semaan first started talking about fashion activism seven years ago, few people were thinking about the industry's impact on the environment. But the Lebanese-Canadian designer forged ahead, both with Slow Factory, her own label and lab (which partners with NGOs to spread the word about sustainability and other social issues), and the Library, a nonprofit aimed at spreading sustainability literacy in the fashion world. Semaan's nonprofit education initiative Study Hall, incubated at MIT Media Lab, is now an official collaborator of the United Nations and holds an annual summit at the U.N. headquarters in New York. She also recently launched an incubator called One x One in partnership with Swarovski supported by the United Nations Office for Partnerships.
Today, fashion activism has become a full-force movement, in no small part thanks to Semaan's work. Despite being immersed in such an intense field, Semaan, who also occasionally writes for the Cut, is quick with a laugh, especially when it comes to her own self-care routines. She spoke with the Cut about banana face masks, her favorite curly-hair products, and how she's come to appreciate being in nature.
On her beauty routine: When it comes to products, I'm lucky to be low maintenance, but I do love to try new things. I don't have skin problems, so I wash with a natural soap in the shower, and I use an African black soap on my hair. You can also wash your face with it. I recently went to Credo and bought an oil cleanser called Vered, which is also a great makeup remover. I love Tata Harper Hydrating Floral Essence, then use Africa Botanics Pure Marula Oil. I was recently given Indie Lee Daily Skin Nutrition, and I'm obsessed! On my body, I use Tata Harper Body Balm. When I turned 36 or 37, I bought Grown Alchemist's entire line for my face and I love it! That was my first "my skin is growing up" purchase.
On hair: I have big, thick, curly hair with tight curls. When I was 12, I was watching a Sandra Bullock movie where she had bangs, so I got up in the middle of the movie, went to the bathroom, and cut myself bangs. They sprang right back up and would not go down like Sandra's bangs did. I was devastated! Now I see that the curly bang is coming into fashion. Maybe I'll try it, but I probably don't dare.
On her dream beauty mentor: I love Tracee Ellis Ross, and her new hair-care line Pattern. I have the same hair that she has —very similar in texture and curls and even shape. I also love her style.
On self-care: It's easy for me to justify being a workaholic. It's a privilege to be able to dedicate my work and life to causes that are close to my heart, but at times that can be unhealthy for my own body and mental stability. Sometimes I think my life is not sustainable at all! I often get to a point where I just have stop and relax and sleep! But working in social change and climate justice, the work never ends, so it's hard to stop. A few years ago I had to have two back surgeries, and I subsequently learned that peers of mine who work in the same spaces have also had surgeries like that, because we push ourselves so much.
I'm a city kid, so I never liked to be surrounded by quiet. I always needed chaos. But now that I'm older, I need to be surrounded by trees and silence. If I can't make it to a quiet weekend upstate surrounded by trees, I find them in the city, or even walking by the East River. Just being around the elements and taking the time to take full breaths — these simple things ground me.
On in-office procedures: I've reached a point in my life where my peers are thinking about Botox. I'm like, Are we really discussing Botox? Will I do it??
On her biggest beauty disappointment: What is with everybody putting on masks and taking selfies? I don't like sheet masks — they're always so plastic-y! Everybody is influencing us to buy them, but are they really that good? Just put banana and honey on your face. What that actually accomplishes, I'm not sure, but it tastes yummy. [Laughs.]
On her beauty philosophy: Beauty and self-care has always been a core part of Lebanese culture. It's regarded as a form of self-respect. After the war, it has taken another dimension, almost like a coping mechanism. I've actually written about this for the Cut. But what my mom and grandmother taught me, most importantly, is accepting yourself and loving yourself. They put very little on their faces, and let themselves age naturally. And that courage and grace? That, for me, is beauty.