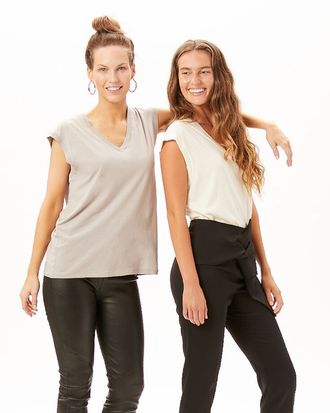 It is a truth universally acknowledged that one of the most stylish combinations on Earth is a casual shirt and a ball skirt. Think Raf Simons at Dior, Brandon Maxwell's fall 2018 collection, or Sharon Stone at the Oscars in 1998. It's a great balance of chic and nonchalant. But you can't just wear any old T-shirt, you need a red-carpet-ready T-shirt. And that's where celebrity stylist Cristina Ehrlich and fashion veteran Cheyann Benedict come in with their new T-shirt label, Plays Well With Others.
Ehrlich and Benedict met at a dinner party and decided to collaborate on an elevated T-shirt line. You could wear it on the red carpet, but you could also wear it just every day. The 14 varieties of T-shirts and tank tops come in 16 colors, which comes out to 224 styles to find your perfect match. There are the classics, like the spaghetti-strap "perfect tank," for $112. But the true stars of the label are the more designed tees, like the muscle tank called "I Want My MTV," for $150 and an oversize, cropped T-shirt called "The Liberal" for $135. All the tees are made in a factory in Los Angeles, and the brand uses recycled products to ship its tees and recycles its fabric scraps. See some of the line below.
If you buy something through our links, New York may earn an affiliate commission.