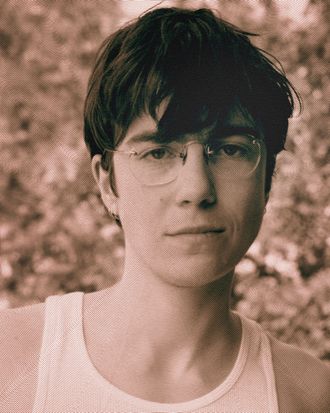 As we walk past his house in dusty northeast Los Angeles, Cyrus Grace Dunham gestures to his convertible with a loping wave, so I can't tell if he wants to show it to me. There's a bashful pride, a weighted hesitancy, that seems like it might be a natural state for Cyrus. Convertibles are unreasonable, so I have many predetermined judgments built into my questions about his beloved car. Do you refuse to put the windows up when the top is down? Masochistic, braggy. Do you blast music with boom-box sovereignty? Indulgent, showy, probably dangerous. Do you keep the top lowered at all times? Vulnerable, delusional, arrogant.
But of course Cyrus doesn't do any of those things. He only likes to put the top down at night. He's picky about exposing himself but also wants that exposure, a personal trait that I picked out from reading his new memoir, A Year Without a Name. 
The book is an unusual, front-lines report from someone coated in the sticky residue of celebrity. For the most part, Cyrus's story is about his relationship to gender — but it's hard to clear the charge that his writing has benefited from adjacency to fame, if only because fame is one of his best subjects. He doesn't name his sister Lena, though he writes about her often and with care. Leaving Lena unidentified seems coy at first, but like a ghost story, the unnamed specters inflict the most seasick paranoia. His writing about family and notoriety is the richest and most perversely fascinating in the book, because it makes you feel queasy for finding it so magnetic. Fame is addressed with the same conflict and emotion that Cyrus devotes to his queerness and gender transition.
Despite the timeline indicated, the book unfolds over two and a half years in which Cyrus finds himself caught between exhilaration and suspicion, wrestling with compulsory gender and social capital. When he writes about his mid-20s (he's 27 now), the story zigzags, finding its shape from Cyrus's hot-and-heady affairs during these years. Lightly sheepish, Cyrus says, "My friends are like, 'Your stupid sexcapade book!'"
Cyrus lives on a steep slope with two roommates and a chomp-y medium-size dog named Margie. When I come by on Monday evening, there are sexy oil paintings, people lounging, and lots of light. He tells me, "I'm addicted to cleaning. I've fallen in love with homebody-ness in the past few years," taking great pride in making a quiet, L.A.-wholesome life for himself. One of his roommates is an arborist who leads foraging jaunts for all the wild fruit trees around the small canyon.
In Cyrus's favorite spot, a clearing with an overturned tree veined by a huge vine with pale-green gourds the size of footballs, it smells incredible, like hay and cardamom. When he tells me the vine is invasive, I'm sad because I always love things that turn out to be invasive. "Me too," he says, "I'm always told my favorite plant is choking out every other."
Throughout our walk, Cyrus is perpetually concerned with my comfort. I rub my arm for a second and he asks if I'm cold. The memoir warned me about this. He's proud of being a good listener and asking good questions; he describes himself as shy and oriented to what people want him to be. "Devotion is the closest thing I've known to a stable gender" is one of his sentences I keep thinking about. On our walk, Cyrus wears a marigold shirt that has the word ASK placed in an asymmetrically obscure place. I didn't ask about it.
I did ask, in some roundabout way, how he spends his days, because even after reading his memoir, I couldn't really guess. He says his book deal bought him time, a lot of which he spent volunteering for California Coalition for Women Prisoners (most of his working hours, he estimates). Cyrus provides parole prep, emotional support, and medical advocacy. He's applying to law school now and says he's torn between "doing solidarity work at a higher level and a deep desire to never return to an institutional context again." The advocacy work is obscured in his memoir, which spends loving passages on subjects like making coffee and having it on the balcony.
That might be a point. Though it would be unrealistic, Cyrus's memoir wonders: What if life wasn't about our labor, but personal dynamics? The book is filled with friends and lovers and family members — and he was determined to take care of their characters in his writing. As he points out, "I'd been hurt by my sister sketching me as a character."
Cyrus has been a character in other people's books before, a couple times in the work of his sister, and so he's especially determined to take care of the people he writes about — starting by asking them to choose their own pseudonyms. Lake, Roman, Antonia, Stella, Jessica, Zoya, GD. "There were no holds barred," Cyrus laughs, "They're ridiculous! My best and oldest friend being called Jessica kills me." It's a principle that provides the title and thematic musculature of the memoir: An act of self-identification is one of the most potent forces around. As he says in the book, "A name is always a stand-in, a metonym for a whole person."
"Being written about is always pretty violating, nonconsensual," he says. "It's an eerie and strange experience because no two people have a shared sense of reality." He worked with everyone on the parts they were in and revised with their notes. They would read drafts, correct and censor. "Maybe sometimes at the cost of the book, but it's important to me," he says.
The memoir veers toward melancholy, so moments of casual goofing are particularly welcome. Sections lusting after Mark Wahlberg, for example, appear frequently. "Imagining myself as Mark Wahlberg doing ten push-ups," Cyrus sighs, "I can imagine how Mark Wahlberg feels in his arms and his dick, but I'll always be creating an approximation. We all have to deal with the pain that we'll never experience that." It's unavoidable: Famous people root in our imagination.
Fame was yoked to Cyrus by his sister, but the book makes it clear the plant was seeded earlier than that. Cyrus's parents, Laurie Simmons and Carroll Dunham, are artists (the photograph on the cover of his book, gently glowing figurines of children, is one of his mother's). "I grew up in a social world that really rewarded being recognized for being a person who makes art in public," he says. "I've had to do a lot of work to question that and undo it and build a more complicated map of value in the world."
And so I ask him: Why write a memoir when he's so wary of being known by strangers?
"In a weird way, I don't know," he says. "I can't separate the feelings about my own gender from my feelings about fame or exposure. I love to imagine what my gender or body would look like if I had a different path."