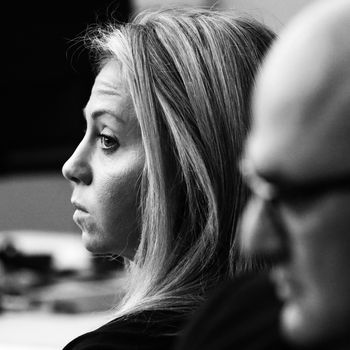 Amber Guyger.
Photo: Tom Fox/AP
Amber Guyger, the Dallas police officer who was found guilty of shooting and killing her black neighbor, has been sentenced to ten years in prison.
On September 6, 2018, Guyger entered the apartment of her 26-year-old neighbor, Botham Jean, and fatally shot him. Prosecutors say he was watching TV and eating ice cream when Guyger came through his doorway and opened fire; she has maintained that she thought she was in her own apartment and was acting in self-defense. At the time of the shooting, per the New York Times, she was off-duty but in uniform.
Guyger — who was originally charged with manslaughter but later indicted for murder by a grand jury — had spent a weeklong trial attempting to convince the courtroom that her response was reasonable. Prosecutors emphasized that Jean was "never a threat" to her and called forth witnesses who testified that the bullet trajectory indicated he was either rising from a sitting position or "in a cowering position" when he was shot, according to the Times. On Tuesday, after jurors deliberated for less than two days, Judge Tammy Kemp announced that the jury had found her guilty of murder.
Upon hearing the initial verdict on Tuesday, Jean's family and the activists who have closely followed this case responded with relief. Lee Merritt, an attorney for the Jean family, called it a "huge victory" — not just for the Jean family but for "all black people in America."
"We believe this is going to change the policing culture all over the world," Merritt added.
The verdict makes this a rare case in which a white police officer was convicted of murder for using lethal force on an unarmed black person. Still, Guyger — who faced up to 99 years in prison — was sentenced to just ten years on Wednesday afternoon. Outside the courtroom, as news of Guyger's sentence traveled, chants of "no justice, no peace" erupted. Meanwhile, Jean's family stayed behind in the courtroom after the judge announced the decision, the Dallas Morning News reports.
During the sentencing, prosecutors had showed jurors text messages from 2018 in which Guyger mocked black cops she served alongside and complained about having to work long hours on Martin Luther King Jr. Day. "When does this end lol," an unidentified officer texted Guyger during the 2018 parade on MLK Day, to which she responded, "When MLK is dead … oh wait …" Of the crowd at the parade she later wrote, "Just push them … or spray your pepper spray in that general area."
On another occasion, someone texted Guyger about a German shepherd up for adoption, writing that the dog "may be racist." "It's ok," Guyger responded. "I'm the same."
When Jean's family took the stand during the sentencing, they spoke of the heartbreaking loss they'd suffered. "My life has not been the same," his mother said through tears. "I cannot sleep; I cannot eat. It's just been the most terrible time for me. I almost am not able to work, but I just try to busy myself just to see if it will get out of my head. But it's been very, very, very difficult."
This post has been updated.