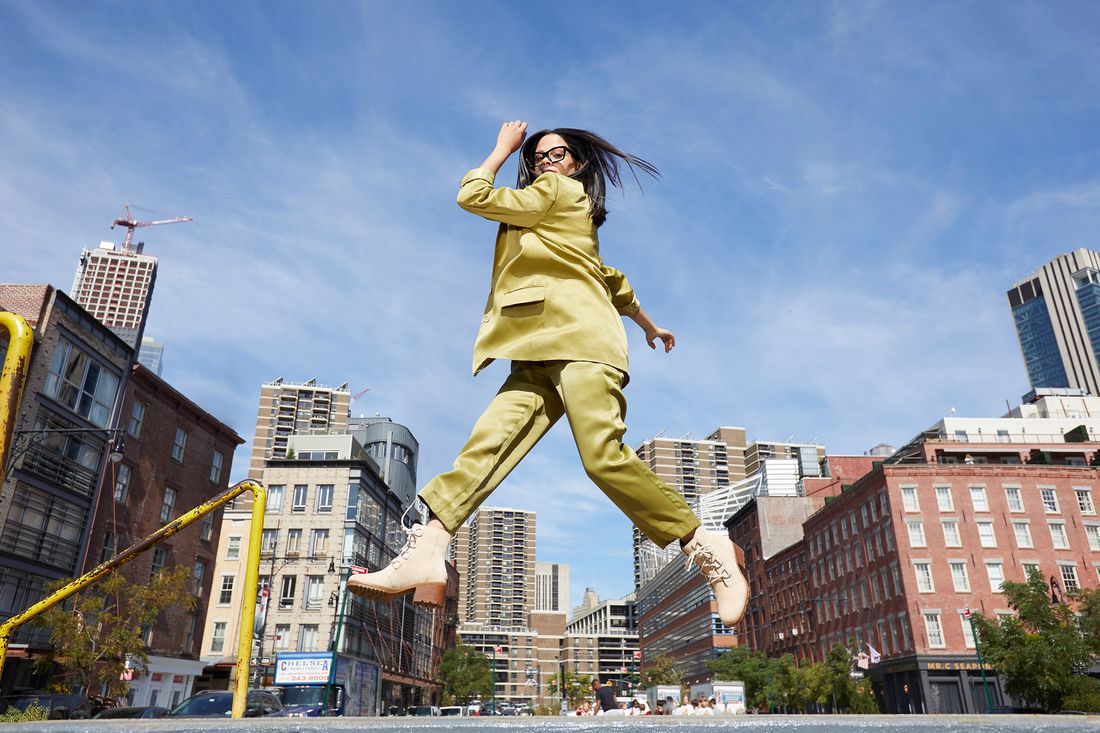 D'ana Nunez had been steadily making a name for herself as a fashion producer in Miami when, unexpectedly, she quit. She decided to change gears and pursue visual art, and the result of her sudden career shift is COVL (an abbreviation for "craft," "onward," "versatility," and "lifestyle"). It's a multimedia visual arts brand where Nunez acts as everything from artistic director for social activations to designing sets for large-scale concerts at art museums. The quality of Nunez's portfolio is as diverse and impressive as her roster of clients, but colorful imagination and social consciousness remain at the center of her artistic approach. Whether it's a line-up flyer for a big-name concert or a fashion ad campaign, once you see Nunez's work, you can't get the vibrancy out of your head.
Through the busy grind, Nunez prefers to create in the solitude of her Brooklyn apartment — painting, illustrating, and bringing all of her ideas to fruition. But the life of an artist isn't just days spent behind an easel or computer screen: For creative meetings, appointments, and everything in between, Nunez spends a lot of time running around. From juggling a growing creative brand to making time for all of her new projects, she's constantly on the go, tackling bigger and bigger ideas. And accordingly, comfortable style remains a big priority on her list — which is where her SOREL boots come in to carry her through. In collaboration with SOREL, we sat down with the Brooklyn transplant to talk about her art, why she embraces procrastination in her daily routine, and her go-to footwear for studio days on her feet.
On changing her career and starting COVL:
A close friend recommended that I look into design because they felt I wasn't utilizing my skill set in the right industry at that time. And they were right. The biggest challenge was actually starting something new. We tend to experience a lot of fear of failing, and best believe I still do. At that time, I just wasn't aware of what was on the other side of fear, or what happens when you cross that line of no return. Now that I do, I welcome those two things to pioneer my decisions.
On recently moving to New York:
I survived my first year. New York demands a lot from you, and it can get taxing, but what I've gotten in return has been something I can never put a price tag on. Moving has had the most positive impact on my art because it's challenged me to see things from a new point of view, and to experiment with different approaches in my work. When I was living in Miami, I feel like I had a more relaxed mentality to getting work done, but here you need to be able to balance time and craft.
How she approaches new projects:
It might sound odd, but I treat my projects like a new friend. Every project is different and requires different approaches or mediums, so I get to know the project, and I explore the motive and goal behind it, which allows me to create a piece that speaks its truth.
On her typical day:
A day in the COVL world consists of: waking up and doing my morning meditation, which might be actual meditation or cleaning my apartment while the coffee brews. I then have a one-hour creative block, which may be learning something new by watching videos, or reading interviews and articles. After, I procrastinate — yes, procrastination is a part of my day — I prep and starting working. I mainly work from home, but I sometimes alternate to a coffee shop to give myself a change of scenery. And in between all of this, I like to take walks with my pup.
On how she manages a busy calendar:
Lately, my days are back-to-back. What gives me a sense of peace in the chaos is writing it all down and putting it on the calendar! I even put hanging out with friends on the calendar because there's nothing wrong with knowing what you made time for and what you don't have time for. Implementing a list and a calendar eliminates any room for error.
On the importance of comfortable style:
Comfort is definitely No. 1 on my list when I get dressed. If it isn't comfortable, then most likely, I won't wear it. I know our mothers raised us on the idea that "beauty is pain," but I ditched that idea the moment I realized that I can be comfortable, confident, and beautiful all at the same time without having to compromise my sense of style.
Footwear plays a huge role in my day-to-day. When I go to buy a pair of shoes, I always look for versatility, unique details that pop, and of course comfort, which I feel SOREL shoes encapsulate effortlessly. I often wear sneakers, but I really did enjoy the chunky heels from this photo shoot: They felt like a transition between sneakers and heels. Going from sneakers to a heel can be comedy.
On her style evolution:
I'm always evolving. I'm always changing. I am the epitome of a work in progress, which shows in both my work and style. If there's anything I've learned since moving to New York, it's that I absolutely love to layer up. Also living in New York, you quickly learn that going back home to change for your next event isn't always a feasible option, so being able to go from day to night is a must. And color is my main form of expression, so anything I wear normally consists of bold colors or prints. Two years since moving here, I still haven't adopted the stereotypical "all black" New York wardrobe, and I don't plan to anytime soon!
On her future goals and plans:
My life so far has been one huge unexpected journey. For that reason, I'm not the type to speak on the future. Everyday I'm learning, growing, and creating. I'm here for the now because that's all I got.
This interview has been edited and condensed.
This is paid content produced for an advertiser by New York Stories. The editorial staff of The Cut did not play a role in its creation.