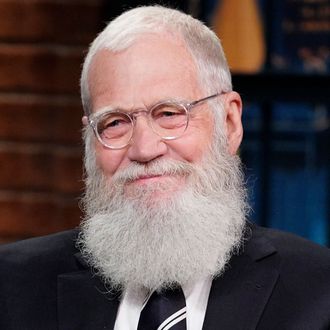 David Letterman.
Photo: NBC/NBCU Photo Bank/NBCUniversal via Getty Images
Ten years ago, former Late Night With David Letterman writer Nell Scovell wrote an article for Vanity Fair titled "Letterman and Me," in which she publicly called out her former boss for sexist behavior on his late-night show, including not hiring enough women writers and having inappropriate relationships with staffers on the show. Scovell's experiences at Late Night ultimately led to her quitting, but when her Vanity Fair piece was published in 2009, late-night television was an even more male-dominated field than it is now, and Scovell made it a point to fight for women in comedy — and, more broadly, in television — over the next decade, continuing to call out Letterman and others for years. Letterman, however, never read that initial Vanity Fair article … until recently, when he agreed to meet up with Scovell to talk about it.
The result is a fascinating new piece by Scovell, published today, ten years after the original Vanity Fair article. In it, she recaps why she wrote the first article, her pre-Late Night experiences with workplace sexual harassment, and the recent, long overdue conversation she had with Letterman to talk it all out. While Scovell doesn't exactly let Letterman off the hook for not giving women the same chances as men on his late-night shows ("Self-reflection can save a marriage, but it can't change history," she writes), she details the candid chat, in which Letterman reflects on her article and his regrets, offering her several apologies.
"You know, the other night I read the piece that you wrote ten years ago," Letterman told Scovell. "And I thought, Holy shit, this is so disturbing and, sadly, a perspective that I did not have … I'm sorry I was that way and I was happy to have read the piece because it wasn't angering. I felt horrible because who wants to be the guy that makes people unhappy to work where they're working? I don't want to be that guy. I'm not that guy now. I was that guy then." Scovell also reveals in the piece that, after telling Letterman about two talented female staffers who were denied promotions to the writing staff on his show, Letterman called them both the next day to apologize.
Scovell points out in the piece that conversations like the one she had with Letterman are crucial, for several reasons. "We need more dialogue so men can understand the difference between criticism and condemnation. And we need more dialogue so women can voice discomfort without fear of retaliation," she writes. "Dave's willingness to speak to me on the record is part of him making amends. His acknowledgment of mistakes and regret go out to those who were wronged. They also go out to the enablers and defenders of his behavior. That's equally important."
Read Scovell's full piece here.