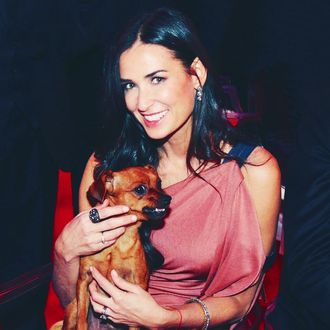 Hold that tiny husband like a trophy.
Photo: Andreas Rentz/GC/Getty Images
So far, Demi Moore has married three husbands and has no plans to throw a fourth into the mix, because she already has seven dogs and the math here is really quite simple: Seven dogs > one husband.
While promoting her new memoir, Inside Out — which apparently includes Hot Goss on a raft of the author's celebrity acquaintances, including sex stuff — Moore told WWD that, although she isn't absolutely ruling out the idea, she does not intend to marry again:
I feel like, most importantly, this time has been about being in a relationship with myself and that relationship with myself needing to be whole and complete before I could really open to someone else.




I hope that there is a partner in my future when it's the right time. I think we're a communal species — we're not supposed to be alone — although I've gotten very comfortable alone — me and my seven dogs. My aunt gave me a pillow that says "I sleep with dogs" and I do, but maybe I can make a little room in the king-size bed.
Maybe! Maybe. Because even though Moore's brood is made up exclusively of small breeds — please see the below Instagram content for scale — those of you who sleep with pets in your beds know that there is a lot of wriggling and resituating involved. It's hard to squeeze another human in there, plus we have compelling and highly scientific evidence that women who sleep alongside their dogs reportedly sleep better than those of us who co-sleep with cats and/or partners.
Just to jog your memory, Moore's husbands were, in order of appearance: musician Freddy Moore; actor Bruce Willis; and Ashton Kutcher, a tall man who doesn't get the most glowing treatment in the memoir, and who likely took up a lot of bed-space that could've been given over to dogs and, therefore, more restful sleep. Seems like an easy call to me.