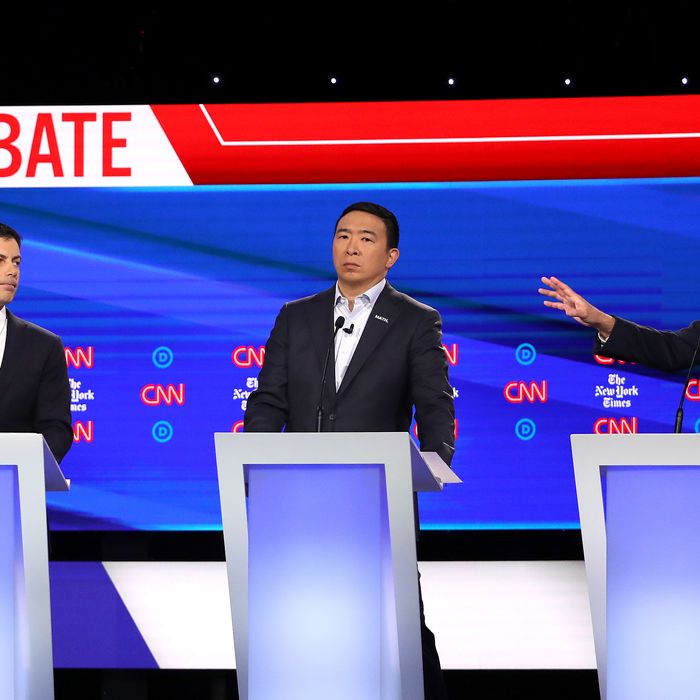 Photo: Win McNamee/Getty Images
What feels like the 400th Democratic presidential debate took place on Tuesday night, bringing 12 candidates — yes, 12! — to the stage. That's more than your average bachelorette party! More than a baseball team (I'm pretty sure …). And the entire affair took over three hours. Longer than a Ken Burns installment. Only one hour less than an Ikea delivery window.
As usual, the assembled Democrats covered a variety of subjects: health care, foreign policy, abortion, gun control, and, um, the power of unconventional friendships. Below, some of the least boring moments from an incredibly long and arduous night.
Amy Klobuchar's poor daughter
Amy Klobuchar, a candidate who radiates a perplexing and slightly terrifying energy, made clumsy use of some preprepared zingers, such as "that makes Russia great again." Her best one, though, was in reference to the Russian meddling in U.S. elections: "That's not meddling!" she barked. "Meddling is what I do when I call my daughter on a Saturday night!" She then looked into the wrong camera and mouthed, "Sorry about that," pausing for applause that never came.
Mayor Pete vs. Beto O'Rourke
Pete Buttigieg and Beto O'Rourke both seemed to be feeling particularly feisty this debate, and the pair sparred over gun reform in a tense exchange — O'Rourke defended his support of mandatory buybacks of assault rifles, while Buttigieg accused him of not actually having a plan — with both getting digs in on each other. "I don't need lessons from you on courage, political or personal," Buttigieg snapped at one point. Ouch.
Beto tries to come for Elizabeth Warren and fails
O'Rourke seemed to come from nowhere to say that Warren had a tendency toward being "punitive" and pitting Americans against each other while criticizing her proposed wealth tax, which is targeted at Americans with fortunes over $50 million. It was a weird comment, especially given how much more "punitive" Bernie Sanders has been on the issue; Warren even said onstage she didn't "have beef" with billionaires. (Bernie, conversely, has continued to maintain that billionaires should not exist — a statement that was met with applause tonight.)
Andrew Yang's "MATH" pin and Tom Steyer's tie
At least there were some nice signature accessories to break up the doldrums! Even though we continued to ask ourselves, "What are these men doing here?" at least we had something to look at while doing it: Yang's MATH pin, which apparently stands for "Make America Think Harder," and newly materialized, indistinguishable white man-slash-billionaire Tom Steyer's lovely tartan tie.
Joe Biden's mush mouth and its confounding noises
Among other strange utterances, Biden referenced people clipping coupons in "stock markets" and made a coughing sound that caused me to look around in alarm in my apartment for a cat I don't own.
Bernie says he's not "on" marijuana — tonight
In response to a pointed question about Bernie Sanders's recent heart attack, the senator said he was "feeling good," but no, he was not on medical marijuana, at least not tonight. Go off, Vermont king!
Biden wakes up long enough to have a Warren meltdown
If Biden was mostly sleepy throughout the night, he momentarily perked up to yell at Warren about whipping votes for her to help create the Consumer Financial Protection Bureau — essentially taking credit for her signature achievement. He faced her and repeated, loudly, "I got votes for that bill," to which Warren deftly responded by thanking Obama. Biden resumed scoffing even while Warren had clearly won the exchange.
CNN asks candidates to weigh in on Ellen's controversial friendship with George W. Bush, because …?
The last question of the night was even more Kumbaya than usual, when Anderson Cooper asked candidates to name their own unlikely friends in honor of Ellen, who was seen palling around with George W. Bush, sparking outrage from those who felt he should be shunned as a war criminal. At least three people said John McCain, naturally. And Andrew Yang talked about a trucker he once met. Biden, strangely, did not mention Corn Pop.