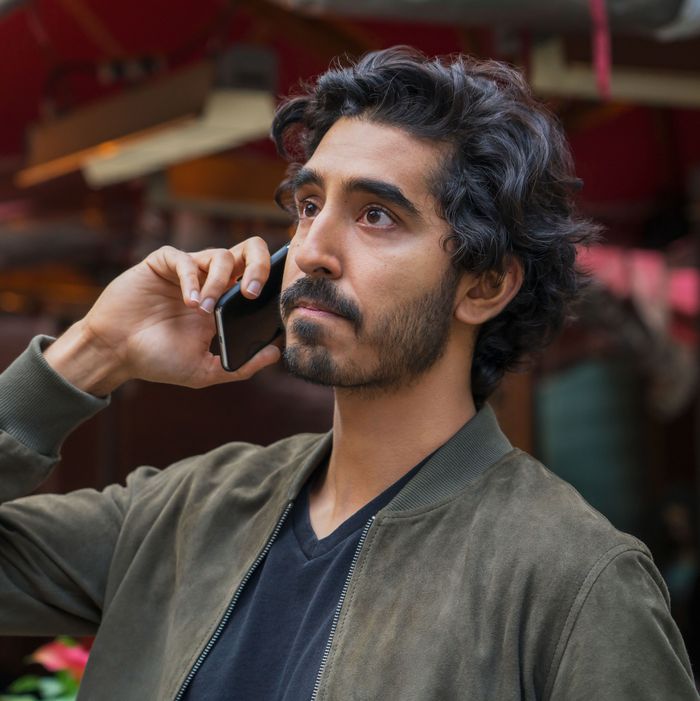 Dev Patel
Photo: Giovanni Rufino/AMAZON
Dev Patel, as you can see, is extremely hot.
But, for a long time, I only thought of him as Jamal, his character in Slumdog Millionaire, which had the kind of little-brother energy that made it impossible to think of him as a love interest. This was a mistake! I realized this after I saw Lion (2018). Patel played Saroo Brierley, his face so perfect and his eyes so soulful and his hair — thick, glossy, ebony — so messy and so grab-able, I hardly noticed Nicole Kidman's tragic orange wigs. All I could think of was this Adonis, here to destroy me with his sparkly black eyes and bedhead.
Dev Patel might not have the can't-touch-this hotness of Hot Priest, the mystery-man hotness of Idris Elba, or even the big-man hotness of Adam Driver. He doesn't inspire knee-jerk horniness. Rather, he radiates warmth and beauty, like an expensive candle. And have I mentioned his hair? It's hair that has a personality of its own, that lends a completely different affect to whatever scene it's in; here you can see it pushed back (sexy, relaxed):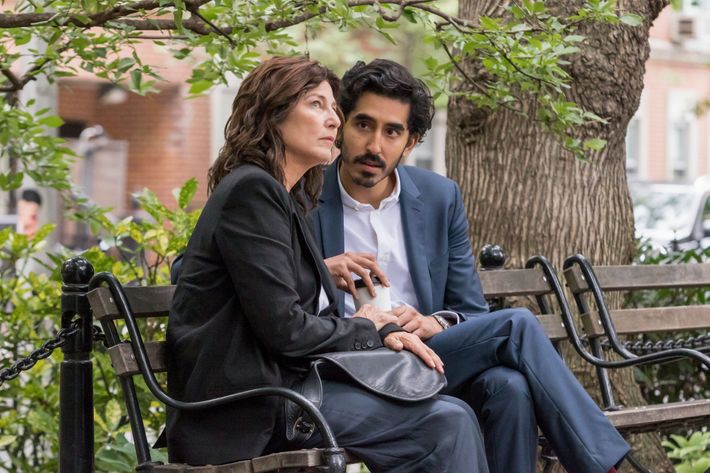 And here it is dangling sweatily over his forehead (preoccupied, undone):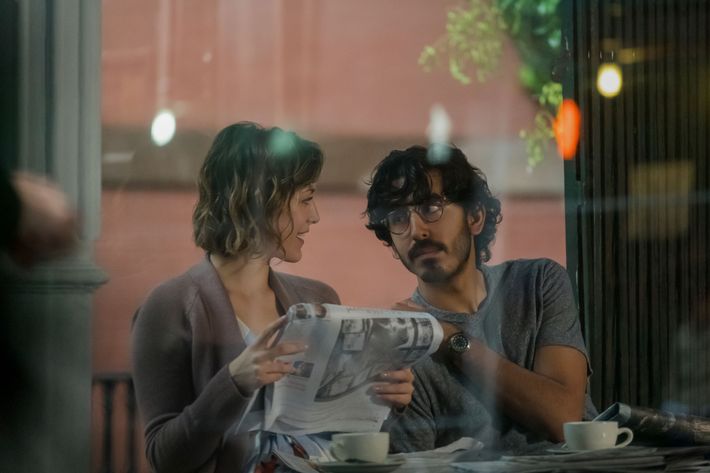 Please look to the David Copperfield trailer, where you can see it fluttering in a gust of wind and bouncing after a punch to the nose. In every instance it's buoyant; it's glossy. It's hair that you want to mash your face into.
Anyway, I'm now paying for my years of sleeping on Dev Patel by watching everything he stars in, which is why I forced myself to choke down Amazon's Modern Love this weekend. Based on the New York Times column of the same name, the series adapts a different essay per episode. In "When Cupid Is a Prying Journalist," Patel stars opposite Catherine Keener as the lovelorn CEO of a dating app. For the first time in my life, I found myself genuinely attracted to a start-up founder, even in the scenes that show him coding (hair messy, across the forehead, see above).
Keener plays a seasoned journalist, Julie, who is profiling "Josh" (in the original essay, it's the guy who made Hinge). The pair discuss their respective ones who got away. For Josh, it was a whirlwind romance that went sour when his girlfriend, Emma, cheats on him. He literally throws the engagement ring in the street and they break up. But there's a twist! When our cheating broad reads Julie's story in New York Times Magazine, we see her ditch her superhot Hemsworth-esque fiancé and run back to hotter Dev Patel, who'd realized after bumping into Emma some months before that he was still very much in love. They live happily ever after.
While the plot is corny and superficial, it also confronts real questions about pain and love and infidelity in a way that's still sort of relatable. But that's for another time. One thing I am absolutely sure of? I, too, would have left my fiancé for Dev Patel and his glossy locks.