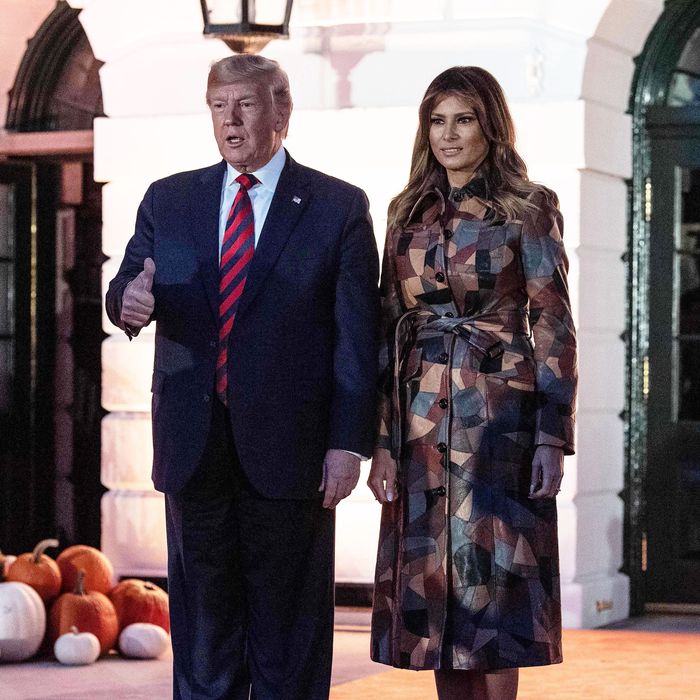 Photo: NICHOLAS KAMM/AFP via Getty Images
President Donald Trump and First Lady Melania Trump celebrated Halloween at the White House yesterday in characteristically bizarre fashion: greeting children as if it were their first time interacting with them (despite having one themselves), handing out candy, and trying to put the candy on top of the children's costumes for no apparent reason.
POTUS and FLOTUS entered the South Lawn while the Addams Family theme song played in the background, raising questions about who in this scenario, exactly, is creepy, kooky, and altogether spooky. It didn't help that the White House was lit up behind them in orange light, with spindly, spooky trees, as if the government has finally been engulfed in flames and the Trumps were handing out rations in the apocalypse.
Their dead eyes, Trump's bulbous, limp thumb, and Melania's grimace certainly say "two automatons in human suits having fun."
Then they greeted children and handed out candy bars. Photos from the event show the two of them looking stiff and uncomfortable as they talked to trick-or-treaters. Trump occasionally took a break by staring off into the distance, perhaps thinking about his own Halloween treat.
"Here, child, here is a candy, haha. Tremendous."
Now for the event's oddest, most disconcerting moment: Please watch Trump try to place some of the candy bars on top of a child in a Minion costume despite the fact that they are carrying a candy bag. Then Melania tries also to put the candy bars on the child's head, seemingly following her husband's lead, and the candy bars fall off, because the Minion head, like a human head, is fairly cylindrical.
"This is how people do this, yes. This seems right. Good times. Nice coal-miner costume."
Melania bravely tried to give out another candy bar but the Minion child walked away, presumably confused by how unnecessarily weird the entire thing was. Happy Halloween!