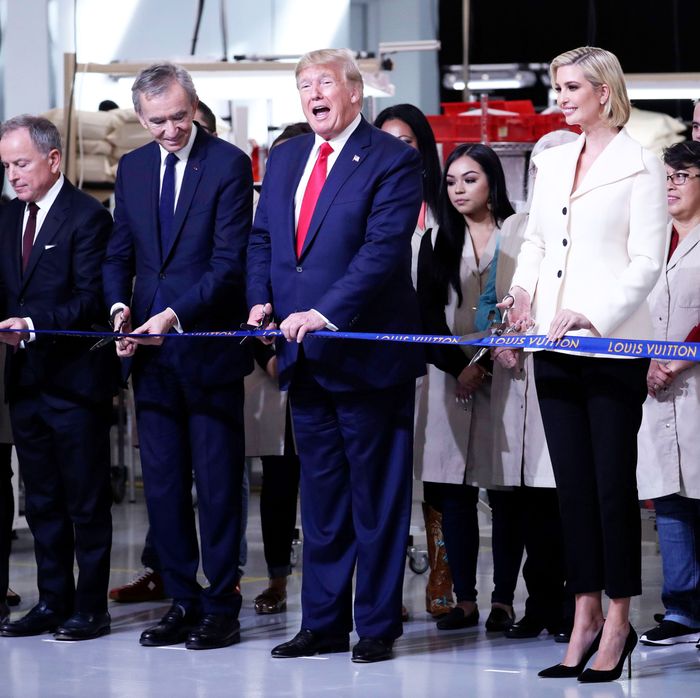 Photo: Andrew Harnik/AP/Shutterstock
At the ribbon-cutting ceremony for Louis Vuitton's new leather workshop — called the Rochambeau Ranch — in Keene, Texas, high fashion and the president's particular brand of tacky collided. Trump, along with his daughter Ivanka, joined LVMH CEO and very rich man Bernard Arnault to cut the ribbon on the new workshop.
Louis Vuitton (just the brand, not LVMH the conglomerate) signed on to the Trump Administration's Pledge to America's Workers initiative, and has been working on building this $50 million factory since 2017. Residents weren't thrilled with the development, or the tax break Louis Vuitton will be receiving, but you know who was excited about it? Donald Trump.
The president, as part of a larger tour through Texas, toured the workshop yesterday. He touched workers on the shoulder, made a speech, and cut the ribbon. According to Vanessa Friedman, the fashion director for the Times, the soundtrack for the tour of the factory was "Macho Man," by the Village People. The factory is massive (100,000 square feet), so maybe it was just playing on a loop? Unclear.
Trump opened his remarks at the workshop by talking about the Kurds. He also claimed that ISIS is "totally under control, and we're continuing to capture more." He pivoted abruptly from thanking Mikes Pompeo and Pence to thanking Arnault for being a visionary and saying that Louis Vuitton "cost [him] a lot of money over the years."
None of it made sense: an expensive, shiny Louis Vuitton mecca off a county road; one of the biggest players in the fashion industry cutting a ribbon with Trump; Trump's speech about ISIS. Even the cows milling outside the workshop felt out of place, given that the leather used in the workshop would not be from Texan cattle. The last time the fashion industry clashed with Trump, it was because Kara Ross, the wife of Trump fundraiser and billionaire Stephen Ross, held a board seat on the CFDA. She no longer has that board seat, although the CFDA denies it's because of her association with Trump. The last time we heard from Arnault, it was when he was announcing LVMH's new sustainability initiative at the end of fashion month. LVMH said it was working to reduce its carbon footprint and use more renewable energy. Now, the chairman and CEO is standing with Trump, who is no friend to the environment, to put it lightly. Unlike SoulCycle, Equinox, or Sugarfina, most boycott-happy millennials aren't buying Louis Vuitton regularly. So while we can laugh about Trump's choice of playlist ("Macho Man," seriously?), Arnault has clearly decided it won't hurt the bottom line.