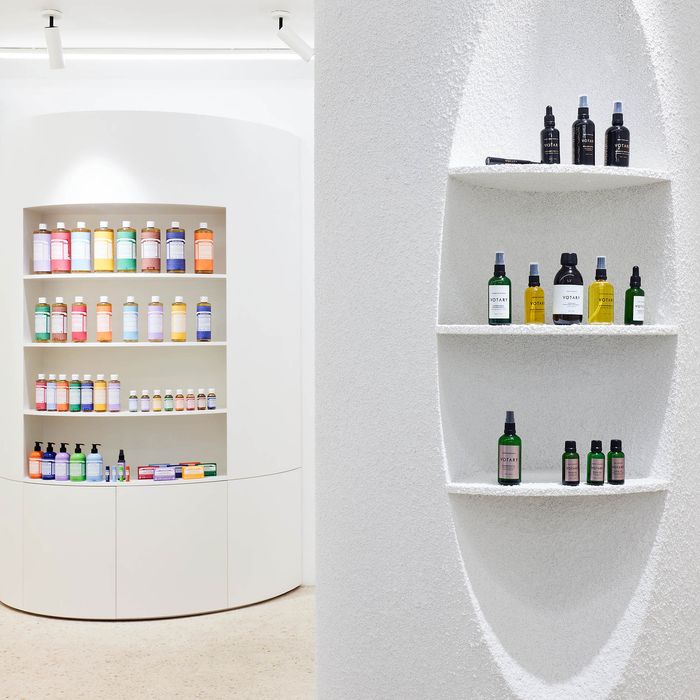 If you've always dreamed of shopping for your beauty products in a Rei Kawakubo–designed forest filled with egg-shaped shelves and zero ads, just minutes from the Musée Picasso, you're in luck. This week, Comme des Garçons opened a new Dover Street Market outpost in Paris called Dover Street Parfums Market. Unlike the other Dover Street Markets, which focus on fashion, Dover Street Parfums Market is dedicated to, yes, perfumes but also cosmetics, makeup, skin care, and body and hair-care products from around the world.
"Not a normal beauty counter," Adrian Joffe, the president of Comme des Garçons and husband of Kawakubo, told WWD during a walk-through of the space, which houses a mix of independent lines, storied classics, and sustainable and organic brands. A press release got even more specific, promising that the store is like stepping into "an explosion of scents, sounds, and textures, from Amazonian oils and charcoal toothpaste to nonbinary essences and magnesium flakes for the bath."
In addition to serenely blank walls and the chicest-looking shelfies you ever did see, you'll find Gucci's 58 new lipsticks and Alchemist's Garden collection of scents, Oribe sitting comfortably next to Manic Panic, a wig exhibition by hair artist Julien d'Ys, a dedicated Byredo space designed by Byredo, and Thom Browne's debut gender-neutral fragrances, all under the 2,000-square-foot shop's roof. See you there!