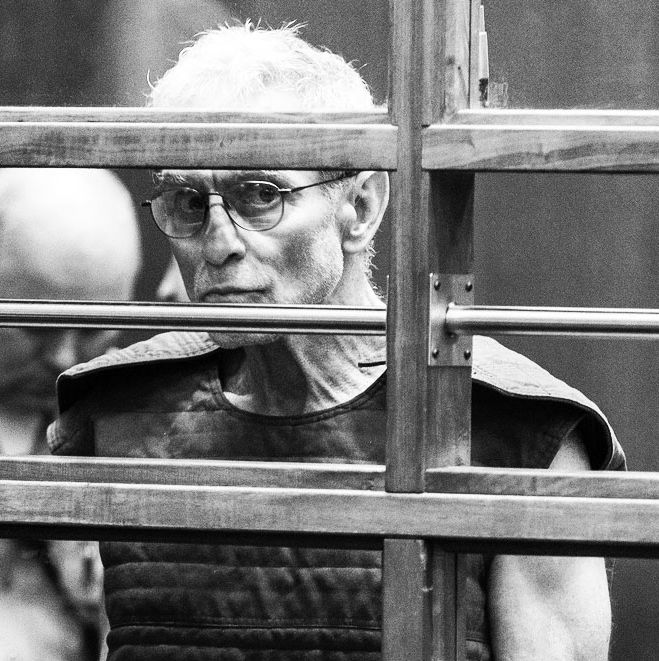 Democratic donor Ed Buck.
Photo: Damian Dovarganes/AP
For years, prominent Democratic donor Ed Buck has been a deeply suspicious figure. Between July 2017 and January 2019, two gay black men were found dead in Buck's West Hollywood apartment from methamphetamine overdoses; police ruled both accidental. But Los Angeles activists insisted otherwise, arguing that Buck was a predator with a penchant for preying on young, gay black men, and administering them drugs — and that he was able to escape scrutiny because of his influence and his close ties to elected officials.
After dodging charges for more than two years, Buck is finally facing criminal repercussions: On September 17, he was arrested after a third man overdosed at his apartment. According to authorities, the man, who survived, had received two "dangerously large" injections of crystal meth; that same day, Buck was charged with three counts of battery causing serious injury, administering methamphetamine, and maintaining a drug house. Then, on September 19, federal prosecutors charged Buck with an additional count of distribution of methamphetamine resulting in death — a serious charge in connection with the first fatal overdose that occurred at his house.
Most recently, on October 2, Buck was indicted in connection with the second fatal overdose, the New York Times reports. He now faces two counts of methamphetamine distribution resulting in death.
Here's what to know about Ed Buck, from his political ties in West Hollywood to the deaths that occurred at his alleged "drug house."
He's a wealthy Democratic donor.
Buck is a 65-year-old retired entrepreneur whom the New York Times calls "a recognizable figure in West Hollywood … who became a fixture in Los Angeles Democratic political circles." Over the years, he has reportedly donated tens of thousands of dollars to various California races and liberal causes.
He's accused of preying on gay black men and administering them drugs against their will.
In court on September 19, U.S. Attorney Nick Hanna argued that Buck has a "disturbing" pattern of soliciting vulnerable men for sex in exchange for drugs and money, and that he injects them with drugs against their will.
Since 2017, three overdoses at Buck's house have made headlines. In July of that year, 26-year-old Gemmel Moore, a black man who worked as an escort, was found dead in Buck's apartment from a methamphetamine overdose, which a coroner's report deemed accidental. Buck's lawyer Seymour Amster argued that his client had nothing to do with the incident. However, evidence suggested otherwise: At the time of Moore's death, Buck's apartment was reportedly covered in drug paraphernalia; additionally, the Los Angeles Times obtained a journal found in Moore's possessions, in which the victim wrote that Buck "gave me my first injection of crystal meth." (While Buck came under investigation over this death, he was never charged.)
The second suspicious incident occurred in January 2019, when a second gay black man, Timothy Dean, was found dead of an overdose in Buck's apartment. Amster, yet again, maintained his client's innocence, claiming that Dean had "ingested some type of substance" before arriving at the apartment. Dean's roommate, however, pushed back on Amster's characterization of Dean. "I've personally never seen him using drugs and never seen him in the apparent state of alteration caused by any form of drug," Ottavio Taddei told the New York Times.
Again, Buck was not hit with charges. A little over a month after Dean's death, though, Moore's mother, Latisha Nixon, filed a wrongful-death lawsuit against Buck, claiming that Buck "had a predatory and injurious system of soliciting Black men and watching them cling to life."
Most recently, on September 11, a 37-year-old man — who is referred to as "Joe Doe" in court records — overdosed at Buck's West Hollywood apartment. Prosecutors allege that Buck tried to stop the man from fleeing his house, but was ultimately unsuccessful; they also say that inside Buck's house, police discovered hundreds of photographs of men in "compromising positions," per the Los Angeles Times. In an interview with the Times published on September 24, the man, who has requested to remain anonymous, opened up about his relationship with Buck, claiming that he met him the dating website Adam for Adam. He also told the Times that he has struggled to get back on his feet following the incident, and is currently homeless; however, he recently got a job at a technology help desk, and remains optimistic.
Buck may have had more alleged victims that previously believed.
Prosecutors believe that Buck had more than three victims. "Investigators have identified 10 additional victims," U.S. Attorney Hanna said, "nine of whom [Buck] administered drugs or strongly encouraged them to ingest narcotics as part of agreements to be compensated for sexual services." According to the federal complaint against Buck, which was obtained by the Los Angeles Times, one escort told investigators that Buck gave him a "clear soda" that caused him to lose consciousness. When the man awoke he said that "Buck was approaching him with two additional syringes loaded with methamphetamine." Other men in the complaint shared similar stories: that Buck hired them as escorts, and then provided them substances that made them weak and tired.
Per the document, homeless men who lived nearby Buck's apartment also had a sinister nickname for him: "Dr. Kevorkian," referring to the U.S. physician and assisted-suicide advocate who helped more than 100 terminally ill people end their lives.
Buck is facing both state and federal charges.
On September 17, after the third man who overdosed at Buck's house told authorities that Buck had administered him "two dangerously large doses of methamphetamine," Buck was arrested and charged with three counts of battery causing serious injury, administering methamphetamine, and maintaining a drug house. Then, on September 19, federal prosecutors charged him with one count of distribution of methamphetamine resulting in death, in connection to Moore's death.
In a press conference on Thursday, Los Angeles district attorney Jackie Lacey said, "The surviving victim's statements gave us the break we needed."
While the original federal indictment only named Moore as an alleged victim, on October 2, Dean's name was added, NBC News reports. Today, Moore faces two counts of methamphetamine distribution resulting in death.
Activists and the victims' families are celebrating the charges, but are frustrated it took this long.
On September 19, Jasmyne Cannick, the spokesperson for the families of the men who have overdosed, told the New York Times that Buck's federal drug charge was "a victory for our community." She continued, "It just goes to show that persistence and perseverance pay off."
Moore's mother, Latisha Nixon, also spoke out about the federal charges in a video she uploaded to YouTube, saying she was "so grateful," and that she "knew this day was gonna come." However, she, along with her attorneys and Cannick, expressed frustration with District Attorney Lacey, who they say previously failed them in "her poorly conducted investigation and prosecution of Ed Buck."
"Lacey falsely claimed that her team worked diligently and carefully to find and speak with witnesses over the course of the last two years. This is untrue," Nixon's lawyers, Nana Gyamfi and Hussain Turk, wrote in a statement. They are also urging Lacey to "expand the State's criminal complaint against Ed Buck by adding two counts of 1st-degree felony murder."
If convicted on all charges, Buck could serve life in prison.
If Buck is convicted solely on all the state-level charges, he could serve a maximum sentence of five years and eight months. The new federal charge is much more serious — it carries a mandatory minimum sentence of 20 years, and a maximum sentence of life. His next court hearing is scheduled for September 26.
This post has been updated.