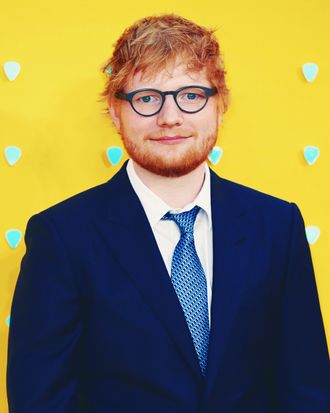 Ed Sheeran, of Sheeranville.
Photo: Mike Marsland/WireImage/Getty Images
If there's one thing that makes me wary, it's rich men buying up enormous swaths of land on which to build compounds. If there's a second thing that makes me wary, it's rich men building churches. Neither of these things ever seem to end well, which is why I'm so shaken every time I'm reminded that Ed Sheeran, "Shape of You" singer and noted friend to Taylor Swift, has been busy doing both.
According to a report from the Daily Mail this week, Sheeran's neighbors are upset that he wants to build a "prayer retreat" on his enormous Suffolk compound, which has been dubbed "Sheeranville."
The neighbors' complaints are different than mine, mine being that all of this sounds like the set up of a Law & Order episode (my kingdom for a clip of Ice-T saying the words, "Ed Sheeran's prayer retreat.") Their complaints are that Sheeran is "self-indulgent" — which doesn't seem like a very valid criticism, in Sheeran's defense — and that the proposed building doesn't fit in with the look of the surrounding village and landscape. Some even argued that Sheeran should #AdoptDontShop, and buy an existing church instead of building his own.
"I don't know why he wanted his own private chapel," resident Tony Robinson told the Daily Mail. "There are lots of churches for sale round here and he could buy one of those if he wanted."
(I can't tell how many churches are actually for sale in Suffolk. This is an auction list of former churches, but most of them are in different counties than Sheeranville. There is this former chapel in Suffolk that was built in 1898, but it was converted into a three-bedroom home, which doesn't sound like what Sheeran is looking for. Tony Robinson probably has better leads.)
According to documents submitted to the East Suffolk Council by Sheeran's brother-in-law, the planned building would have a "sweeping boat-shaped feel," a leaf-shaped roof, and be topped with cone instead of a spire, so that it didn't compete with the nearby Church of St. Mary.
"It would address an important need for a private place of retreat for contemplation and prayer, for celebration of key life and family milestones, family and social gatherings, marriages, christenings, and so forth," read the design statement submitted by Donald Insall Associates.
This is not the first time Sheeran has tried to build a church on his property, which he first purchased in 2012, and gradually expanded by buying up homes around it. He applied to build a chapel for himself and his wife, Cherry Seaborn, to get married in at their wedding last year, but the application was rejected by the town.
In addition to, potentially, a boat-shaped prayer house, Sheeranville includes a football pitch, a barn that was converted into a pub (complete with a selection of beers and urinals), a backyard tree house, and underground tunnels connecting different structures, and of course, his controversial, bean-shaped pond. No word on whether Sheeran's pub accepts standard international currencies, or whether you can only use Sheeranbucks (bill-sized printouts of his Game of Thrones cameo.)
In any case, Sheeranville seems over-the-top, but nice, and the neighbors' complaints don't all sound entirely fair. Still, probably not a bad idea to send Ice-T over to check things out.