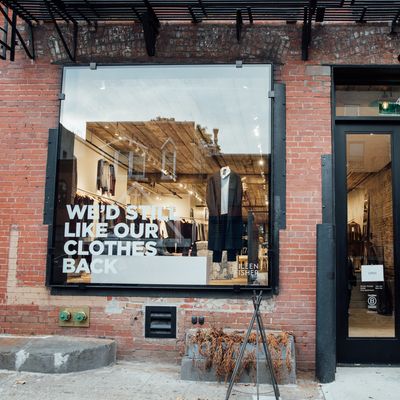 Photo: Collins Nai/BFA.com
You may not have noticed, but the resale market is booming. From DePop to The Real Real, everybody is realizing the sustainable, affordable joys of secondhand clothing. And it's become more popular lately for brands to start their own take-back programs — H&M will take any clothes and recycle them, Patagonia has a take back program, as does Levi's. But Eileen Fisher is a pioneer of reselling its own, used designs. For the last ten years, the brand's ReNew program has taken back and resold used Eileen Fisher items. Yesterday, the brand celebrated that decade not with a party, but with a panel to discuss more sustainability. Very on-brand.
My colleague Bridget Read moderated the panel on circular design, which spotlighted the work of three women: Carmen Gama, the head of Eileen Fisher's ReNew program, Whitney McGuire, a lawyer and the founder of Sustainable Brooklyn, and Brittany Dickinson, a teacher at Parsons and Director of Design & Sustainability at Alex Mill. The panel focused on how brands could drive change in the industry, rather than relying on individual contributions. "This has to be led by the industry," McGuire said. "We can't tiptoe around it and expect consumers to demand change." And with so many brands committing to lofty sustainability goals, it seems we may be close to something like a tipping point. But Fisher has been doing the sustainability work for over a decade — and it feels fitting to celebrate that.