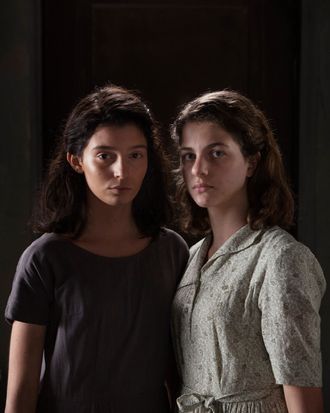 Allora, tutti! Come in from the piazza, put down your panini, pause your shoemaking for just a second, and please imagine hearing this news from someone gesticulating wildly: A new Elena Ferrante novel is coming. To quote the emoji in the text I sent my mother: Siren / Italian flag / ladies with bunny ears / doll / high heel / pizza / broken heart.
According to a new announcement, the English translation of the book is set to be published on June 9, 2020, under the title The Lying Life of Adults. (It will be published in Italy on November 7, 2019, so if you don't feel like waiting seven months, you can always try to very quickly learn Italian.) Last month, Ferrante's English-language publisher, Europa Editions, tweeted the first two paragraphs, giving us a brief glimpse of what's to come:
Two years before leaving home my father told my mother that I was very ugly. It was spoken under his breath, in the apartment that, just married, my parents had bought on Rione Alto, on top of San Giacomo dei Capri.




Everything — the spaces of Naples, the blue light of a freezing February, those words — stood still. I on the other hand slid away and continue to slide even now, within these lines that want to give me a story while in fact they are nothing, nothing of mine, nothing that truly started or truly reached a conclusion: only a tangle that no one, not even the person writing right now, knows whether contains the proper thread of a story or is only a disheveled pain, without redemption.
Sounds like it's going to be a real Nino (the despised ex in Ferrante's beloved Neapolitan Novels): gorgeous, extremely Italian, and definitely going to hurt me.
This post has been updated.