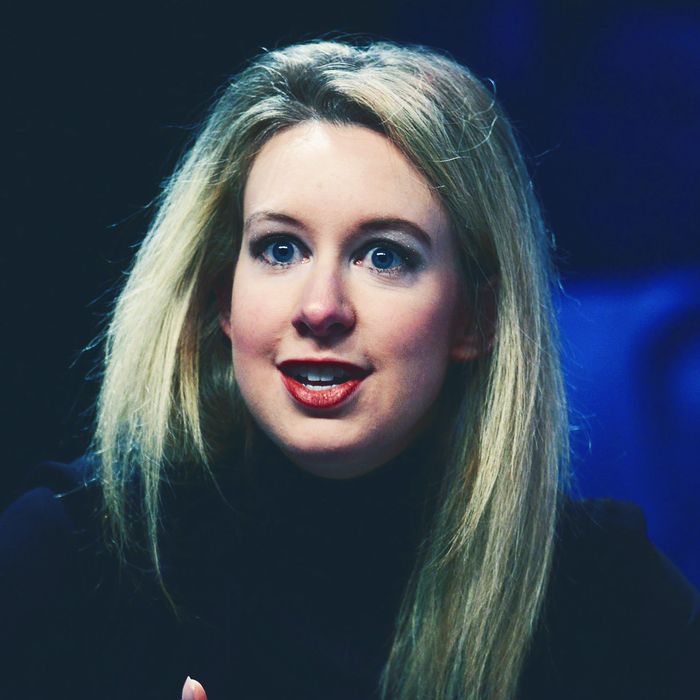 Elizabeth Holmes wearing a black turtleneck.
Photo: Lisa Lake/Getty Images
Halloween is a baffling two weeks long this year, so cursed things were bound to happen. On Monday, Quartz writer Daniel Wolfe reported that all Uniqlo stores within a 40-mile radius of his Bay Area zip code seemed to be sold out of long-sleeved black turtlenecks, which he needed for his costume.
The horror!
Wolfe's goal was to dress up as a bumblebee, so he was looking for a long-sleeve black turtleneck to go under a yellow-and-black-striped getup. Simple enough, right? Well, after his search left him empty-handed, he began to wonder if other, trendier Halloween costumes might be cramping his style.
"Certainly Steve Jobs and awkward Dwayne 'the Rock' Johnson are perennial Halloween hits," he writes. "But are black, long sleeve turtlenecks this year's hit costume because of that disgraced tech entrepreneur, Elizabeth Holmes?"
That's quite an accusation. But it wouldn't be the first for Holmes, the former Silicon Valley whiz kid and CEO of Theranos who fell from grace after being indicted on federal fraud charges last year. The subject of books, articles, and not one but two documentaries, she became something of a scammer icon, fascinating the public with her alleged fake voice, her seeming inability to blink, her bleached-blonde hair, and, of course, her closet of 150-something black turtlenecks.
When Wolfe searched #ElizabethHolmes on Instagram, he found a stream of recent spooky imitations. He also notes that Elle and Refinery29 encouraged their readers to dress like Holmes this Halloween. So I guess it's possible that a wild number of people in the Bay Area dressed up as iconic scammers this year. It is an easy, highly relevant costume, one I admittedly wish I'd thought of myself. (When Wolfe reached out to Uniqlo, the company pointed him to a blog post on their website about dressing as an "80s rapper" instead.)
The good news is that the style seems to be back in stock again. So who knows what happened? Dropping temperatures and the start of cuffing season might also have something to do with black turtlenecks' flying off the shelves. And, of course, California residents have way bigger, more urgent issues to worry about right now. Still, we're just enjoying seeing everyone's Halloween costumes.
Meanwhile, Elizabeth Holmes, costume master, is busy dressing up as someone else.