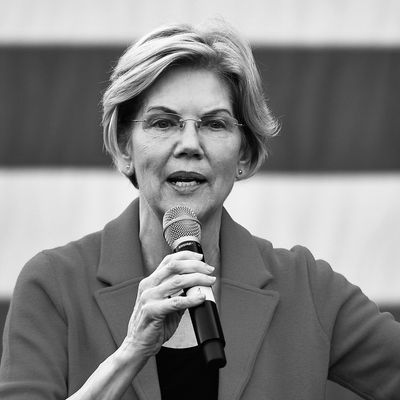 Elizabeth Warren.
Photo: MANDEL NGAN/AFP/Getty Images
Elizabeth Warren can never resist a mic-drop moment — and yet again, she has delivered.
On Thursday evening, CNN hosted a town hall dedicated to LGBTQ rights, during which nine presidential candidates discussed grave issues affecting the queer community: the epidemic of violence against trans women of color, conversion therapy, and discrimination, to name a few. But there were also lighter moments. The best came when an audience member posed a hypothetical scenario involving gay marriage to the Massachusetts senator.
"Let's say you're on the campaign trail and a supporter approaches you and says, 'Senator, I'm old-fashioned, and my faith teaches me that marriage is between one man and one woman,'" the audience member said, asking Warren how she would respond.
"Well I'm gonna assume it's a guy who said that, and I'm gonna say then just marry one woman. I'm cool with that," she said, drawing enthusiastic applause. And then, after waiting for the clapping to die down, she delivered an even more searing line: "Assuming you can find one."
At this, audience members let out even louder cheers and laughter, while Warren walked around the stage, grinning. But the presidential candidate wasn't all jokes during the town hall. She also tackled violence against the queer community, the Equality Act, and reducing the cost of HIV medications.
It was a much better showing than, say, Joe Biden's, whose nonsensical remarks about "gay bathhouses" and "round-the-clock sex" during the town hall still have people — per usual — shaking and scratching their heads.