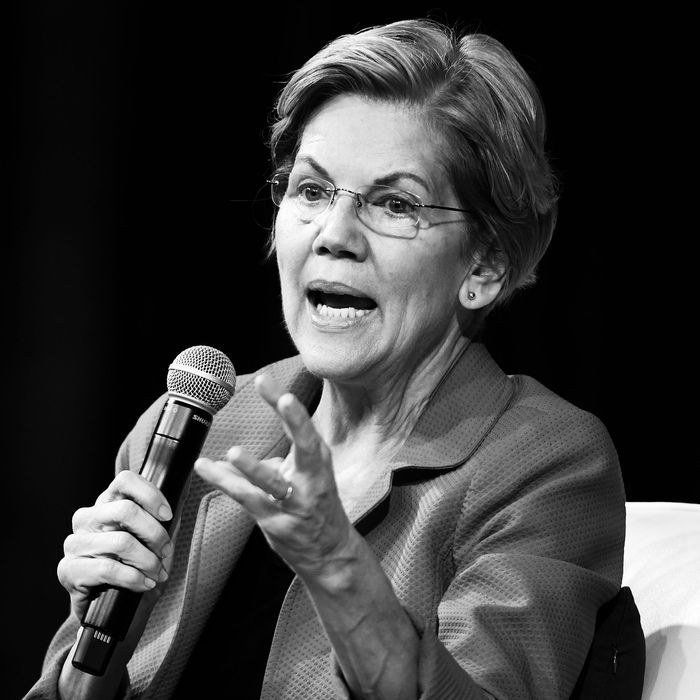 Photo: Ethan Miller/Getty Images
Elizabeth Warren has been the target of another smear campaign from the right, this one far less funny than Jacob Wohl's failed attempt to out her alleged "boy toy" last week.
On Tuesday, the Washington Free Beacon published documents it says contradict Warren's account of why she left her public-school teaching job in the 1970s, a move Warren has described as catalyzing her decision to go to law school and ultimately pursue a career of public service. In Warren's telling, she was hired as a speech pathologist at the Riverdale Board of Education in New Jersey in 1970 when she was 22 but was "shown the door" one year later because she was pregnant.
As she told a town hall audience in June, "By the end of the first year I was visibly pregnant, and the principal did what principals did in those days: wished me luck, showed me the door, and hired someone else for the job."
In its report, the Free Beacon claims Warren resigned from the position and wasn't pushed out. The right-wing news organization says minutes from a 1971 Riverdale Board meeting show that members unanimously voted to extend a second-year part-time teaching contract to Warren; then minutes from a later meeting show that Warren's resignation was "accepted with regret." The story was immediately picked up by other right-wing outlets eager to echo the conclusion that Warren had lied about part of her political origin story.
Warren has stood by her characterization. On Twitter this morning, she called it "an experience millions of women will recognize." "This was 1971," she added, "years before Congress outlawed pregnancy discrimination — but we know it still happens in subtle and not-so-subtle ways." (After being asked about it repeatedly all day, Warren answered questions in a video for CBS, too.)
And Warren is right. Everything we know about how pregnancy discrimination worked in Warren's era bolsters her account. CBS found two other teachers from the time who confirmed there was a "rule" in the Riverdale school district that women who were pregnant would stop working. "The rule was, at five months, you had to leave when you were pregnant," one said. "Now, if you didn't tell anybody you were pregnant and they didn't know, you could fudge it and try to stay on a little bit longer. But they kind of wanted you out if you were pregnant."
Per CBS, Warren left before a 1972 ruling in the New Jersey State Division of Civil Rights overturned a "requirement" that "a teacher must leave school after her fifth month of pregnancy," and long before Congress finally passed Title VII in 1978, amending the Civil Rights Act to "prohibit sex discrimination on the basis of pregnancy." But the Free Beacon's line of reasoning is not only ahistorical; it is ludicrously, offensively out of step with how nearly all workplace discrimination functioned, and still functions today, for so many women.
The New York Times documented earlier this year how pregnancy discrimination is still rampant among American companies, which "systematically sideline" pregnant women through back-channel means such as passing them over for promotions, steering them away from assignments, or firing them for complaints. Complaints to the Equal Employment Opportunity Commission about this "maternal wall" in employment are reportedly reaching an all-time high — despite so-called improvements in anti-discrimination policies most companies claim to have adopted, like lactation rooms and parental leave.
The whole point is that discriminatory practices work insidiously behind the scenes and are not documented in board-meeting minutes. After the Free Beacon published its story, women took to Twitter to write about their own experiences with these intimidation tactics.
Another piece of "evidence" multiple outlets have presented to argue that Warren lied about being forced to leave her job is that she described the incident differently in 2007. At that time, she merely said she "had a baby and stayed home for a couple of years." In around 2012, "after becoming a public figure, I opened up more about different pieces in my life, and this was one of them," Warren told CBS.
Many women found this discrepancy even more believable. That it would take time for Warren to characterize the way she left teaching as discrimination rings painfully true for anyone who has had to reckon with biased and intimidating treatment in the workplace, from sexual harassment to racism, and how, if ever, to share that information. Speaking candidly about an experience can feel as harmful as the experience itself.
The scrutiny on Warren's pregnancy-discrimination story feels like an omen of even more blatantly gendered attacks to come. Though Warren tweeted that women can "fight back by telling their stories," this episode illustrates that our stories can be uniquely turned against us.