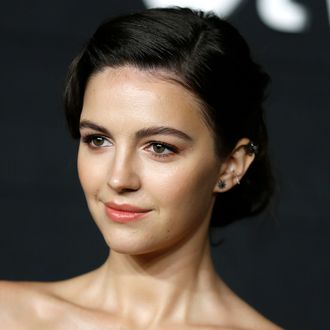 Ella Hunt at the New York premiere of
Dickinson
.
Photo: John Lamparski 2019/Getty Images
This time last year, Ella Hunt was doing press for her role in a Christmas-themed zombie-apocalypse musical. Now she's making the rounds for the new Apple TV+ series Dickinson, which is another fun mash-up of things you never really thought about putting together. In it, she stars alongside Hailee Steinfeld, who plays the titular character Emily Dickinson, in a world where everything looks very 1850s, but Wiz Khalifa is playing Death, Billie Eilish is playing in the background, and Emily Dickinson throws out the casual "dude" here and there.
Hunt got ready for the show's premiere (Apple TV+'s very first, cheers) at the Atelier Beauté Chanel, where makeup artist Carolina Dali created a look that was on theme with the series's vibe: classic with a modern twist in the form of Old Hollywood Hepburn brows and today's glow-y skin with a monochrome wash of color. The Cut quickly caught up with the British actress while she was getting her lips glossed in Icing and her brows brushed with punk hair gel to talk throwback hairspiration and wearing bangs on your upper lip.
What is your nighttime beauty regimen?
I have no regimen, and truly, I feel it's a real triumph if I even remember to moisturize in the evening. But on the odd evening when I decide to pamper myself, I love to use Liz Earle's products; I have quite sensitive skin, and they are all organic and lovely and smell delicious! Also Chanel has a product called Huile de Jasmin, and it smells divine and feels lovely on my skin, too.
What time do you go to bed?
Depends! When I'm shooting I try to get to bed as early as possible because often I'm picked up at 4 in the morning for hair and makeup. That said, if I'm making music and not shooting, I tend to work late into the night.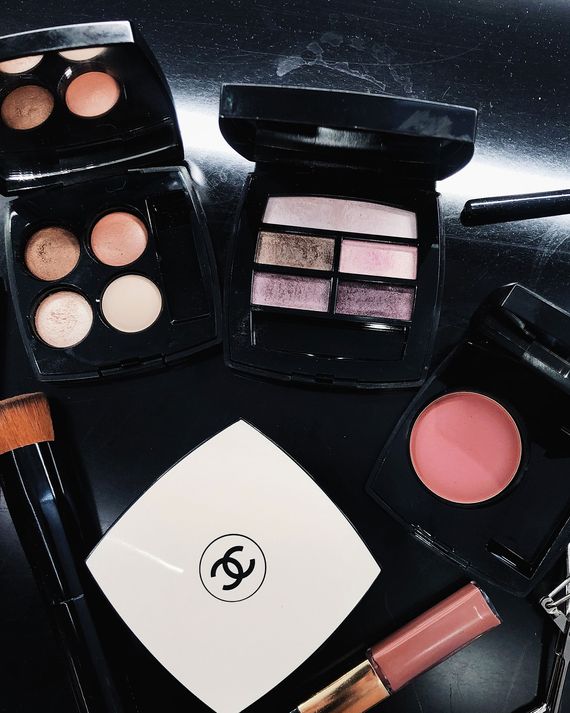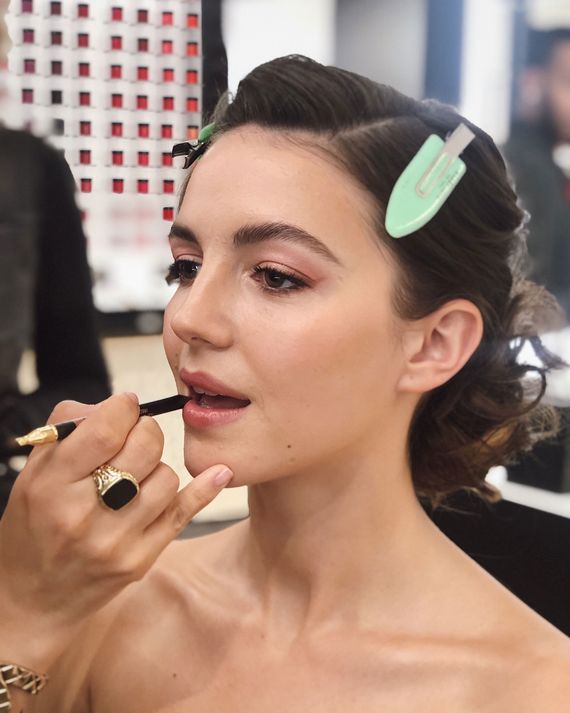 What's your best beauty or wellness tip or piece of advice?
My favorite piece of advice I like to give myself in any kind of beauty or dressing scenario is "What would Audrey Hepburn do?"
There are a lot of throwback hairstyles in Dickinson. Were you a fan of the updos? Any desire to bring them back in 2019?
Dickinson was a lot of fun when it came to the hair design and our head hairstylist Suzy Mazzarese along with our series creator Alena Smith were keen to create styles that both fitted the time period of 1850 but also could be seen as aspirational for an audience today. I completely loved my updos, and I really hope that people will watch the show and feel inspired to tackle a Dickinson-esque updo!
Speaking of hair, can you tell me about your experience wearing a fake mustache?
I loved wearing that fake drawn-on mustache! Truly, I loved every moment of it. In the scene where I wear the mustache, Hailee's character, Emily Dickinson, and I have dressed up as men. I didn't realize just how much I love androgyny until that day. I loved everything from the mustache, to the striped waistcoat I was wearing that mismatched the check trousers, and even the top hat. So much fun!
If you buy something through our links, New York may earn an affiliate commission.