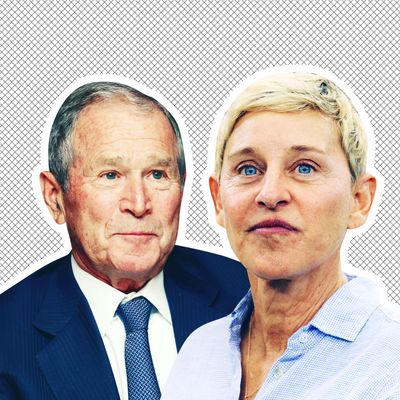 Over the weekend, Ellen DeGeneres attended a Dallas Cowboy's game, where she was photographed sitting with her wife, Portia de Rossi, and the former first couple, George W. and Laura Bush. In the photo, DeGeneres and Bush are laughing, an image that sparked some outrage on Twitter. Some said they were surprised and upset that duo appeared to be friendly, given the Bush administration's conservative stance on LGBTQ rights.
"They thought, why is a gay Hollywood liberal sitting next to a conservative Republican president?" DeGeneres explained on The Ellen Show today. "A lot of people were mad. And they did what people do when they're mad … they tweet."
DeGeneres responded to the controversy in a brief segment on her show, explaining why she was at the game (it's a big deal because "I never leave my house," she joked) and defending her relationship with the former president:
"Here's the thing," she said. "I'm friends with George Bush. In fact, I'm friends with a lot of people who don't share the same beliefs that I have. We're all different and I think that we've forgotten that that's okay … Just because I don't agree with someone on everything doesn't mean that I'm not going to be friends with them."
Bush appeared on The Ellen Show back in 2017, where the two discussed his painting hobby, the free press, and Russian president Vladimir Putin being rude to his dog.