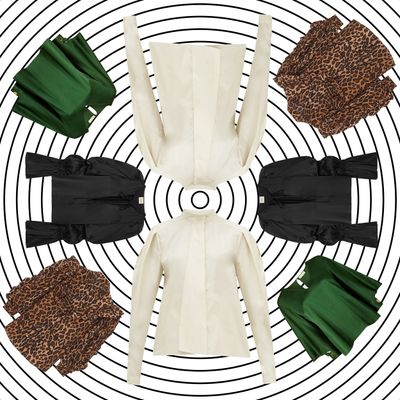 Photo: Courtesy of the Retailers
Certain styling tricks only make sense when the temperature is between 62 and 67 degrees. Which means that fall, at least on the East Coast, is a season of experimentation. Wearing a sweater with a skirt and sandals? Unthinkable in August, unthinkable in December, cute for the two months in between. The same goes for all the dramatic-sleeved tops that have suddenly flooded stores. Offering a much more interesting twist on the classic silk button-up, these shirts feature tiers of ruffles, poufy shoulders, and delicate pin tucks, sometimes all on the same top. They make getting dressed easy (add pants and you're done) but they do come with an expiration date: Once coat season hits for real, those sleeves will get crushed and hidden, so now's the time to show them off. Scroll ahead for our favorites to buy now, wear now, and then break out again in the spring.
If You're a Minimalist
Is it COS? Jil Sander? Nope, but it sure could pass for either.
Available in sizes XS–XXL.
If You're Into Subtle Details
The elegant pleats coupled with the pearl buttons make this top feel sophisticated without being flashy.
Available in sizes 14–28.
If You're a Maximalist
Add on some chunky jewelry for a Gucci-esque styling trick.
Available in sizes 0–12.
If You Love Arty Black Clothing
This blouse might be very affordable, but the layers of pleats and ruffles would make it fit in at Dover Street Market.
Available in sizes XS– XL.
If Your Office Is Conservative
The cinched ties are fun, but the classic navy color makes this appropriate for even the stodgiest office.
Available in sizes XS–XL.
If You Love Extra Flair
If the dancing girl emoji got sick of her red dress, she could wear this top instead.
Available in sizes 14–28.
If You're Already Thinking About the Holidays
Add some sparkly earrings and slick leather pants and you have the perfect office party outfit.
Available in sizes XS–S.
If You Want to Wear It Year Round
Once it gets cold, just wear it over a turtleneck.
Available in sizes XS/S and M/L.
The Saturday Night Blouse
Because not all going-out tops need to look like they came straight out of 2005.
Available in sizes XS–XL.
If You Like Dark Florals
For when you want something colorful but still cold-weather appropriate.
Available in sizes XXS–XL.
If You Want Something Bright
This chartreuse shade was a big runway trend and will definitely stand out in a sea of black sweaters.
Available in sizes XXS–L.
If You're Into Black Turtlenecks
Same idea, except with more festive sleeves.
Available in sizes S–XL.
If You Want Something Pretty
Ruffles and a delicate floral print fit the bill.
Available in sizes XXS and L.
If You're Into the Animal-Print Trend
If You're All About Drama
The cape-like wings will look especially good in motion.
Available in sizes XL–XXXL.
If You're Looking For Something Super Trendy
Dramatic puff sleeves are the stuff of Instagram dreams.
Available in sizes 0–12.
If You Want to Splash Out
Miu Miu's pre-fall collection was full of over-the-top ruffle blouses in neutral shades, but if you want to go big, the leopard-print version is way more fun.
Available in sizes IT36–IT48.
If You Believe in Grand Gestures
For the type who isn't afraid to make their presence known.
Available in sizes XS–L.
For the Luxurious Minimalist
Delicate pin tucks at the shoulders give this blouse just enough interest without being overly trendy.
Available in sizes 34 FR–42 FR.
If you buy something through our links, New York may earn an affiliate commission.