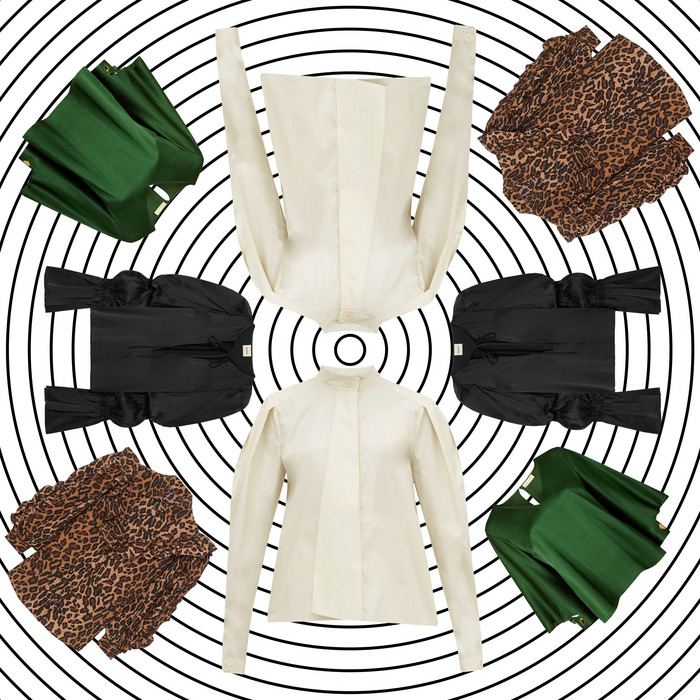 Photo: Courtesy of the Retailers
Certain styling tricks only make sense when the temperature is between 62 and 67 degrees. Which means that fall, at least on the East Coast, is a season of experimentation. Wearing a sweater with a skirt and sandals? Unthinkable in August, unthinkable in December, cute for the two months in between. The same goes for all the dramatic-sleeved tops that have suddenly flooded stores. Offering a much more interesting twist on the classic silk button-up, these shirts feature tiers of ruffles, poufy shoulders, and delicate pin tucks, sometimes all on the same top. They make getting dressed easy (add pants and you're done) but they do come with an expiration date: Once coat season hits for real, those sleeves will get crushed and hidden, so now's the time to show them off. Scroll ahead for our favorites to buy now, wear now, and then break out again in the spring.
If You're a Minimalist
If You're Into Subtle Details
If You're a Maximalist
If You Love Arty Black Clothing
If Your Office Is Conservative
If You Love Extra Flair
If You're Already Thinking About the Holidays
If You Want to Wear It Year Round
The Saturday Night Blouse
If You Like Dark Florals
If You Want Something Bright
If You're Into Black Turtlenecks
If You Want Something Pretty
If You're Into the Animal-Print Trend
If You're All About Drama
If You're Looking For Something Super Trendy
If You Want to Splash Out
If You Believe in Grand Gestures
For the Luxurious Minimalist
If you buy something through our links, New York may earn an affiliate commission.