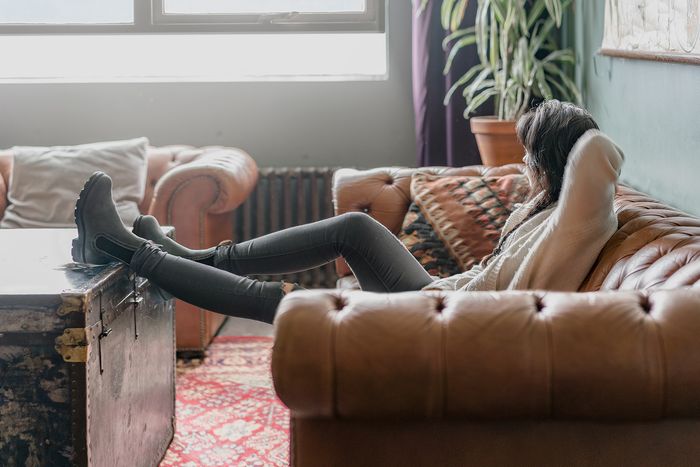 Photo: Courtesy of Blundstone
Here's good news for anyone who can't stand to spend another day overheating in a T-shirt or wearing sandals on the subway: Fall has officially arrived. But the real hype around the season isn't about pumpkin spice or posting photos of your apple-picking adventures. It's because fall is the most satisfying season to dress for, with tried-and-true trends always making a welcome return. Textures are cozy, classic denim is everywhere, jackets are crisp, and creative layering is encouraged. Plus, sleek, slip-on boots like those from Blundstone become an everyday way to blend edge and practicality into any outfit. As proof, check below for 12 pieces that fully embody fall fashion — pieces you can mix, match, layer, and wear over and over this season.
Wear this high-top silhouette with a shorter hemline or a cropped, wide-leg pant.
Is a fall wardrobe complete without cool, plaid trousers? Short answer: no.
For those who've dreamt about sweater weather since the first heatwave of the summer, this one welcomes it back in all its mock-necked, richly colored, boxy-fit glory.
This classic, plaid, double-breasted blazer makes office dressing beyond simple. Even on the mornings you're up before the sun.
It's the best of both worlds when chunky heels meet a sleek, slender foot shape.
This faux-leather jumpsuit is the perfect get-dressed-in-30-seconds piece, and it'll also wear well into winter when you start to layer with heavier knits and coats.
Your new go-to top for date night, girls' night, movie night, or any other occasion to wear a Victorian silhouette and billowy long sleeves.
Swap skin-tight, skinny denim for a slightly more relaxed fit to pair with your new favorite blazer, a cozy sweater, or lug-sole boots.
Great for an ideal fall schedule of weekdays in the city and weekends spent somewhere where you can see the leaves change colors.
The best part about fall dressing is combining all the sleek, fuzzy, nubbly, and buttery soft textures. This skirt has that last one covered.
The mix of oversized fit, classic denim, and plush lining really make this the ideal fall jacket.
Upgrade your wear-with-anything black booties to a pair with sturdier soles.
All images courtesy of the retailers.
This is paid content produced for an advertiser by New York Stories. The editorial staff of The Cut did not play a role in its creation.