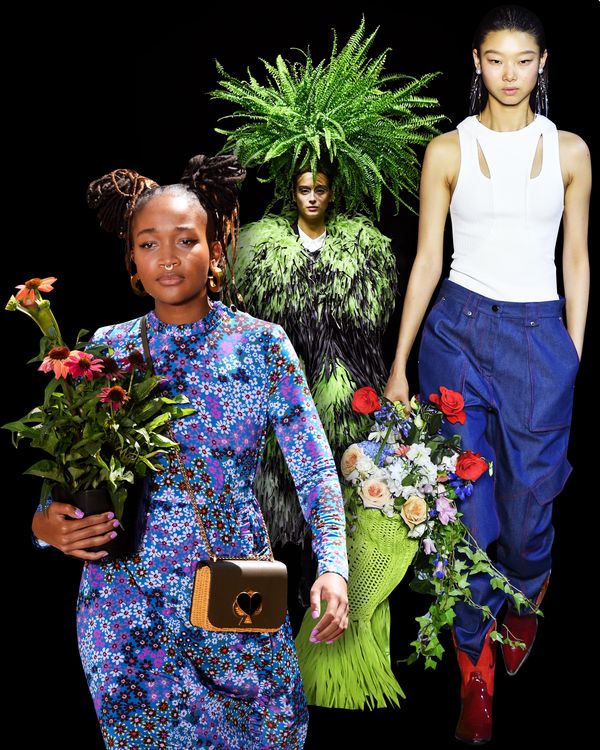 Left to right: Kate Spade, Noir Kei Ninomiya, Prabal Gurung.
Photo: WWD/Shutterstock, Getty Images
What will we all be wearing in spring 2020, according to designers? With the shows ending last week, we're left trying to make some sense of a very all-over-the-place season.
There are some obvious trends that stick out. The year 1969 is back (again) in the form of bootcut jeans, vests, and orangey-brown hues. So is 18th-century aristocracy, apparently. Think Once Upon a Time in Hollywood meets Marie Antoinette. The environment was also a recurring topic. Some brands took a more surface-level approach (there was more than one show with the theme of "jungle!") Others evoked an emotional response to climate change — despair or optimism, or sometimes both. But none of this quite adds up to something clear-cut, like: "Let's all buy giant sneakers!"
I think this lack of a center might be a good thing. Maybe the jumbled, eccentric, performative nature of this season will make people feel free to pick and choose their own approach to dressing — a return to personal style, instead of #influence. That seems positive! But also, a lot of the recurring themes that we did see were completely bonkers, and who doesn't love a truly over-the-top fashion moment? Below, we've culled ten non-trends that you can absolutely, totally try in real life. Bonus points if you wear them all at once.
1. Black-Tie Jorts
We may have the going-out top all figured out, but what about going-out bottoms? Jean shorts, which I will henceforth refer to using their Latin name, jorts, are arguably the most carefree, thoughtless bottoms you could possibly put on. Their very existence is an accident; they were once fully-formed pants, but here we are! On their own, I think jorts are best reserved for music festivals and Britney Spears. But worn with a blazer or a sequin top, as we saw at Vaquera, Saint Laurent, and Givenchy, they suddenly become the perfect compliment for a formal G.O.T. Bring some balance to the club with black-tie jorts.
2. Marie Antoinette Hips
Fashion loves an overindulgent queen. There's probably never been a single season of fashion week that didn't make some reference to Marie Antoinette, and spring 2020 was no different, with numerous brands — including Thom Browne, Loewe, Comme des Garçons, Rick Owens, Khaite, Puppets and Puppets — all including panniers, or side hoops, in their collections. Sure, we live in a world of Kardashian hips, so perhaps this is fashion's response. But, as Cathy Horyn wrote in her reviews, this could also be an example of fashion's new aristocratic age, in which clothes are designed for the rare few who can afford such fantasies. In other words, maybe mess around and wear a hoop skirt to your next gala.
3. Teeny-Tiny Vests
This trend is hurtling me back to a MySpace selfie I took in the early 2000s, before selfies even existed. I had to use my hand-held camera, a tripod, and a self-timer to show off my snazzy new pinstripe vest, which I wore with a popped collar. Truly devastating to think about, but I'm finally ready to get over that and embrace the look again. Going-out vests, anyone?
4. A Permanent Shrug ¯\_(ツ)_/¯
I think this one speaks for itself, no? The posture for spring 2020 will be Gru from Despicable Me. Or that airplane pillow that goes over your whole entire head. Like a tent, but for your emotions!
5. Granny Goggles
THANK GOD! Teeny-tiny sunglasses are officially dead and gone — a mere blip on the eyewear-trend horizon. Big granny glasses are back, with croakie chains to match. Prada, Gucci, Fendi, and Stella McCartney all agree.
6. Underwear Masquerading As Hot Pants
The term "hot pants" was coined sometime around 1970 to describe a shocking new style seen on the runways (and in the streets). Alternative names included "les shorts," "short cuts," "cool pants," and "shortootsies," which is truly poetic. ("Booty shorts," of course, is our gross modern-day equivalent.) At the time, they were seen as a response to the miniskirts that preceded them. Today, they are nothing more than refined junderwear.
7. Wearing Your Towel As a Skirt
Do you ever run out of the shower in your towel to receive your Seamless delivery and think: Okay, now I can die? Well, even if the answer is no (who are you??), next time just throw on some loafers and a wool sweater and you've got yourself a Prada SS20 look. The same goes for Marine Serre, who repurposed fresh white bath towels for her spring collection as well. This isn't exactly bathleisure — that was more formal. (Rita Ora wore a bathrobe on the VMAs red carpet, for example.) The look is more casual now. By 2020, it will be totally normal to wear a towel as a skirt. Seamless delivery people will know it's designer.
8. Dressing With the Purity of an Egg
When a single brown egg got more likes than Kylie Jenner on Instagram last year, breaking the world record, one thing became clear: People love eggs. What's not to like? There's something so pleasing about an egg's smooth, seamless, oval shape. They're the pearls of food. We should all embrace the energy of eggs next spring — sunny-side-up, overeasy, whatever. Depending on who you ask (not a chicken), they might've been the first primordial trendsetters.
9. Looking Like You've Been to the Farmer's Market
One of the best Slack message I received during New York Fashion Week was the following: "Some models are holding babies too others are holding dogs or kale??" My colleague was referring to the Collina Strada show, which took place in the middle of a street and was meant to resemble a farmers market. Yes, models indeed carried kale (and babies and dogs). "One is [pushing] those carts you use to lug Chinatown groceries," she added. Free fruits and vegetables were handed out after, and I saw Emily Dawn Long munching on some carrots front row at the following show. "Where did you get those?" a friend asked. Models at Kate Spade, Prabal Gurung, and Missoni all looked like they'd just come from the farmers market as well, carrying fresh flowers instead of vegetables. It was only a matter of time before status plants made it to the runway.
10. Scowling
All the top models this season had one thing in common: They looked super-pissed. When model Leon Dame, for example, closed the Maison Martin Margiela show in Paris two weeks ago, he trudged down the runway, and straight into internet virality. His walk was manic and exhilarating; it had energy and purpose, which cannot be said of most. Pat Boguslawski, a movement director and former runway model who works with Margiela designer John Galliano to choreograph the models' walks, told GQ that Leon's gait was "about hope, and about democracy, and freedom." In other words, exactly how we want to approach 2020.