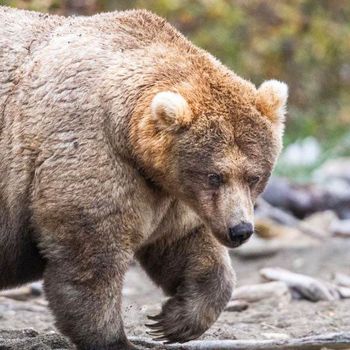 Holly!!
Photo: Katmai National Park & Preserve
After weeks of hard work, of meticulously combing the waters of the Brooks River in Alaska's Katmai National Park, and gorging herself on thousands of pounds of sockeye salmon, 435 Holly has been named the winner of the 2019 Fat Bear Week contest. Congratulations, Holly. I love you.
Fat Bear Week, for those of you who have not yet been blessed with the knowledge, is a March Madness–style bracket competition held every year by Katmai National Park in Alaska, which allows the public to vote and decide which of the park's brown bears has beefed itself up the most for their upcoming winter hibernation.
The competition was launched back in 2015, and has been gaining in popularity ever since: More than 187,000 votes were cast this year, over triple last year's total. In the final round, Holly received around 17,500, trouncing her enormous runner up, Lefty, who got about 3,600.
Holly was an early favorite this year, thanks in part to a video shared on Twitter last week by explore.org of her sitting upright on the banks of the river, relaxing, scratching her enormous blonde tummy, and looking amazing.
According to the PDF of Bears of Brooks River 2019 — which I do recommend you read in its entirety — Holly is a medium-sized blonde bear whose coat darkens in the fall "and can be described as the color of a toasted marshmallow." Gorgeous. She has mothered at least four litters of cubs, and back in 2015, she also adopted a yearling cub who had been abandoned by his mother. Adoption of cubs is very rare, Bears of Brooks River explains, as bears are "generally selfish creatures who are not known for displays of altruism." We stan a magnanimous queen!
Holly also knows how important it is to take care of No. 1.
"Holly was single this summer and able to devote all her energy toward herself," former national park ranger and current explore.org fellow Mike Fitz noted in a tweet. "She could be an expectant mother though. If so, after she gives birth in the den her pudgy rolls will be converted to nutritious and fatty milk for tiny cubs."
In addition to pictures of beautiful, brawny bears, Bear Week has given us another gift: its comments section. Below each announcement and head-to-head on the Katmai National Park Facebook page is a collection of some of the most wholesome content on the internet. Under the post announcing Holly's victory as the "Queen of Corpulence," users commented, "Yay! Holly! The most beautiful brown bear in the world!" and "Woo hoo Holly! Girl power!!! I voted for you and I hope you have a long, peaceful winters rest."
Congratulations again to Holly. May we honor her by spending our autumns caring for others, devoting energy to ourselves, and enjoying good food and great hair.