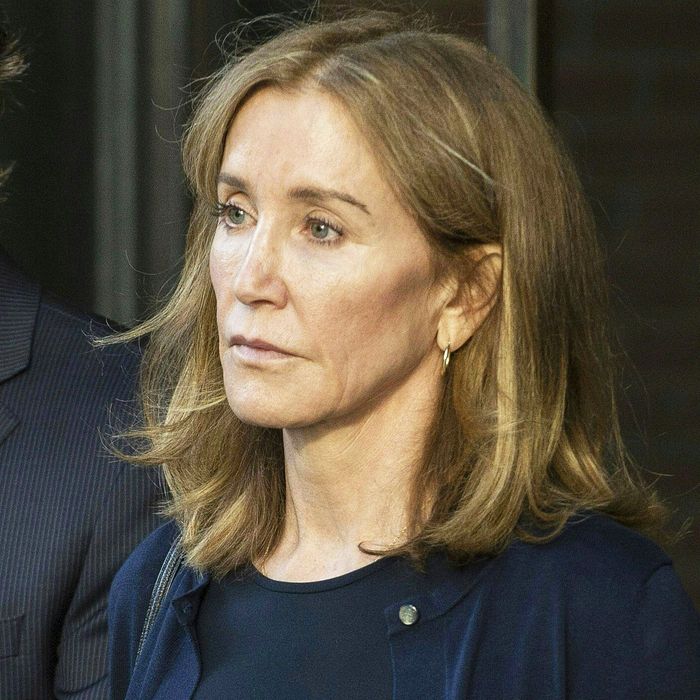 Felicity Huffman.
Photo: Joseph Prezioso/AFP/Getty Images
Felicity Huffman has been sprung from jail early after serving just 11 days of her 14-day sentence, per TMZ. Huffman was serving time at a prison in Northern California, after pleading guilty to conspiracy to commit mail fraud and honest services mail fraud in order to get her daughter a higher SAT score. Her already short sentence was cut even shorter due to a facility policy that allows inmates to leave on Friday if their original release date is scheduled on a weekend. Just a little parting gift, it seems! Huffman isn't quite done with her sentence. The Desperate Housewives star still has 250 hours of community service to fulfill. She also had to pay a $30,000 fine, twice the amount she paid the scam's mastermind, William Singer, to get her daughter a higher SAT score.
"I am ashamed of the pain I have caused my daughter, my family, my friends, my colleagues and the educational community," she previously said in a statement obtained by Variety. "I want to apologize to them and, especially, I want to apologize to the students who work hard every day to get into college, and to their parents who make tremendous sacrifices to support their children and do so honestly."
While Huffman is heading home, Lori Loughlin, who was also charged during Operation Varsity Blues, is gearing up for trial. Aunt Becky and her husband, Mossimo Giannulli, pleaded not guilty to conspiracy to commit mail fraud and were recently hit with a bribery charge. Felicity Huffman's husband, Shameless star William H. Macy, was not charged with any crime, but having to drop your wife off at prison can't be very fun. Well, back to cocktails and cul-de-sacs and ch… not cheating! Anything but cheating.