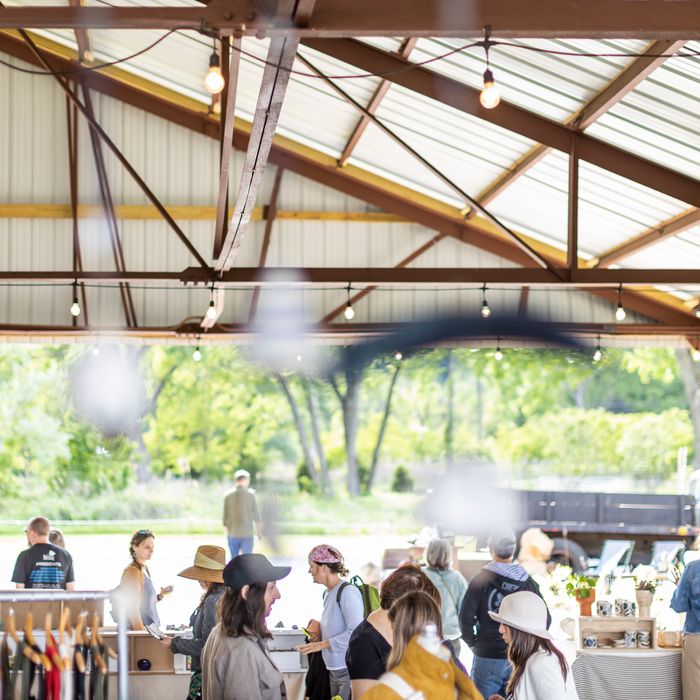 Photo: Scott Rudd/Courtesy of Field + Supply
After a summer full of heat waves, it seems like fall weather is finally upon us. And thank goodness. If, like us, you're ready to jump headfirst into spooky season, Field + Supply is here to quench your autumn thirst.
This "Modern Makers Craft Fair" runs October 11–13 at the Hutton Brickyards in Kingston, NY, making it the perfect excuse for an upstate weekend getaway. Now in its sixth year, Field + Supply brings together a curated selection of goods from a variety of studios and workshops. Though we think the wears are reason enough to go, there will also be lots of events and live music.
Keep scrolling for a preview of some of our favorite (and most fall-ish) fashion, home, and accessory picks from the fair.
This tea towel from Calhoun & Co. has exactly the energy I'm looking for this fall. Friendly faces! A warm color palette!
This Conrado jumpsuit is the autumn equivalent of throwing on a sundress in July — easy, comfortable, and effortless.
Eleven Six knows exactly what we want in a turtleneck: a chunky knit; a neutral, wearable color; and sleeves so big you can curl up and fall asleep inside them.
If I were the hosting type, I'd serve my friends an apple cake with this knife and server set by Erica Moody. I wouldn't even mind that they'd outshine any cake I could make.
Give me a giant slice of pumpkin pie on one of these sophisticated, beautiful, handcrafted plates from Lail Design.
If you want a seasonal handbag refresh, Lock and Key Leathers has you covered. Each bag is handcrafted from start to finish by Crystal Moore, a designer in the Catskills.
These Ace & Jig outfits in warm fall tones make me want to throw some leaves up in the air.
Melissa Easton Jewelry has dainty, wearable, handmade jewelry that pairs well with just about everything — including your coziest fall sweater.
Ina Garten has probably already started planning her elegant Thanksgiving table settings, so why shouldn't you? Myrth has elegant, simple designs that would make the Barefoot Contessa proud.
The Field + Supply design fair runs October 11-13. Tickets are $15 per day, or $35 for a three-day pass, and available for purchase here.