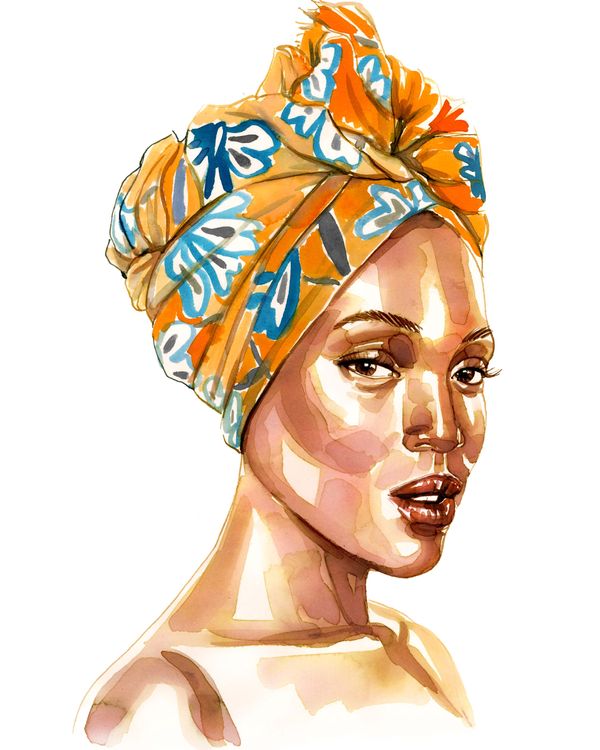 Illustration: Samantha Hahn
There's no one right approach to makeup or skin care; everyone does it a little bit differently. In You Do You, the Cut talks to women about what they put on their faces and bodies, and why.
Folasade Adeoso does it all. She's a founding partner at the pan-African Harlem restaurant Teranga, a model, an artist (she creates digital collages of public figures like Willow Smith and Nina Simone draped in birds and flowers), and, because it's 2019, an Instagram influencer. She's shot campaigns with Tiffany & Co., Outdoor Voices, and Adidas, and uses her platform to discuss politics, rejecting norms, and self-love. As you might expect from someone taking on a lot of roles, her approach to beauty is uncomplicated and focused on realness. Here, she talks about making her own toner, beauty privilege, and how she keeps her routine as affordable as possible.
On her beauty philosophy, summed up in three words:
Internal, affordable, and minimal. Kanye West has a line: "The prettiest people do the ugliest things." That has always stuck with me. Just because you're outwardly beautiful doesn't mean you're beautiful to other people. I've met supermodels, and they're not as nice as I thought they were. You can have pretty hair and pretty skin, but you can't skip the line. Your beauty doesn't give you the right to be an asshole.
On the first five things she does every morning:
I'm trying to get a better routine. I start by waking up early, around 6 a.m. I meditate, which has been on and off for me. First, I did guided ones through Headspace and then YouTube. Now I just sit in silence.
I write in my journal. I just went to Moleskin one day and found a journal and committed to writing in it every day. Sometimes I do it every two days. I try to be consistent with it. I write for as long as time permits or as long I have a thought in my head.
Then, I work out. I've been running and putting in miles and going to the gym. Now that's it's colder weather, I will probably take more classes on Classpass and do more workouts indoors. I drink either coffee or lemon water. Lemon water is something I've been doing for years. I try to spend the least amount of money possible. I know I could make my own tea, rather than buy it, and lemon water is like a tea in and of itself.
On whether she wears makeup for herself, or for other people:
If I'm going out on a normal day, then I wear makeup for myself. If I'm going out at night, then it's for myself and other people. I'm not going to put on highlighter for myself only. I'll do a quick foundation using Glossier's Stretch Concealer or Perfecting Skin Tint, mascara, maybe a red lipstick or clear lip gloss. If it's for me and other people, I'll take my red lipstick and make it into eye shadow. My favorite shades are Dance with Me and Russian Red by MAC.
On the worst haircut she's ever had:
Any weaves. They've all been bad. I had long ones, I had short ones. I was always changing my hair. One of my good friends messaged me and was like, Your followers would never have imagined that you used to have the kind of weaves where you would stop and comb your hair every ten minutes. I was like, Why didn't you tell me?? I stopped when I was 21, ten years ago. That's when I realized I was damaging my natural hair.
On her nighttime routine:
If I am wearing makeup — and I wear it a few times a week — I'll start by washing my face with Glossier's Milky Jelly. Then I use a gel foaming cleanser from Caudalie. I make my own toner. I make a rosewater concoction with witch hazel. I buy everything from the Indian markets and put it all in one bottle. Pure rose water is $3, and everything is inexpensive. I put a little of that as a toner with a dose of tea-tree oil on a cotton pad. It's to help remove any other dirt on my face — it's my final cleansing step.
My three favorite face oils are moringa, baobab, and rose-hip oil. And I also do Herbivore's honeysuckle one. I like pure oils. Right now, I'm using the baobab oil. I put it all over my face and neck. If I need extra moisturizer, I'll put a Caudalie one on top to seal it in. Sometimes, I will use eye cream. If I feel like a rich lady, I'll put Glossier's Bubble Wrap.
On her dream beauty mentor:
Grace Jones and my mom. They're both my "mothers." People who have gone to school with my mom tell me I'm her spitting image. That's a humbling compliment. I like the fierceness of Grace Jones and how unapologetic she was about her masculine traits. It was not a feminine type of beauty.
On advice to her 12-year-old self:
Beauty does exist within yourself. Just be patient and believe your mom when she says, "You're beautiful." Moms don't lie.
Everyone should try:
Posing in the mirror for themselves. I love doing it and it's so fun. You can explore your own self, movement, and form. Once in a while, I'll be like Whoa, I have to capture this but it's not about photos. It's a mental thing. You get to honor yourself without anyone being there. It's intimate, it's private. It boosts self confidence. You get to be awkward and artistic in how you form shapes and poses. You don't need permission from anyone.
On beauty right now:
What I hate is that if you Google "Beauty" right now, the majority of what you get is white women, Kim Kardashian, and a couple of light-skinned girls, with a lot of non-natural beauty. That's still what society thinks beauty is. It pisses me off that it's still the case. Sometimes, I think that there will never be enough diversity in the beauty industry. I do get to model for brands which is cool because I get to be part of the conversation. But in the grand scheme, a lot of work still needs to be done.
We're getting there on representation but we need more. It sometimes doesn't feel like it's genuine. It still often seems like, We still need a black girl. A black girl — singular. It also doesn't feel real when you do one shoot with a black girl and your next five don't include any. Same with beauty conversations and panels, unless it's spearheaded by black women. It's hard to be a black woman on panels talking about beauty. It's time for black women to be the majority rather than feeling like they're a special guest.